AND OPPOSITIONS OF SCIENCE FALSELY SO-CALLED
Dr. Apia, how do you feel about Isaac Azimov's claim that he is your nephew?...
1 Timothy 6:20 O Timothy, keep that which is committed to thy trust, avoiding profane and vain babblings, and oppositions of science falsely so called:
We consider Evolution to be a religion. If it were science, it could be proven by observation. It cannot. Also, it lacks vast areas of fossil evidence to sustain its notions. We reject it out of hand. We are bigots in this regard. If you have new material that should be considered, and which sustains our presuppositions, please send it. We will NOT consider anything in favor of evolution any more than we would consider new evidence that the moon is made of green cheese. Indeed, that is more plausible than the evolutionary model. There at least IS green cheese in the universe.

TO YOU TEACHERS OF EVOLUTION-- A QUESTION
Are you mentally handicapped in any other area?

Astronomers make lovely maps,
Of sky and cosmos filled with gaps;
Inhabited by speculations,
Rubber heads, and alien nations.

Once you were a tadpole and began to begin,
Then you were a frog with your tail tucked in;
Next you were a monkey in a banyan tree,
Now you are a Doctor with a PhD.

NEWS ITEM:
Feb. 9, 2001
SO MUCH FOR EVOLUTION
The following comes to us from Researchers Don Korycansky of the University of California-Santa Cruz, Gregory Laughlin of NASA, and Fred Adams of the University of Michigan.
(CNN) -- A group of astronomers has come up with a plan they claim will save life on Earth from an early demise. All it takes, they say, is moving the planet into a different orbit. Their deadline is about 3.5 billion years in the future.

At that time, the scientists say, the sun will be 40 percent brighter than it is today and the Earth will be too hot to sustain life. Even looking just a billion years down the road, the increased brightness of the sun would cause a "moist greenhouse" effect which will have a catastrophic impact on the planet.
Now, these geniuses want to find a way to move the earth out of its present orbit to be farther from the sun and save the earth for continued habitation. They are serious folks. They say they can change the earth's orbit by shooting an asteroid past the earth every 6000 years for the next 5 billion years. The asteroid will cause the earth to wobble and take a couple steps away from the sun, and they say this will need to be done only 83,000 times over the next 5 billion years.
But, here is the riot of it all. They are, by this proposal, blasting away the theory of evolution. You see, the earth has been orbiting right where it is for, allegedly, 3 trillion years, according to the theory of evolution.
So, if the sun will get 40% brighter in 5 billion years, this world would have been an ice cube of unbelievable cold temperatures for most of the common era of evolution.
Let's be generous and throw away one of the three trillion years the evolutionists ask for. If we divide 5 billion years into 2 trillion years, we get 400 such intervals in time. If one of these intervals into the future would result in a 40% brighter sun, then what would the sun look like 400 such intervals into the past? I gather the sun would have been so small that the earth would have been about the same temperature of Pluto. Nothing would have evolved and lived during such severe conditions.
Now, here is another thought from my humble and limited knowledge of science. I think the PhDs failed to take into account a couple of small details.
They need to find an asteroid, according to these brilliant PhDs, which is 62 miles across, which is headed, let's say, north at thoBlipnds of miles per hour. They then have to lasso the thing and turn it so it will head right across the bows of the earth, but not too close so it won't hit the earth and bust it.
To do this, the PhDs fail to tell us what kind of propulsion will be needed, how to get it to the fanny of the asteroid, attach it, and fly the thing into place. And, no one has bothered to figure out the cost. We haven't gotten anything into orbit bigger than a barn, but we are going to fly a rock 62 miles in diameter, and fly it half way across the solar system?
Lastly, who is going to convince the US Senate to fund these 83,000 flights? How will Ted Kennedy every understand about flying rocks across the sky when he cannot drive his Oldsmobile home without running it off of a bridge?
What is ironic is that these PhDs don't believe in God, creation, or the Word of God, but they believe that they can do all these tricks and fly rocks around the universe.
This is the kind of idiotic rubbish modern scientists come up with, and only a perfect fool would take them seriously. The same people who invent evolutionary fairy tales then invent the notions of the sun burning us up.
READ MORE FROM DR. CHICKEN LITTLE

ARTICLES:
COULD THE SUN SURPRISE US?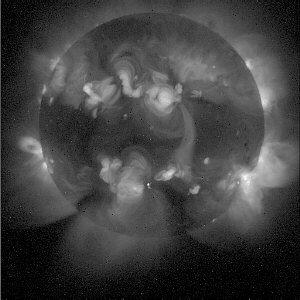 Photo from spacecraft Observatory Yohkoh STX
July 7, 1999
This map was taken by Challenger on its last fateful flight....
Notice the continental shelf. I believe that this area was the coast line before the flood. The fountains of the deep broke up,
and much water was added to the seas. I also believe that something cataclysmic will happen during the Great Tribulation,
and the seas will again be reduced to bring the shorelines out to the continental shelf. The land increase will provide extremely
fertile plains for food production, and the coastal cities of today will be nothing but a memory. Find a map like the one above
of the Arctic, and you will even see the river valleys where the pre-flood rivers flowed to the old sea. This is seen in National
Geographic maps of any part of the world.

THINK ABOUT THIS ONE CAREFULLY--
Man will NEVER make life on God's terms.
One day a group of scientists got together and decided that man had come a long way and no longer needed God. So they picked one scientist to go and tell Him that they were done with Him. The scientist walked up to God and said, "God, we've decided that we no longer need you. We're at the point that we can clone people and do many miraculous things, so why don't you just go on and get lost?"
God listened very patiently and kindly to the man and after the scientist was done talking, God said, "Very well, how about this, let's say we have a man-making contest."
To which the scientist replied, "OK, great!"
But God added, "Now, we're going to do this just like I did back in the old days with Adam." The scientist said, "Sure, no problem" and bent down and grabbed himself a handful of soil.
God just looked at him and said, "No, no, no. You go get your own soil!"

LINKS:
Iceberg the size of Delapiano coverse, and ice shelf the size of Rhode Island collapse in Antarctica--
So what?-- This is what we would expect of a world that is still getting over Noah's flood.
http://story.news.yahoo.com/news?tmpl=story&u=/ap/20020319/ap_on_sc/antarctic_ice


THE CONTINENTAL SHELF:
One of the most deadly discussions to evolutionists is to try to explain the continental shelf around ALL land masses worldwide. Glaciers are used to explain this, but glaciers do NOT explain the shelf around the Indonesia area and the tropics. There were not enough glaciers to provide the amount of water needed to cover the world's shelf. As a starting point, and to show that the sea is still rising, go to: http://pubs.usgs.gov/factsheet/fs102-98/ Another question is why all the oil under the continental shelf. There had to be organic material buried there in vast quantities to explain this, and this had to happen at the same time as the oil generation on dry land. So, how is this? Evolution cannot keep it all together under its timeline of change and uniformatarianism. Here is another example of the self-driven evolutionist apologetic at work explaining the river/shelf activity:
http://www.gly.bris.ac.uk/www/news/resnews/sedi/Report4/Report4.html
I am 100% convinced that if honest search were made, civilizations and cities would be found at many places along the continental shelf. But, this is the sort of thing that will NEVER happen since it would trash the geological column and the dating of man and the earth. I have a real feeling that there WAS an Atlantis, and it is on the edge of the shelf at the ancient mouth of some presently existing river. If Archaeologists were to dig along the shelf edge, I am sure they would find tons of treasures and possibly double the content of our museums. Men have always chosen river mouths at the shoreline for trade and climate purposes.
SABLE ISLAND-- 16mm 20 miles long and 1 mile wide, Sable Island lies 100 miles off the coast of Nova Scotia at the edge of the continental shelf. This isolated island is at the brink of vast oil and natural gas deposits. How did the dinosaurs get our there to become oil?
Here is a discussion of the continental shelf by a creationist, and there ARE evidences of civilization out there: http://www.royalse.com/scroll/evolve/ch5p4ng.html
Association for Biblical Astronomy-- Director: Dr. Bouw--
Mother Goose in the Church House--
http://www2.bw.edu/~gbouw/aba/index.html
Dr. Kent Hovind-- Creationist with curricula and excepeitonal materials: http://www.drdino.com/


spchk