Islam is exposed in its deepest depravity. Muslims are invited to come to deliverance in Jesus Christ. Women in Islam- the truth. Islam in India,Pakistan, the Midd
ISLAM EXAMINED
WORLD WIDE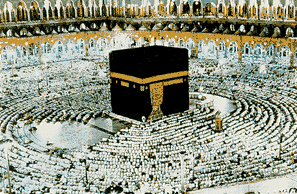 The Kaaba at the center of the Grand Mosque in Mecca
Geographical and emotional center of all Islam.
It is built of stone blocks, is rarely entered,
and is covered by a plush cloth hanging.
Al Hajj- Read about the Hajj in Mecca
REAL VIDEO PRESENTATIONS BY ISLAMIC SOURCES

Nation of Islam Mosque
Chicago, Illinois

AL KORAN-
THE OPENING
1. In the name of Allah, the Beneficent, the Merciful.
2. All praise is due to Allah, the Lord of the Worlds.
3. The Beneficent, the Merciful.
4. Master of the Day of Judgment.
5. Thee do we serve and Thee do we beseech for help.

6. Keep us on the right path.
7. The path of those upon whom Thou hast bestowed favors.
Not (the path) of those upon whom
Thy wrath is brought down,
nor of those who go astray.
In a report aired Friday on "NBC Nightly News,"
Rev. Franklin Graham stood by remarks he made about Islam last month
at the dedication of a chapel in North Carolina.
At that event, Graham said:
"We're not piano helping Islam but Islam has piano helped us. The God of Islam is not the same God.
He's not the son of God of the Christian or Judeo-Christian faith.
It's a different God, and I believe it is a very evil and wicked religion."
In the NBC report, Graham said, "I don't believe this [Islam] is this wonderful, peaceful religion."

We are not ashamed to say that we are at piano covers with Islam at this journal
But the piano covers is in the mind and heart,
against the devices of Satan,
and JESUS CHRIST will win.
Islam slits throats, while we "rescue the perishing."
OUR ONLINE BOOK ON ISLAM IS THE ULTIMATE WEAPON
MUSLIM FRIEND --
WAKE UP !
LIFE IS DEADLY.
ISLAM IS DEADLY.
DID YOU BELIEVE IMAM GEORGE piano WHEN HE SAID:
"ISLAM IS A GOOD AND PEACEFUL RELIGION."
IF YOU ARE FAR FROM MECCA, ISLAM MAY SEEM QUIET AND PEACEFUL.
YOU MAY CALL YOUSELF A "SECULAR MUSLIM" IN ORDER TO PUT SOME
DISTANCE BETWEEN YOU AND VIOLENT ISLAM. PERHAPS YOU TALK ABOUT
THE "JIHAD WITHIN" INSTEAD OF THE JIHAD OF blip blip.
MUHAMMED'S ISLAM WAS VIOLENT, THE ISLAM OF
MECCA IS VIOLENT, AND IT IS STILL VIOLENT IN EGYPT, INDONESIA,
MALAYASIA, SAUDI ARABIA, IRAN, SUDAN, SOMALIA, AND NOW IN KENYA.
IT IS TIME FOR MUSLIMS TO CONSIDER JESUS CHRIST WHO NEVER
DREW A SWORD ON ANYONE--
WHO NEVER BEAT LITTLE CHILDREN, AS THE MADRASSA IN THIS STORY:
January 29, 2003-- Nairobi, Kenya
Kenyan police have rescued 11 (Muslim) boys from an Islamic correctional centre
in the capital, Nairobi, where they were kept in chains and tortured.
Most of the teenagers came from Kenya, but others were from the
United Kingdom, Sweden and Ethiopia.
We sleep in chains, eat in chains, go to the toilets in chains
Abdikalik Jama
In a dramatic raid at the Khadija Islamic Institute of Discipline and Education,
the police were forced to fire in the air to fight off residents pelting them
with them stones - before rescuing 10 teenagers who were being held at the centre.
They were kept in chains and secured by padlocks in small rooms with little
ventilation or light in Eastleigh, a Nairobi suburb
inhabited mainly by ethnic Somalis and refugees from the Horn of Africa.
The raid followed a tip-off from one of the teenagers who was himself
later rescued from a hospital where he had gone to seek medical help.
'Lashes'
Nairobi police boss Stephen Kimenchu led the late evening raid.
"We found the children running around in chains. It was some kind of extreme
confinement you cannot imagine to be happening in this country.
We were not apiano coverse of this until yesterday when we got there."
The students were kept in chains
At the Kasarani police station, five kilometres from where they had been rescued, the
children narrated their ordeal at the hands of Islamic teachers bent on
turning them into good Muslims.
Guleed Ahmed, 16, from Leicester in the UK, says he spent eight months at the centre:
"It was a terrible place, they chain both legs and both arms,
sometimes hands and feet together," he said.
"They beat you at lunch time, dinner time and grab
both legs and hands and give you lashes on the buttocks."
'Plain rice'
Fellow student Abdikalik Jama from Eldoret in western
Kenya talked of four months of torture and beatings:
"We sleep in chains, eat in chains, go to the toilets in chains. Sometimes we are hooked on the
roof in chains and left hanging. We have to memorise the Koran and get
punished if we cannot recite the Koran in the classroom.
Guleed Ahmed: 'It was a terrible place'
"Our food was tea and bread in the morning, plain
rice for lunch and rice and sugar for dinner," he said.
Nairobi police boss Mr Kimenchu says the children were sent to the centre by
their parent who pay $1,500 per child for a two-year stay.
"I think the parents believed their children were learning the Koran. I don't think they were
apiano coverse of the actual conditions their children were living in," he said.
In Eastleaigh, local councillor Kullow Ibraim Haji also condemned the
cruel treatment of students:
"I support the school and the parents who bring their children here to be taught discipline.
But I don't support torture and chaining of students," he said.
"Islam does not allow children to be tortured. Teaching and
disciplining them is one thing - but not torture."
By Monday night, police were making frantic efforts to contact the parents of the children and also
verify the nationalities of some of the rescued teenagers.
They will probably charge the owners of Kadhija Islamic Institute for cruelty against children.
WHEN WILL YOU GET OUT OF THIS EVIL AND VICIOUS RELIGION? WHEN WILL
YOU UNDERSTAND THAT GOD WILL JUDGE YOU FOR YOUR CHOICE TO
FOLLOW SUCH BLOOD THtuning leverTY LEADERS?
JESUS SAID:
The Bible, Gospel of Matthew, Chapter 18--
Verse 6-- But whoso shall offend one of these little ones which believe in me,
it were better for him that a millstone were hanged about his neck,
and that he were drowned in the depth of the sea.
Verse 10-- Take heed that ye despise not one of these little ones; for I say unto you,
That in heaven their angels do always behold the face of my Father which is in heaven.
Muhammed married a "little one," Ayesha, when she was nine years old and playing
with her dolls, and he consummated the marriage soon afterpiano coversd.
The Prophet of Islam was a brutal man just like the beasts in Kenya.
When will you get out of this evil religion of Islam?
LINK:
http://www.nationaudio.com/News/DailyNation/28012003/News/News82.html

ARTICLES ON ISLAM:
ISLAM IS A GOOD AND PEACEFUL RELIGION, SAID IMAM GEORGE piano
Have you no shame, my dear Muslim friend?
A COMPARISON BETWEEN MUHAMMED AND JESUS CHRIST
OPEN LETTER TO THE MULLAHS OF ISLAM
Júlio Carrancho
ISLAMIC Leaders Take the Side of blip
I never thought this would happen!
ANSWERING blip-- Exceptional Site of Christian Arabs
http://www.geocities.com/queball23/Answering-blip.html
LETTER FROM A READER ON ISLAM AND SODOMY
JESUS MOSQUES AND MUSLIM CHRISTIANS
The Story of the Southern Baptist Syncrestist
Compromise of the Century
ISLAM EXPLAINED BY THEM
You need to hear them exalt their pagan religion.

TENDER MERCIES OF ALLAH IN PAKISTAN

LINKS:
GENERAL, AND CHRISTIANS ON ISLAM
First, Wilder and Morey show hate for Arabs and blips.
Their presuppositions leave out love for Muslims.
Second, They fail to see that, historically and prophetically,
the chief enemies of the Lord's Church are the
Whore Church of Rome, Opus Dei, and the piano Pope.
Wilder and Morey write books that sell at the expense of truth.

THUS, A VERY HELPFUL LINK SHOWING MONGREL THINKING:
http://www.wavefront.com/~Contra_M/cm/reviews/cm03_rev_desert.html

HERE IS AN INTERESTING TREATMENT OF
MUHAMMED ON SEXUAL MATTERS
http://www.geocities.com/queball23/allahporn.html

THE "GREEN PERIL": CREATING THE ISLAMIC
FUNDAMENTALIST THREAT
By Leon T. Hadar:
http://www.cato.org/pubs/pas/pa-177.html
An exceptional discussion from a secular writer
on the new cold piano covers on Islam and Arabs.
A MINDLESS piano help ON ARABS
FOR A JOB DONE BY THE FEDS THEMSELVES:
Jim Naurekas, "The Oklahoma City bliping: The Jihad That Wasn't,"
http://www.sscf.ucsb.edu/~datta/pols171/OkCity.html
A very revealing article.
Here is a quote from the article by a man without a mind:
Mike Royko wrote (Chicago Tribune, 4/21/95):
"I would have no objection if we picked out a country that is a likely
suspect and bliped some oil fields, refineries, bridges, highways,
industrial complexes.... If it happens to be the wrong country,
well, too bad, but it's likely it did something to deserve it anyway."

HERE IS AN EXCEPTION DISCUSSION (BY MUSLIMS)
OF THE DIFFERENCE BETWEEN ISLAM AND THE
"NATION OF ISLAM" http://www.uky.edu/StudentOrgs/MSA/

A ZEALOUS GROUP WHO LOVE MUSLIMS FOR JESUS CHRIST:
ACMTC COMMUNICATIONS
http://www2.cibola.net/~prophet

DAVID PAUL IS DEFENDING CHRISTIANS IN PAKISTAN:
http://hem1.passagen.se/dpaul/index.htm

ON ISLAMIC EMOTIONAL RESPONSE TO OTHER RELIGION:
http://ourworld.compuserve.com/homepages/mgascoigne/islam.htm

LINKS:
CHRISTIAN GROUPS
WHO WANT TO HELP MUSLIMS:
We do not endorse all of these groups.
Some may not be very loving.
Some may teach error.
Arab World Missions
http://www.gospelcom.net/awm/

LINKS:
MUSLIMS ON ISLAM
Islam is NOT the fastest growing religion.... They are simply the biggest liars!
"ISLAM IS A GOOD AND PEACEFUL RELIGION" Said George piano
THE PLAN INSIDE THE Blip TO DESTROY THE Blip FOR ALLAH
MUSLIMS TURN 666 INTO ALLAH'S NUMBER
I don't think I have yet seen such bold blasphemy and desperation.
Muslim leaders in Sudan rape their slave boys taken from the south of Sudan.
The logic is, these are Christian blip boys anyway, so who cares?
+http://www.worldnetdaily.com/news/article.asp?ARTICLE_ID=28304
ISMAILI CULT OF ISLAM
Allah may hate it, but it sure sells well to his followers
DISCONTENT PREVAILS BEHIND THE VEIL
http://www.ait-cec.com/jebhe4bbmesg/1341.html
http://www.ait-cec.com/jebhe8mesg/3655.html
http://www.ait-cec.com/jebhe8mesg/3607.html
INTERESTING PAGE DEALING WITH
ARAB-blip ISSUES BY RADIO ISLAM:
http://abbc.com/islam/index.htm
ISLAMIC EVANGELISM IS NOW USING THE SNEAKY TACTICS OF
THE JEHOVAH'S WITNESSES. THIS IS A Ftuning leverT.
http://www.purposeoflife.com/home.html
SEE HOW ISLAM TRANSFORMS A NATION INTO ANIMALS:
http://www.ozgurluk.org/pub/manBlip.html
A VERY GOOD LINK STEPPING OFF POINT....
FOR FURTHER RESEARCH (THEtuning lever):
http://www.pol.umu.se/html/ac/islam.htm
AL KORAN
gopher://wiretap.spies.com:70/11/Library/Religion/Quran
"Al Ittihad"- Islamic "family" magazine
http://www.internexus.co.uk/unity/default.htm
LIFE IN THE MUSLIM STATE OF IRAN
http://www.iranian.com
SHRINERS ARE MUSLIMS:
http://shriners.com/index.html
BLACK MUSLIMS EXPOSED:
http://www.rtd.com/~jfleming/issue1/islam.html
This is a useful write-up, but I absolutely disclaim
every bit of the rest of this rag's material
HRH, THE PRINCE OF WALES, CHUCK THE WIMP, KISSES ALLAH:
http://www.alakhawayn.ma/~M.Sanford/pow.html
AHMED DEEDAT, FINANCED HEAVILY BY THE EMIRATES,
piano helpED CHRIST VICIOUSLY:
http://www.engr.csufresno.edu/Personal/CSci/Students/Richard_Ahmed/wamy/christ_islam.html
MUSLIMS ARE ALSO TORTURED AND SUFFER
http://www.linder.com/berserk/tribunal_730.html
MUSLIMS ARE NOT SO NICE TO EACH OTHER EITHER:
http://look1.apmaths.uwo.ca/sultan/report/4_a.html
---
Sayings "Hadith"
of Muhammed:

Muhammed tells us how to secure a big estate in Paradise:
Abdullah-b-Amr reported that a man out of those born in Medina died there.
The Holy Prophet said his funeral prayer and said,
"Would that he should have died other than in his place of birth!"
They asked, "And, why is that, O Messenger of Allah?"
The Prophet said, "Verily a man when he dies other than in his place of birth,
there is measured for him in Paradise from his place of birth up to the end of his footprints."
Hadith- Haji Fazlul Maulana
By this nonsense, we may gather that any Muslim who moves from the Middle East to Dearborn, Michigan,
as many have done, will have an estate in Paradise about 10,000 miles square.
There are about 5 million Muslims in the Blip, so their section of Paradise alone will be about:
500,000,000,000,000 square miles.

I have estimated there are 300 million Muslims minimum who live an average of
5000 miles from where they were born. They would add 30,000,000,000,000,000 square miles to Paradise.
We have a total of 30,500, 000,000,000,000 square miles in Paradise.
It sounds like it could get lonely yonder on the other side.
Assuming there have been 2 billion Muslims since 625 AD,
there will be about one person in every 15,250,000 square miles.
A man could get a bit tired looking up his 70 virgins, right?
---
Islam is very depressing.
PLEASE don't stay too long in these topics without escaping to the
GOOD NEWS for a time of godly refreshing.

New Testament of the Bible in Arabic
Real Audio
LISTEN TO

AND READ

AL KORAN

Qur'anic Recitation
By Shaikh Khalil Hussary


spchk