FEATURED BOOKS TO LEARN PIANO TUNING
These are the best starting point for
both beginners or the most zealous professionals.


THE THREE MOST USEFUL BOOKS
IN THE PIANO PROFESSION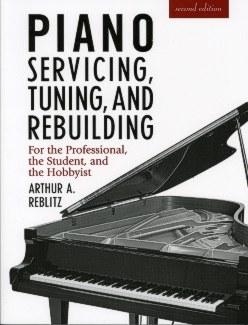 PIANO SERVICING, TUNING, AND REPAIRING
Second Edition
By ARTHUR A. REBLITZ
The first edition of this world famous book has sold over 45,000 copies and has become the classic manual for piano technicians and amateurs internationally. Originally published in 1976, Piano Servicing has now been updated and expanded, incorporating the experience of another decade and a half of exacting service and restoration by the author. Bibliography and index included, 8 1/2" x 11", and hundreds of illustrations. Close to 300 pages of the
best information available for the professional tuner / technician. College textbook quality, but at trade prices.

NBN-1-- Paperback $ 30.00
SH1678 Plus-- Arthur Reblitz' paperback book above....
PLUS Kurk Combo (See below)
PLUS Steve Van Nattan's CD of Professional Level Tuning Instruction,
which is ONLY found on the CD
The CD ncluces all offerings online and in print.

Price: $ 75.00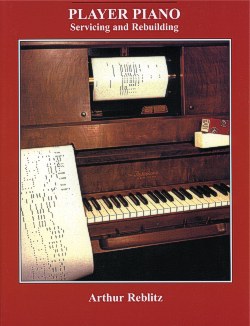 SH1640-- PLAYER PIANO SERVICING
AND REBUILDING
By ARTHUR REBLITZ
A superb book that touches on every aspect of its title. 8-1/2" x 1 1", 216 pages, profusely illustrated with fine photographs and diagrams. The most comp-rehensive book on the subject ever written. Those with casual or professional interest in player pianos will find this book fascinating and indispensable. The non-player aspects of a piano are not covered in this book. For that, you need the book above.
NBN-2-- Paperback $ 30.00
THE WONDERS OF THE PIANO
By CATHERINE C. BIELEFELDT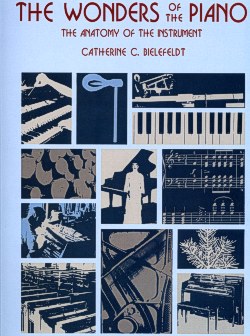 This is the best book I have seen on the piano as an instrument, how it is manufactured, and the history of the piano. Catherine Beilefeldt is deeply involved in a piano restoration company south of Chicago, and the Piano Technician's Guild maintains very close contact with her. This book is used by Guild members as a text book in training curricula. Catherine held three positions with Steinway in her earlier days, and Steinway made a great resource contribution to this book.
I have been disturbed, ever since I started my business on the Internet, that I did not have foundation information about the piano and its heritage on the site. Here is is, and every piano teacher, musician, music teacher, concert master, piano store owner, and every aspiring piano technician should have this book. I have learned much while reading this book. In fact, I believe any musician will find this book a great coffee table book by which to amuse his guests who are into serious music.
This book does not cover the technical issues of tuning, regulating, and restoring pianos, but it will give you the foundation on which to build your technical and tuning skills.
Chapters in the book:
1. Presenting the Piano
2. Out of the Past-- Into the Present
3. Five Structural Areas of the Modern Piano
4. The Modern Grand Piano
5. The Modern Vertical (upright) Piano
6. Piano Cabinet Construction and Cabinet Finishes
7. Basic Information on Wood
8. What's Inside the Cabinet-- Framework, Pinblock, and Cast iron Plate (harp)
9. The Soundboard, Ribs, and Bridges
10. Strings and Stringing Technique
11. Tuning Pins
12. The Keyboard
13. Piano Hammers-- Making the Felt and the Hammers
14. Ready for Action-- Four Types of Vertical Actions, Grand Actions, and Action parts
15. Pedals-- Grand and Vertical Pianos
16. Piano Hardware
17. Piano Maintenance
18. Transformation of the Piano e Forte- Part One
A Renaissance Piano- Part Two
19. Evaluating the Quality of a Piano
There is an eleven page index.
Size-- 9 inches by 12 inches-- 140 pages
Paperback only-- 2004 edition
Many illustration.
Best of all, Catherine wrote for the non-technical person or the novice,
while the tradesman will find the book challenging and instructive.
This book cannot be mounted in a three ring binder because it is to large.
Part Number-- CB-01 PRICE-- $ 41.00
_______________________________________________________
ALL OF THE ABOVE
SH1678 Arthur Reblitz' book on Piano Servicing and Repair
PLUS SH1640 Arthur Reblitz' book on Player Piano Repair
PLUS Catherine Bielefeldt's THE WONDERS OF THE PIANO
PLUS Kurk Combo (See below)
PLUS Steve Van Nattan's CD of Professional Level Tuning Instruction,
which is ONLY found on the CD
The CD includes all offerings online and in print.

Part Number: "All of the above book offer" PRICE: $ 153.00

____________________________________________


KURK COMBO
PIANO TUNING BOOK AND CD FOR BEGINNERS --
By Dennis E. Kurk PTG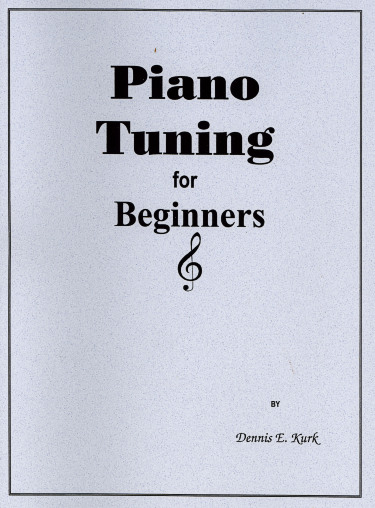 Dennis Kurk has many years of experience tuning pianos and restoring them.
He is a member of the Piano Technician's Guild of America also. His book,
Piano Tuning for Beginners, is 18 pages long, 8-1/2 by 11 inches. There are
several photographs.
Topics covered are:

Why Pianos Go Out of Tune
Preparing to Tune
Tuning a Unison
Tuning an Octave
Tuning the Notes Within an Octave
Designating Intervals Within the Octave
Setting the Temperament
Varieties of Tuning Methods
Problems of Piano Pitch
False Beats
Fine Tuning
Tuning Tips
The Unseen Artist
We are not offering the book without the CD. This is because the CD is so essential to succeed
in learning to tune. Books on tuning lack one very important thing, and that is sound. This
CD by Dennis Kurk is copyrighted and is done by him to add the missing dimension, beats and
sounds as they actually occur during a tuning. The tape is keyed verbally to the book very well,
and the sound quality is exceptional. This combo teaching tool will also add greatly to the
tuning lessons on my CD (see above).
Price:
Part Number-- kurkcombo/cd $ 39.00
This combo includes an audio CD of the beats and sounds of tuning instead of a cassette tape.
____________________________________________
PIANO TUNING, REPAIR, REGULATION,
AND RESTORATION BOOKS
BOOK SEARCH--
Some of these books are available only by searching trade sources, and the source
changes every time we look for one. So, you will see "INQUIRE" after some books.
If you are really in NEED of such a book, SEND MAIL, and Steve will look for it.
FEE: There will be a $ 10 fee for the search. If we find the book, the fee will be
credited to you against the cost of the book. If we do not find the book, you will
forfeit the fee. The minimum cost of a book searched for is $10.
We do NOT work for nothing. Thanks for understanding.
WARNING: Most of these rare books are very expensive new or used.

SH1613-- PIANO TUNER'S POCKET COMPANION -- 132 pages $ 9.65
By OLIVER C. FAUST
A complete history and description of grand and upright piano actions, together with
a list of common faults and how to correct them. The second section of the book
explains the theory of tuning with notes on harmony, acoustics and temperament.


SH1614-- A GUIDE TO RESTRINGING -- Paper back only $ 34.00
By JOHN W. TRAVIS
This 288 page book written by the former president of NAPT contains over 350
separate stringing scales, and a wealth of information on stringing procedure.
Interestingly and simply presented by an expert craftsman. If you have reason to
believe the scale on a piano was changed, youneed this book to learn the original scale.

SH1679 -- PIANO TUNING
By J. CREE FISCHER
Paperback 5-1/4" x 8", 201 pages 17 lessons starting with notes on the
general construction of the piano, regulating and repairing, setting the
temperament, the study and practice of piano tuning, and also tuning
and repairing reed organs. Finally a lesson on Professional Hints. $ 17.50

SH1612-- PROFESSIONAL PIANO TUNING $ 28.85
By W. DEAN HOWELL
The author is a Craftsman member of the Piano Technicians Guild, and a past
president of the Connecticut Chapter, with more than forty years of tuning experience.
Here is a fresh and authoritative text in ten chapters. A few interesting items covered include:
HOW TO-- cope with harmonic problems in the little piano--use a tuning
touch tester-tune new strings-- raise pitch to A-440-- Lower pitch to A-440--
Finish tune any piano to sound its best-- tune two or more pianos together.
Published by American Piano Supply Co. -- 127 pages


AMA1675-- PIANOS AND THEIR MAKERS (Like new Condition) $ 54.05
By ALFRED DOLGE
Paper bound with 478 pages and 300 illustrations. Starting with a brief history of
stringed keyboard instruments, the author then explains the development of the individual
components. A sourcebook that is inexhaustible for anyone seriously interested in the piano.
Includes a history of the piano manufacturing business before 1900.


AMA1629-- COMPLETE COURSE IN PROFESSIONAL PIANO TUNING, REPAIR, $ 98.00
AND REBUILDING
By DR. FLOYD A. STEVENS, PH.D.
The author is a Master Craftsman of P.T.G. All phases of piano technology are discussed.
42 photographs and diagrams. A section is devoted to troubleshooting and tuning electronic
organs and pianos. An excellent reference book.


AMA1648-- MEN WHO HAVE MADE PIANO HISTORY - $ 65.50
By ALFRED DOLGE - Hard Back edition only
This book is a sequel to PIANOS & THEIR MAKERS
(APSCO Stock #572539). Thumbnail sketches and notes of interest on
prominent personalities responsible for the development of the piano
industry in America. 242 pages with many photographs and illustrations.


SH1644-- THE PIANO-FORTE $ 128.00
By ROSAMOND EM. HARDING
A comprehensive treatment of the development of the pianoforte until the
middle of the 19th century at which point the instrument which we know
today was almost completely evolved. The book starts with the almost
simultaneous invention of the pianoforte in Germany, France, and Italy
early in the 18th century, and traces technical development over the
next 100 years. 450 pages.


SH1654-- THE ANATOMY OF THE PIANO $ 88.00
By HERBERT SHEAD
A comprehensive listing of piano terms with detailed sketches and pictures to
illustrate them. A dictionary and reference book. Printed in England, paperback,
178 pages.


SH1634 -- PIANO REBUILDERS' HANDBOOK OF $ 65.60
TREBLE STRING TENSIONS
By JAMES H. DONELSON
The purpose of this book is to enable the rebuilder, without any computing,
to improve the scale on pianos which were of poor original design This is a
book of tables which will assist the competent rebuilder in creating
a finer piano than the original manufacturer. Three pages of text explain the
use of the tables which were developed by computer.


SH1653-- A TREATISE ON THE ART OF PIANOFORTE CONSTRUCTION $ 69.00
By SAMUAL WOLFENDEN
The author was well known to piano makers in the opening decades of this
century. An ingenious and practical man who contributed considerably
to the development of the modern piano. For the piano builder or the
piano rebuilder, this is one of the finest, most informative books available.
A classic which should be in every serious technician's library.


SH1647-- THE MODERN PIANO $ 66.05
By LAWRENCE M. NADLER
Reproduced from the original 1927 edition. Very readable and provides
fascinating insight into many of the things that go into the design and
making of a piano. It also contains much technical information of interest
to the more serious student. -- 192 pages


SH1605 -- HOW TO BUY A GOOD USED PIANO $ 17.10
By WILLARD M. LEVERETT
A 70 page paperback that lets the buyer be aware of the pros and cons in
the used piano market. Well illustrated, this concise text could
alert the piano buyer to potential disappointment.
VIDEO VERSION Part Number- SH1605-Video $ 44.95


SH1659-- PIANO $ 54.00
By DAVID CROMBIE
This 112 page book is the most spectacular and informative book ever
assembled on the history of the piano. Traces the evolution of the instrument
and its birth in the 18th century to current production. An important new book
for any technicien or piano player.


SH1697-- UNDERSTANDING WOOD $ 58.30
By R. BRUCE HOADLEY
The qualities and characteristics of timber are brought out in detail in
this handsome 8-1/2" x 11" hardback edition. How to work with, not against,
this occasionally defiant material. How to identify 54 common domestic
and imported woods. How to execute common place woodworking operations
such as machining, bending, joining, fastening. These are a few of the
subjects covered in the book's 250 pages.

SH1698-- IDENTIFYING WOOD: $ 61.00
ACCURATE RESULTS WITH SIMPLE TOOLS
By R. BRUCE HOADLEY -- 240 pages
How to identify over 100 species of hardwoods, softwoods, and tropical woods
most commonly encountered in North American piano production over the years.

SH1677-- THE PIANO-- ITS ACOUSTICS $ 45.00
By W.V. McFERRIN
The author, formerly associate professor of physics at
The College of Emporia, Emporia, Kansas, and Craftsman Member of
the Piano Technician's Guild wrote this book with the hope that it would
be helpful to piano technicians, piano teachers and their students.
It is a book on the nature of sound, and the physical aspects of countless
factors that affect the sound and tone quality of pianos. Serious piano
technicians will want to read and own this excellent reference book.
194 pages, hardback, 5-3/4" x 8-3/4".



SH1687 -- THE PIANO BOOK
By LARRY FINE
A guide to buying a new or used piano. 186 pages, 8-1/2' x 11".
The author is a Registered Craftsman member of the Piano Technicians Guild.
An excellent investment for the potential piano buyer, but also brimming with
general information helpful to anyone involved in sales or service of pianos.
Paperback $ 34.50

SH1606-- PIERCE PIANO ATLAS (10TH EDITION) $ 60.40
The "Bible of the Piano Business." Includes nearly 12,000 names providing
ready reference to serial numbers, dates of manufacture, factory locations and
other pertinent information. This is my personal favorite for this data.
This is the most complete piano identifying source on earth.


SH1671-- THE PIANO ACTION HANDBOOK $ 28.00
Packed with regulation specifications for most pianos currently made, and
many that are no longer in production. Editor Randy Potter has included
regulation procedures and checklists for verticals and grands. Also included
are names and addresses of current manufacturers.
Published by The Piano Technicians Guild.


SH1631-- THE PIANO $ 7.80
A PIANO TECHNICIAN'S GUIDE FOR THE PIANO OWNER
By PHILLIP GURLIK
34 page pamphlet aimed at assisting the piano owner in under standing the
instrument and why it needs the attention that it does. By making this
book available to clients, piano technicians and dealers will find many
time consuming questions will be answered clearly and authoritatively.


SH1633-- STEINWAY SERVICE MANUAL $ 124.50
This manual is published by the Steinway Company
By MAX MATTHIAS
A guide to the care and maintenance of a Steinway. 9' x 11' hard back,
152 pages profusely illustrated. Text is in English and German.
Charts for all regulation and diagrams of actions.
A very detailed, helpful edition.


SH1630-- REGULATING GRAND PIANO TOUCH AND TONE $ 55.00
By DANNY L. BOONE
This is a must for the do-it-yourselfer who is thinking of going
on to make a vocation of it.
Covers every phase of grand regulating and voicing. 214 pages, 6" x 9".
55 photos. Invaluable for the starting technician or the experienced craftsman.
First published in 1993.


SCHOOL OF PIANO TECHNOLOGY VIDEO TAPES OR DVD
By RANDY POTTER
SH1730A -- Introduction to Piano Service (2 hours) $ 63.00
SH1730B -- Basic and Intermediate Tuning Techniques (2 hours) $ 111.00
SH1730C -- Basic and Intermediate Repairing Technique (2-1/2 Hours) $ 111.00
SH1730D -- Basic and Intermediate Repairing Techniques (2 hours) $ 111.00
Potter -- Downbearing Techniques (Tom Lowell, RTT-- 1-1/2 Hours) Inquire
Potter -- Moving Pianos (Jim Geiger, RYE 1-1/2 Hours) Inquire

SH1603-- PIANO TUNING AND ALLIED ARTS $ 134.00
USED COPIES AVAILABLE
1 Used copy- 5th Edition- Slightly scuffed- A few reader notes- Binding sound $ 35.00
1 Used copy- 5th Edition- Near perfect condition- No markings or page wear $ 75.00
By DR WILLAM BRAD WHITE, Mus.D.
For many years the accepted textbook in many schools and libraries .
This famous work by America's prominent author, teacher, and technician is one every tuner,
however skilled, should read and reread to learn more fully the details of the craft.
One of the most comprehensive and valuable books the technician can own.
Published by American Piano Supply Co.


AMA1615-- FIRST STEPS IN PIANO TUNING $ 55.00 when available
By L. M. NADLER
A highly recommended edition for both new and experienced tuners
A 66 page paper bound book from England with 5 chapters
1. Temperament Construction (this chapter uses the A-435
European pitch in its tables and discussion
2. Fine Tuning;
3. Setting the Pin;
4.Outside Work.
5. "Showing off" the piano with chords to demonstrate the tonal qualities.


AMA572524 -- THREE CENTURIES OF HARPSICHORD MAKING $ 109.00 when available
Like New Condition
By FRANK HUBBARD- Foreword BY RALPH KIRKPATRICK
A unique book by a professional harpsichord maker of international fame.
A study of the traditions of harpsichord making from 1500 to 1800.
Mr. Hubbard makes it possible for harpsichord builders to base their work
on the knowledge of designs and methods of earlier makers; to guide harpsichord
players in recreating music of the past. 41 plates illustrate harpsichords of Italy,
Flanders, France, England, Germany, also plans and elevations drawn to scale,
drawings of interiors, details of construction. This remarkable book will prove
of interest to everyone who has ever been intrigued by this inimitable
instrument 520 pages.


AMA572528-- HARPSICHORD REGULATING AND REPAIRING $ 63.00 when available
By FRANK HUBBARD
A treatise on tonal design of antique harpsichords, antique harpsichord actions,
action regulation, repairs and tuning. Many fine illustrations.


AMA572529 -- METRONOME TECHNIQUES $ 25.00 when available
By FREDERICK FRANZ
See page 50 for brief description of this book.

SH1727 -- MEN, WOMEN, AND PIANOS $ 54.50
By ARTHUR LOESSER
This remarkable 654 page book is a study of the piano and how it relates
to society today, and back through 350 years of western civilization.
Mr. Loesser was a careful historian, as well as an outstanding musician
and linguist. His keen analysis of the ways of men and music provides a
fascinating tale.

AMA1637-- TUNING:
The Perfection of Eighteenth-Century Temperament,
the Lost Art of Nineteenth-Century Temperament,
and the Science of Equal Temperament Complete
with Instructions for Aural and Electronic Tuning
Out of print-- Ask about a used copy. $ 460.00 when available
By OWEN JORGENSEN
The most complete history of piano tuning ever compiled. The author is
internationally known for previous books and numerous articles on
historical temperaments. TUNING is an invaluable resource for
piano technicians, musicologists, music educators, students of tuning
and keyboard performers.


AMA572625 -- THE EDUCATED PIANO $ 230.00 when available
By EDWARD J. McMORROW
This book will assist the technician in fulfilling 2 goals. First to gain a thorough
understanding of the processes that produce beautiful piano tone and touch,
and second to achieve financial success by using this knowledge to create a
loyal clientele of quality piano owners. 176 pages, 8-1/2" x 11". This widely
acclaimed recently published book is a "must" in every serious technician's library.


AMA1672 -- THE CALCULATING TECHNICIAN $ 88.00 when available
By DAVID ROBERT
This 120 page book is a revised version of the articles of the same title in
the Piano Technicians Journal. Roberts develops formulas for calculating
tension, inharmonicity, breaking point and elongation for all strings.
While this book gives information necessary to design new scales, it helps
technicians rescale bad spots at the break of small older grands.
Published by The Piano Technicians Guild.

AMA572609 -- TAGE FRID TEACHES WOODWORKING-- $ 98.00
Three Books In One Slip Case
Book One- SHAPING, VENEERING, FINISHING
Book Two- JOINERY: TOOLS AND TECHNIQUES
Book Three- FURNITURE MAKING
A Fine Woodworking Book. Tage Frid, the dean of American wood
working teachers, distills into 210 pages step-by-step instructions on
all the fundamentals a beginner needs to know. Contains over 700
detailed illustrations. Hardback, 9" x 1 1-1/2"



AMA572615A-- THE MUSICIAN'S PIANO ATLAS $ 76.00 when available
Edited by S. K. TAYLOR
Serial Numbers and manufacturer's production dates of over 300
brands of pianos (past and present) from 23 countries. Limited
coverage is given North American brands. Published in England.
216 pages, paperback.



AMA1651-- THE BOOK OF THE PIANO $ 45.00 when available
Edited by DOMINIC GILL
A handsome, unique book written by a team of distinguished musicologists
and performing musicians. A comprehensive illustrated study of the piano
from its earliest ancestors to the concert grand of today, of the designers
who have built and improved it, of the composers who have written for it,
and of the pianists who have played it.



AMA572606-- THE TUNING OF MY HARPSICHORD $ 145.00 when available
By HERBERT ANTON KELINER
Published and printed in Germany, 5-1/2" x 8-1/4", 56 page paper back.
This treatise on how to tune your harpsichord addresses its advice
more to musicians as amateurs and connoisseurs rather than professional
tuners. Due to their limited tuning stability, most harpsichords are not
regularly serviced by piano technicians. This book will assist in learning
proper harpsichord tuning techniques.


AMA572607-- ON THE SENSATIONS OF TONE $ 34.00
By HERMANN HELMHOLTZ
One of the world's greatest scientific classics. Nearly a century after its
first publication it is still a standard text for the study of physiological
acoustics-- the scientific basis of musical theory. It is also a treasury
of knowledge for musicians and students of music. Difficult scientific
concepts are explained simply and easily for the general reader.
576 pages, profusely illustrated, 6-1/8' x 9-1/4", paperback.


AMA572592-- PIANO $ 39.50
By LOUIS KENTNER
Besides making interesting reading this book will alert many technicians
to the importance of their part in the ultimate quality of piano music.
Sections of the book deal with the structure of the piano, the aspects
of technique in playing, and the great pianoforte composers.
Paperback, 210 pages, with an introduction by Yehudi Menuhin.

AMA572589 -- THE PIANO OWNERS GUIDE $ 25.00 when available
By CARL D. SCHMECKEL
Helpful information about buying a new or used piano, and piano care
and service. 128 page paperback.

SH1714-- THE PIANO KEY AND WHIPPEN $15.00
An analysis of their relationships in direct blow actions.
This is the English version by Jim Englehardt.
Paper copy 72 pages, 39 illustrations.
Highly technical.


AMA572580 -- THE PIANO HAMMER $ 188.00 when available
By WALTER PFEIFFER
A detailed investigation into an important facet of piano manufacturing.
Various types of actions are discussed relative to how they activate the
hammer. There is also an interesting section on hammer weights.
This is the English version by Jim Englehardt. 180 pages, 91 drawings.


SH1716-- GRAND VOICING $ 12.00
By FRANZ RUDOLF DIETZ
A discussion on how to needle, file, and voice a new set of hammers.
16 instructive photographs.

AMA572570 -- THEORY & PRACTICE OF PIANO CONSTRUCTION $ 26.00 when available
By WILLIAM B. WHITE
A reprint of the original 1906 edition, 5-3/8" x 8-1/2" paperback.
An excellent book for anyone who wants to tune or repair his own piano,
or who is thinking of building a piano or other keyboard instrument,
or just wants a greater understanding of how a piano works.

AMA1655A-- LETS TUNE UP $ 88.00 when available
By JOHN W. TRAVIS, Craftsman, PTG
By a dedicated member of the Piano Technicians Guild. Designed as a textbook
covering all phases of the piano industry from the technician's point of view.
Contains 18 chapters, 375 pages with over 270 illustrations, charts and pictures.
A few interesting chapter headings are: Elements of Sound Relationships," "Beats,"
"Techniques of the Tuning Hammer," "Keeping of Records."
The novice and the most experienced technician will benefit from having this
book in his library.


PLAYER PIANOS AND REED ORGANS
BOOK SEARCH--
Some of these books are available only by searching trade sources, and the source
changes every time we look for one. So, you will see "INQUIRE" after some books.
If you are really in NEED of such a book, SEND MAIL, and Steve will look for it.
FEE: There will be a $ 10 fee for the search. If we find the book, the fee will be
credited to you against the cost of the book. If we do not find the book, you will
forfeit the fee. The minimum cost of a book searched for is $10.
We do NOT work for nothing. Thanks for understanding.
WARNING: Most of these rare books are very expensive new or used.

SH1601-- PLAYER PIANO MECHANISMS $ 54.50
By DR. WILLIAM BRAID WHITE Mus. D
An authoritative text on the player piano action. There are sections on Ampico Duo-Art
Welte and others invaluable if you do player work.
Published by American Piano Supply Co.


AMA572504C -- AUTOPIANO PLAYER PIANO POINTERS $ 58.00 when available
An informative booklet on regulation action removal, timing the motor,
detecting leaks, etc 31 pages, Illustrated


SH1609-- DUO-ART SERVICE MANUAL $ 15.00
A reprint of the 48 page 1927 manual on servicing the Duo-Art reproducing mechanism.
Contains illustrations and tuning scheme diagrams.


SH1626-- WELTE-MIGNON ACTION $ 6.95
A reprint of the 48 page bock of instructions on How to Test and Regulate
the Auto-Deluxe Welte Mignon Reproducing Piano

SH1667-- PRATT READ PLAYERS $ 10.00
A reprint of the booklet describing the Style 72 Pratt Read Player. In brief form,
suggestions are made of the kinds of regulation and adjustment all makes
of players require from time to time.


SH1708 -- AMPICO 1919 MANUAL WITH 1920 SUPPLEMENT $ 12.50
This rare book goes into detail about the operating principles of the
Ampico action. Includes many illustrations and diagrams.

SH1608 -- AMPICO MANUEL AS ABOVE-- 1929 ERA -- 56 pages $ 9.00
Includes tuning schems

SH1624 -- AMPICO 1923 INSPECTORS REFERENCE BOOK $ 9.75
Contains illustrations and information necessary to gain a thorough understanding of the
working principles of the Ampico. All explanations are based on the upright Ampico,
but apply equally as well to the grand.
SH1665-- AEOLIAN PLAYER PIANO SERVICE MANUAL $ 21.50
A service manual for the 64-Note and 88-Note Standard Pneumatic Player Actions.
Each section of the Standard Pneumatic Action is treated separately, and in non-technical
language. This 8-1/2" x 11", 56 page paper bound book prepared by the Aeolian Corporation
will assist the technician and the owner in proper care and adjustment of Player Pianos
equipped with the Standard Pneumatic Action. Illustrated with many photographs and drawings.


AMA572604 -- THE MODEL "B" AMPICO REPRODUCING PIANO Inquire
By DAVID L. SAUL
An illustrated rebuilding guide for the Model B Ampico. 8-1/2" x 11", 100 pages.
Spiral bound with soft cover. The most ambitious "how to do it" manual
ever devoted to rebuilding a most particular automatic musical instrument.

SH1709 -- AMPICO MODEL A TUBING CHART $ 5.00
Blueprint of the tubing for the model "A" Ampico grand, which is equally
useful for uprights. Made from an original factory print. Although the clarity
of this reproduction is not as good as desired, it is the best available,
and will be helpful in servicing these old instruments. The name "Amphion"
appears on the prints, and this is the name of the firm that made the original Ampico.

SH1710-- DUO-ART TUBING PRINT $ 5.00
This print was made from a grand piano, but it also applies to upright
models of the Duo-Art


SH1711 -- WELTE-MIGNON (Licensee) TUBING CHARTS $ 5.00
Expression devices and tubing charts separately illustrated for both
upright and grand Welte-Mignon (Licensee) Models.


SH1666-- SIMPLEX PLAYER ACTION MANUAL $ 19.25
40 page book. A fine reprint of the service manual of the Simplex player mechanism
which was used in so many home players in the 20s. Many drawings and photographs.

AMA572520-- PLAYER PIANO TREASURY $ 88.00 when available
By HARVEY N. ROEHL
Here is the story of the player piano industry in America. An almost forgotten
era is vividly and uniquely brought to life by this fascinating collection of
catalog material, advertisements, trade journal articles, and many pictures.
316 pages. 8-1/2" x 11" Second edition

SH1662-- PRINCIPLES OF PLAYER ACTION OPERATION $ 9.90
An excellent booklet on the principles and servicing of the pump type player.
Written for the Standard Pneumatic Action, but the book is useful for all makes

AMS572541-- GULBRANSEN SERVICE MANUAL $ 60.00 when available
A reprint of an old manual published by the Gulbransen-Dickinson Co. for assisting
in service of their player pianos. Paper bound.

SH1712-- SCHULZ PLAYER ACTION MANUAL $ 8.25
A reprint of this 1922 manual published by M. Schulz Co. The Schulz action is commonly found,
and can be troublesome to service because of its odd valve action.

SH1621-- THE AMPHION ACCESSIBLE PLAYER ACTION $ 8.25
The Amphion is considered by many to be one of the finest player actions ever built.
The Amphion Piano-Player Co. also built the Model "A" Ampico mechanisms as well.
Owners of the Model "A" upright Ampicos will find the manual very helpful.


SH1664-- QUESTIONS AND ANSWERS $ 8.25
A reprint of more than 300 questions and answers from the old Standard Pneumatic
monthly service magazine. This 8-1/2" x 11" pamphlet will surely assist
player servicemen-- especially those new to the trade.

SH1706-- MODERN ORGAN TUNING $ 8.25
By HERMAN SMITH
An engaging How and Why" discussion of the development of the pipe organ,
and the nature of the organ. Tuning procedure and scientific principles of organs are
discussed in an interesting manner. 120 pages.
SH1646-- THE REED ORGAN
A 22 page booklet packed with information on the care of the reed organ.
Easy remedies are suggested for common reed organ problems. The technician or
owner can make good use of the interesting description of the various stops,
and how to use them for the best musical effects.
Originally published by Sears Roebuck & Co. in 1910. INQUIRE

SH1673-- THE REED ORGAN: ITS DESIGN AND CONSTRUCTION
By H. F. Milne
This 168 page soft-bound book details a vast amount of information of how reed
organs are constructed. It is a practical guide for craftsmen with instructions for
making new reed organs and chapters included on tuning and voicing. $ 32.00

SVN10GL-- Gellerman's International Reed Organ Atlas
Robert F. Gellerman- 320 pages- Paperback


This second edition of Gellerman's classic reference work is
a must for collectors and aficionados of reed organs. Its aim is
to present a complete listing and brief history of every
manufacturer of reed organs in the world as an aid to the collector.
In the 13 years since publication of the first edition, hundreds of
new names and historical facts have come to light and are
included in this revised edition. 89 illustrations. 104 photos. $ 27.00

NBN12GL-- The American Reed Organ and Harmonium
Robert F. Gellerman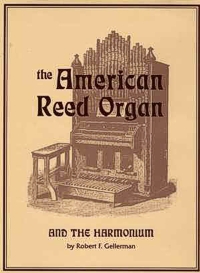 When The American Reed Organ was published in 1973,
the instrument was an almost forgotten artifact of the
nineteenth century. While many reed organs had survived,
most had been stored away and allowed to deteriorate and
gather dust. The book helped revive interest in these
instruments and led to the formation of The Reed Organ
Society which provided focus for news and research on the
subject. As interest continued to grow, a number of other
books appeared, but The American Reed Organ remained
the standard work on the subject for many years. Book The
American Reed Organ and the Harmonium is more than just
a new edition of its predecessor. It has been completely
rewritten and expanded to reflect continuing research on
the subject. The extensive history traces the free reed back
from its origins in China about 2000 BC through its development and perfection as a popular
instrument for homes, churches, and music halls, until it reached its peak in the 1890s.
The amazing photographs chosen to illustrate the text will show how important a part
of everyday life these organs had become. There are photos of organs being
transported across the prairies in wagons and pictures of the "chaplain's organs" that
went to both World Wars with our servicemen. There is one historical photo from the
official US Navy files which shows a chaplain's organ being used in a religious service
on the bombed-out hangar deck of the USS Franklin in 1945. A large sampling of the
advertising and catalog offerings by the major organ manufacturers of the time, as
well as post cards, cartoons, and holiday greetings featuring reed organs will add to
your appreciation of these fine instruments.
Covers the history, construction, manufacturing, tuning, restoration, and music of
these classic American and European parlor instruments. -- Paperback $ 31.00

DA/B-85-- RESTORING AND COLLECTING ANTIQUE REED ORGANS $ 38.50
By HORTON PRESLEY
A 310 page paperback that is a step-by-step guide to finding, repairing,
tuning, and restoring these priceless antiques. The most authoritative,
and easy to understand, book on the subject that is in print today.
DA/D-37-- THE BILLINGS ROLLOGRAPHY
By BOB AND GINNY BILLINGS
Set of 3 volumes
Vol. 1-- Alphabetical lists of all QRS word rolls made between 1917 and 1934

Vol. 2-- Lists all roll companies, that made Recordo rolls, numerically.
Lists with all combined alphabetically by title, also by composer (classical).
Also chapters on history and technical description of the expression system variations.

Vol. 3-- All roll recording artists for QRS and Recordo rolls. Listing all their rolls,
pictures, and biography, when available. Includes rolls of all pseudonyms used and
who actually arranged using these names.

1174 pages, 8-1/2 by 11 inches, weight- 7lb, 6 ounces $ 288.00