STORE HOURS
9 TO 6 CDT
GMT minus 5 hours
Monday thru Friday
Do not call on
Sat. Sun. please

DDIAGRAMS OF PIANO ACTIONS
I suggest you print out these diagrams
so that you can study them easier.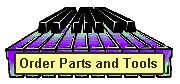 © All Diagrams except the birdcage in this section are property of Steve Van Nattan, Copyrighted 1997 and 2001.
Violators will be prosecuted


VI- BIRD CAGE ACTION (FROM ENGLAND AND GERMANY)
LINK:

Here is one of the strangest pianos ever made

Here is a piano with the action in back behind the sound board.
It is an Erbe from Germany. The tuner will need a chiropractor after tuning this one.
You can go from here
directly to an area discussing your part in quesion.
OR
Go the the catalog page offering the part
you find by its name in the diagram,
By using the search indes below.
Below is an Exhaustive Index of our Whole Site:



I am sorry, but the diagrams are mentioned so much in the book
that I cannot list all of the "back" options from this window.
Kindly find your way back through the Table of Contents, or simply
hit "Back" on your Web browser.