Minimum page size- 1020
STORE HOURS
9 TO 6 CDT
GMT minus 5 hours
Monday thru Friday
Do not call on
Sat. Sun. please


GRAND PIANO COVERS

If you are buying more than one item on this page, or a trolley or bench
with something here, we will talk about a discount. Quantity orders
of covers will definitely be discounted if you are ordering more than
five covers or various sizes and if the pianos involved are recent well
known brands.
There are SIX Cover Options:
Black or Brown Mackintosh
This is cotton drill cloth bonded with a rubber compound to a soft flannel.
Very tough and durable, and well suited for schools, churches, and studios.
This material repels water to a limited degree. This cover is probably the
least likely to snag when kitty tries to jump up on the piano.

Black or Brown Vinyl
Vinyl imitation leather outside, with flannel lining inside. Though this is the
lowest cost cover, it is the most water proof. It is ideal for restaurants and
situations where people are likely to set a drink down on the top of the piano.
Color Choices: Black, Brown
Special Colors: Sand (Beige), Burgundy, and White ( Add $20 )

Black Nylon Quilted-- Standard
High quality satin nylon outside with poly-cotton combination padding and
inside lining. This cover has the same sheen and look as the Premium cover,
but the nylon material is slightly lighter, and the cover will soak up water spills.
If there is a chance of liquid spills, do NOT order this cover.

Black Nylon Quilted-- Premium
Premium grade black satin look of top grade nylon outside, quilted stitching
throughout, with soft cotton flannel and padding inside. This one is the best at
preventing scratching and gouging. If water spills are an issue, this nylon material
sheds water very well, though standing water may eventually soak through.
The quilted cover is the most luxurious looking cover for the home or performance
area. This cover looks the great under stage lighting.
Special Color: Brown ( Add $20 to the prices shown )
Heavy Mackintosh Quilted-- Black or Brown (Add $20 for Brown)
This is a very sturdy cover, but it has a more ambient look than the rugged old time
Mackintosh above. The outside layer is Mackintosh with quilting throughout.
The inside is a flannel like cloth to protect the piano better from gouging. A good choice
for schools or public venues where durability and protective padding are important.

Heavy Nylon Quilted Premium
This is a very nice looking quilted cover with a sheen, and it is quite water resistant.
(Pooled water could eventually soak in through the quilting stitches) Available only in black.

Swatches
Because it is so hard to get color and texture right in a photo on a web site like this, we
are offering to send swatches of the above covers if that will help you make a decision
which cover you would like. We will not send swatches of all the covers to anyone. This
is unreasonable. Read the description, and decide on two or three choices, then call us,
and we will answer any further questions and then send the swatches. CALL 800-338-8863

Grand Piano Covers: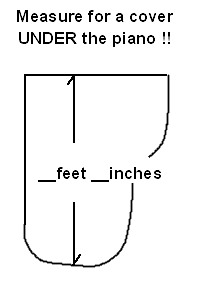 STEP ONE -- Determine Part Number:
Find your piano and Order Number in this chart,
Then go to the next chart to find the price.
Double check by laying UNDER your piano and measure only the
length, using the instruction graphic at the right as your guide.
If you do not see your model of the piano in the chart, look down
the page for ordering a custom made cover.
There is no extra charge for custom made covers.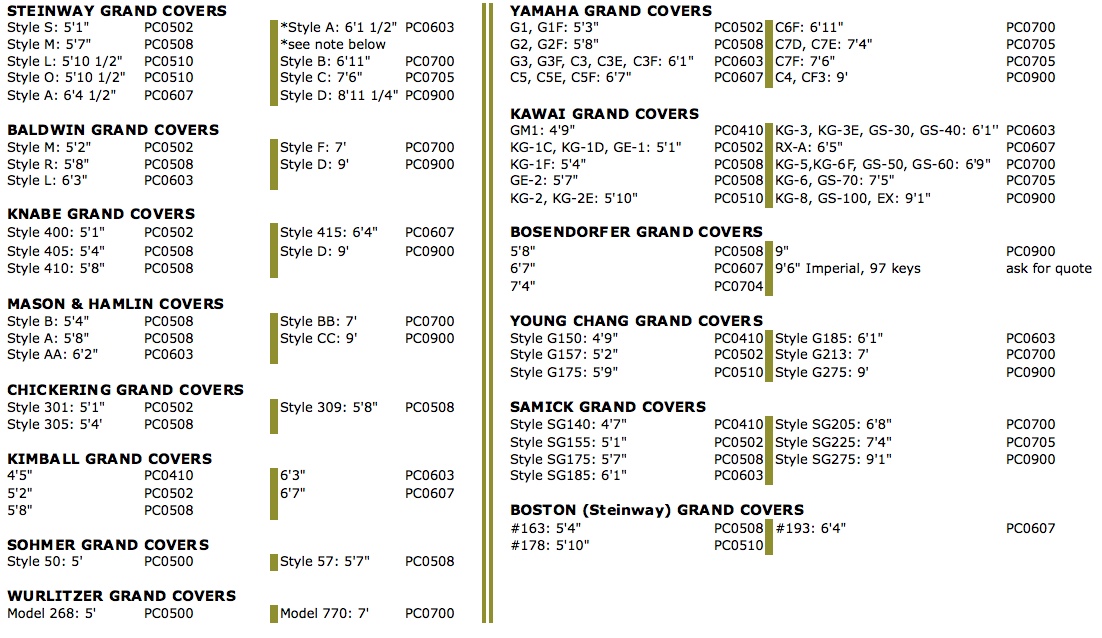 * Steinway A, 6' 1"- Part Number PC0603-- We MUST know if you have a piano with a square tail of round tail.
Here is some data which may help. Model A-I's (c. 1878-1897) have Victorian cases with round tails, round
arms and double moldings; model A-II's (c. 1896-1914) ) have traditional cases with square tails. All A's after
1915 should have round tails. BUT, Steinway made some odd pianos along the way, so you must determine
if you have a square or round tail. Give us the serial number when you order so that we have another way
to check this. Thanks.
Samick, Pearl River, and other
late model pianos:
Please SEND MAIL for prices.
Tell me the length by using the instructions in the above graphic. I would also like the model number which is in your literature, or it is on the harp under the desk in the tuning pin area.

Petrof -
Model I 9'2' Concert Grand
Model II 7'9" Concert Grand
Model III 6'8" Grand
Model IV 5'8" Grand
Model V 5'3" Grand

Yamaha - Model GB1 and DGB1--
4 foot 11 inches
Yamaha - Model C1-- 5 foot 3 inches




How to price the cover for a piano in these lists.
Find the same length piano anywhere in the above chart, and then look at that Part Number in the chart below. If your piano is not listed on this page, measure it UNDERNEATH the piano from in front of the keys to the far end of the curve, and find a piano the same length in the chart and price list.

Pianos now made by Baldwin:

Wurlitzer Grand Model C173 - 5' 8"
Wurlitzer Grand Model C153 - 5' 1"
Wurlitzer Grand Model C143 - 4' 7"

Chickering Grand Model 507A - 5' 7"
Chickering Grand Model 507CD - 5' 7"
Chickering Grand Model 507DL - 5' 7"
Chickering Grand Model 410A - 4' 10"
Chickering Grand Model 410FP - 4' 10"
Chickering Grand Model 410QA - 4' 10"

Bosendorfer

5'3" - Model 160
6'1" - Model 185
6'3" - Model 190
6'7" - Model 200
7'0" - Model 214
7'4" - Model 225
9'0" - Model 275
9'2" - Model 280
9'6" - Model 290
Tell us how many keys your Bosendorfer has if it is a concert grand



Nordiska, Story & Clark, Hallet & Davis, and Hardman are made by IMNSHO, Dongbei in China.
Ritmuller and Henry F. Miller are made by Pearl River in China.





STEP TWO -- Decide Fabric:

Find the price next to your Part Number, and decide which fabric you want.
You may have to set your screen pixel size larger to see the chart correctly.


** Mackintosh covers in Black and Brown only
Vinyl covers in Black, Brown-- For Sand (Beige), Burgundy, or White add $ 20
Nylon Standard Quilted-- Black or Brown
Nylon Premium Quilted in Black-- For Brown Premium add $ 20


Miscellaneous Grand Covers not in chart above:
Find a piano in the top chart the same length as yours (measured underneath the piano).
Use the yellow chart to find the price for that piano. That is what you will pay for your cover.
Step One above tells you how to make a pattern of your piano top for our cover maker.

.
STEP THREE -- Decide Color:

Decide whether you want the Black or Brown Mackintosh,
Black or Brown Vinyl, or Black or Brown Nylon Quilted, Standard or Premium, cover.
Please have the order number and price on hand when you call.
(800) 338-8863
Floor length Cover
The normal side length of a Grand Piano Cover is about 17 inches.
If you would like to have a floor length cover, three things apply:

1. I need the exact distance from the top of your piano ( lid closed ) to the floor.

2. You need to add $ 80 to the cost of the cover as you found it in the above chart.
This applies to any material you choose.

3. Shipping will also be more and will be figured at the time of sale.
One Leg Wrap
This sounds strange I realize, but there is sometimes a need for one leg wrap.
When the piano is sitting where sunlight can come through a window and hit
the piano, a cover is not enough to protect the whole piano. You may want
to add a leg wrap for the one leg the sun is hitting. The leg cover comes with
Velcro straps to hold the cover on the piano leg.

LEG WRAP PRICE:
Standard Nylon Quilted-- $ 60.00 for one leg cover
Premium Nylon Quilted-- $ 70.00 for one leg cover
Heavy Quilted Mackintosh-- $ 78.00 for one leg cover


Three leg wraps available
SEE LEG AND LYRE WRAPS FOR MOVING AND SECURITY
Harpsichord Covers
Harpsichord covers are custom made. See the instructions down the page
for making a pattern of the top of the Harpsichord and mailing it to us.
Pulpit Covers
Churches may want to consider a matching set of Piano Cover, Organ Cover,
and a Pulpit Cover. Much Chaos is created by brats fiddling with the controls
and contents of the church pulpit. CLICK to return to the menu for other covers.

For a quote on a matching set of Piano, Organ, and Pulpit covers, send mail.

Security to Protect Your Piano
We offer locking straps and grommets for full sized covers.

Grand Piano strap

A "D" ring is included which allows you to lock the cover under the
piano with a pad lock. The strap can still be vandalized of course,
but the point is to discourage casual playing and opening up of the piano.

Price: $ 12.00 added for each strap section.
This means one complete strap and "D" ring arrangement will have
at least two strap sections for $ 12.00 each. One option is to have three
strap sections, two from the long side, and one from the curved side
of the cabinet, which meet in the center for locking.

Locking strap for an Upright Piano

If you would like one strap for under an upright piano, with the "D" ring
locking arrangement, this can be arranged. One strap will pass all the way
under the piano and meet a ring so that you can padlock the piano from
the front. If you piano sits against a wall, be sure you can move the piano
easily to lock and unlock the strap.

Price: $ 18.00 for one strap and "D" rings.

Fabric Loops

Used now instead of grommets. Added to lower edge for securing the cover.
A locking cable can be added by you, but use caution because the
cable and lock can scratch the piano as the cover is removed.
Be sure the cable used is plastic coated. Run it through the loops
and make provision in the design of the cable path so that you can
padlock it and prevent removal of the cover.

Price: $ 3.75 added per loop.
Security and Display Cover
Our cover maker is always innovating, and this one comes from Steinway's
creativity. This cover is used commonly at conventions, malls, and promotional
events where the piano must be left over night or during the lunch hour. The cover
only covers the top and key area, and it can be locked. It is inexpensive since much
less material is used, and the sides are visible.

We are selling this cover to schools, restaurants, and churches. It would not be very
appealing in the home because of the sides are not being protected. Once attached
to the piano, the fall board and the top of the piano cannot be opened.

The four reasons for this cover are:

1. Keep the crazies from playing the piano and making a
nuisance of lousy music.
2. Protect the top from the other crazies who set drinks
and piles of rubbish on the piano.
3. The cover is very easy to put on and take off.
4. The cover will prevent dust from settling on the piano.

The cover is made oversized so that there is an overhang along the edges of the top of
the piano to protect the top edge and shed liquids from spills.

Here is a diagram of the cover.
It is a bit difficult to make this clear, so please feel free to call and discuss it.



The A section of the cover wraps around
the front of the key area preventing the
playing of the piano. The A flap stops just
short of the pedal lyre, and the straps lock
everything together at that point.

Security:
The cover is used by Steinway in settings
where rational people simply need a gentle
hint to leave the piano alone until the cover
is removed. If you have a school or restaurant
or church setting where there are unrestrainable
people about, we can have "D" rings attached
to the straps and the A flap so that the cover
can be padlocked in place.

Adding four "D" rings-- $ 12.00 additional
Materials suggested:

For water protection of the top-- Vinyl
For security-- Mackintosh
For security AND intimidation-- Heavy Quilted Mackintosh
For looks?-- These covers do not look ambient. Buy a full cover please.

HOW TO ORDER:

Find your piano in the charts at the top of the page, and call.
We will give you a price on the phone. Discounts for quantity.
CALL: 800-338-8863

Custom Made Grand Piano and Harpsichord Covers:
If your piano is not listed above, here is how we can supply one for you.
Our supplier will custom make the cover to fit your piano.You need to make
a pattern of the TOP, ONLY the top, of your piano. Do not include the area
of the key cover or fall board. Lay paper on the WHOLE top, with the front
portion closed flat, and tape it together securely. Then, cut it so that the pattern
goes out to the edge of the top. ADD NOTHING FOR THE SEAM. Roll it up,
or fold it up, and mail it to us. Be sure it is very well taped so it does not come
apart in shipping. Again, do NOT allow for the key area-- measure only the
flat top area.

We also offer covers for electronic / acoustic hybrids by this method.




Also, write on the pattern:

Your name, address, and phone number,
Brand of the piano,
Model number,
Serial number if you can find it.
Length of the piano measured UNDERNEATH THE PIANO


For square grands, send E-Mail.

Price:

Find Miscellaneous Grand Covers by size: above. The price of your
custom cover will be the same as the nearest one to yours. If your
piano measures an inch or two off from the above list, use the next
HIGHER price.

Send me the pattern and your Order Form and check.
You may call and pay by VISA or MasterCard at (800) 338-8863

SHIPPING:
USA

USA-
NYC, New England, NJ, Philly, DC, VA- $14.00 - $18.00

Other points East of the Mississippi River- $ 18.00 - $22.00

West of the Mississippi- $ 22.00 - $27.00

Call re shipping to Alaska & Hawaii.

Canada

Canadian orders shipped US Post Office Priority Mail only.


Overseas Orders

Please call to inquire about International shipping & return policies.
Returns:
In the event that you do not want to keep the cover, or if the cover is
defective, you MUST call us for instructions for returning the cover.
This is because our cover maker does not have the records of your
transaction with us. If you return a cover which has no defects, we
will refund your payment less 20% restocking fee. The cover will be
returned to our cover maker, NOT to us, so you MUST call for
instructions how to return the cover. CALL: (800) 338-8863

Thanks
Were you looking for one of these?
COVER ACCESSORIES:
Piano Bench Covers, Grand Leg Moving Covers, String Covers,
Grand Piano String Covers

SOUND MUTING AND CONTROL
For people in apartments or who like to play Fugues at midnight
---
CALL US TOLL FREE AND ORDER
WITH A CREDIT CARD AT:
(800) 338-8863





Contact us by E-Mail if you don't understand.
Please include the word "piano" in the subject line


ORDER BY PHONE WITH CREDIT CARD
CALL TOLL FREE: (800) 338-8863
If there is no answer, please leave a message- we do answer our voicemail

OR:
Go to Mail Order Form for printing:
SEARCH THE WHOLE SITE
Online help available


NP