STORE HOURS
9 TO 6 CDT
GMT minus 5 hours
Monday thru Friday
Do not call on
Sat. Sun. please

THE WORLD'S BEST TUNING LEVER...
BY SCHAFF

ORDERING INFORMATION:
MINIMUM ORDER:
Minimum Order $20
SHIPPING POLICY:
Priority Mail shipping for most items. UPS by request.
You MUST browse the Catalog area, and try to learn what you want. We no longer search our catalog for you.
Have this information ready:
1. Description of parts
2. Part Numbers
3. Prices
4. Dimensions where needed
BEFORE you call us please.
Make sure you are in the catalog area for your kind of piano--
Such as Grand Pianos,
Full Uprights, Spinets, etc.
If you are confused, call us for assistance.
If we do not answer the phone, we are probably here-- Just leave a message- we will return your call (it may not be the same day).
:-)
This is the best tuning lever we can find anywhere. If you
intend to make any kind of career of tuning pianos, this tool
will be a great help. It is not just classy though. There are
many tool attachments which can be added to the lever to
make it useful in all sorts of applications. You may eliminate
buying a special tool by simply buying the appropriate
attachment, later on when you need it. If you have a Hale
lever, the thread pattern for the head to the shaft, and the
tip to the head, is the same. These attachments should fit
your Hale lever.
Definition: A "Tuning Lever" and "Tuning Hammer" are the same thing.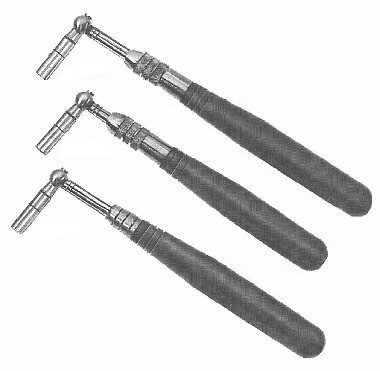 Best in the trade!!!
Schaff Premium Tuning Levers
Hand machined of the best alloys.
Accepts a vast assortment of attachments and tips...
To enhance the tool over the years.
"Extension" means that the handle can be
lengthened considerably.
Rosewood handle-- Sigh!!!!
Packed in a fleece lined pouch-- What else?

Take it to the country club and flash it at the piano
man :-)
I hate to admit this, but some musicians look for this
tool to see if you are a serious tuner. If you are just
beginning, flash the lever and act like the silent
type-- You never know, it might get you into a
concert hall.


In most cases, the lever is drop shipped directly from
the manufacturer to you. Any problems are quickly resolved.

Regarding all tools on this page....

From the steel mill

to the UPS
driver
at your door--
MANUFACTURED,
SOLD, BILLED,
AND DELIVERED
BY AMERICAN
CITIZENS
WHO LIVE IN THE
USA !!

When you buy tools that
look like tools on this page,
ask where they were made.
Ask if they were made by Schaff or "Hale."



NO CHINESE JUNK HERE:

These are "Made in USA" tools, in that, all our tools come from Schaff Piano Supply in Chicago, not Shanghai, China! Both "Hale" and "Schaff" tuning lever names are now owned and made by Schaff Piano Supply. You may see piano tuning levers and tools that look exactly like Schaff tools but are made in China. Ask the seller if they are made in China.
These tools are used by American Piano Technician Guild members and reflect Schaff's years of experience demanding the best workmanship in tools.
The worst issue with Chinese tools is that they are copies of American products. I have been warned by two Chinese American business men to be very careful when buying from China. The quality defects are often hidden behind high quality outer appearance. Chinese steel tools often blacken with age.
I have samples of piano tools from two manufacturers in China, and they are typical-- tinkering quality at best.
I, Steve, have used Schaff's tools for 23 years, and I have never had to replace a tool. I used their economy tuning lever for 13 years on about 2000 pianos, or 500,000 tuning pins.
I finally bought a rosewood lever (above) because I became self-conscious about my customer's perception. My old economy tuning lever is still on a shelf where I can loan it out to customers making repairs.
I use Schaff's tools, I sell their tools, but I let Schaff decide who makes the best tools. Schaff has examined Chinese tools, and they have rejected them. As to quality, I would take the word of the janitor at Schaff before I would believe a Chinese "expert."
A certain party informed me that he had a catalog in front of him from somewhere which claims that Schaff buys tuning levers from the Orient. Lie! All Schaff tuning levers come from New Jersey, Illinois, or Wisconsin. All their tools, except a couple from Germany, come from the USA.
There is a bit of a trade war going on, and I intend to stay with the "old established firm." If lying is how China sells their product, then I say, "Caveat Emptor!"
Last thought: If you have notions of starting a piano tuning business, these tools will stay with you for years and be passed on to your grandson.
EXTENSION MODELS


First Quality Rosewood Extension Lever
Fine piano stores have one of these.
Leave it on a tuning pin hanging out in space, and it says,
"This guy is keeping on top of his pianos."
Jerry Peterson in Grand Rapids always had his hanging there
on a tuning pin on a big black Yamaha.
Hubris abounds folks, and admit it-- We love a little class, right?

Overall length is 11-1/2 inches with a possible 6-1/2 inch
extension Comes with a #2 star tip, Part Number 14B, and 13G head.
Also comes with tip wrench and mackintosh carrying case.
Part Number SH21
Price $347.50
Replacement 8 inch long extension shaft-- Threaded on both ends
Part Number SH21R
Price $ 36.95
The Black Nylon Handle Extension Lever
Same Extension Tuning Lever SH21, but with
Black Nylon handle- Actually, this is very practical
since the nylon will not react with hand moisture.
9 inch handle, 12 inches overall-- weighs 17 oz.
Comes with a 14B #2 star tip and 13G head. (Does not
include tip wrench or carrying case.)
Part Number SH16
Price $ 295.00

NON-EXTENSION MODELS
NOTE: We carry the latest carbon fiber tuning levers. They must be custom assembled. Call for details.
Piano Factory Style Tuning Lever
This lever is designed for factory work. It is great
for installing new tuning pins. With the pin plank in
place and supported beneath, you can turn in a tuning
pin a couple of turns, then hammer on the butt end of
the tuning lever head with a hammer and drive in the
pin all the way. 13" long with #2 tip- 15 ounces. Great
for driving loose pins in deeper in uprights while tuning.
Part Number SH18
Price $ 79.00
Black Nylon Handle
An alternative to wood. Has a stationary handle made of
black nylon with a light swirl grain. 8 inch handle.
12 inches long overall.
Comes with a #2 star tip and a 13B head.
Part Number SH4
Price $ 145.00

Deluxe Professional Lever with Rosewood Handle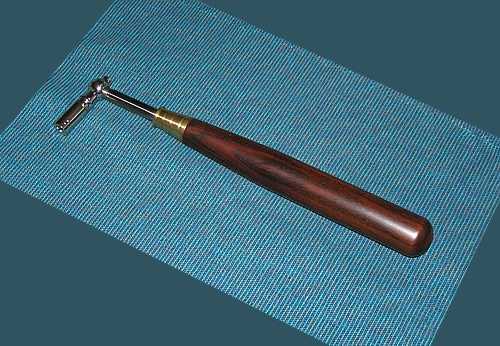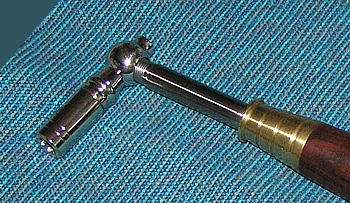 This lever is one of the most classy looking levers I have seen.
It is made on the design of a lever made long ago, and it blends
the beauty of chrime, brass, and Rosewood. This lever also gives
you the option of changing heads and tips like the quality levers
above This lever has the same quality of steel of the #21 above, but
the shaft is not extendable. Overall length is 11-1/2 inches long.
8 inch rosewood handle. Comes with 13G head and #2 star tip.
Part Number SH6
Price $ 249.95
This lever is also available in a Nylon Handle-- Inquire by Email
Substitutions For Tips and Heads
Custom head and tip choices can be arranged, but some price increase
must be expected. See below for options galore.
Are these levers beyond you means?
Check out our Apprentice, and Craftsman Levers.
---
Schaff attachments for the above Tuning Levers:
All parts below will fit models above.

Part Description: Part Number Price


Hale and Schaff Tuning Lever Heads
Medium 1 3/4" head at 5 degree angle SH13H $ 54.00
Medium 1 3/4" head at 15 degree angle SH13H-15 $ 54.00
Short 1 1/4" head at 5 degree angle SH13G $ 34.00
Short 1 1/4" head at 15 degree angle SH13G-15 $ 49.75
Extra Short 7/8" head at 15 degree angle SH13F $ 40.25
Long 2-1/4" head at 5 degrees angle SH13J $ 56.00
Long 3" head at 5 degrees angle SH13K $ 60.50
Long 5" head at 5 degrees angle SH13L $ 65.00

Tuning Lever Tips
These tips screw onto the head only
Small Star Number 1 SH14A $ 22.50
Standard Star Number 2 SH14B $ 22.50
Large Star Number 3 SH14C $ 22.50
Large Star Number 4 (not shown) SH14G $ 24.00
Square Number 2 size only SH15 $ 23.50
Oblong (For square Grands mostly) SH3128 $ 28.75
Schaff One Piece Tuning Lever Head / Tip Combination
Cannot be used with other tips.
2-1/2 inch long, #2 star head, 5 degree angle SH17 $ 28.75
2-1/2 inch long, #3 star head, 5 degree angle SH17-3 $ 28.50
2-1/2 inch long, #2 star head, 15 degree angle SH17-15 $ 28.50
1-1/2 inch long, #2 star head, 15 degree angle SH17A $ 28.50
4 inch long, #2 star head, 5 degree angle SH17B $ 33.75
5 inch long, #2 star head, 5 degree angle SH17C $ 37.50

Misc. Accessories
Fendon thin walled head/tip combo
This is now the option. Fits all levers with made by Schaff and is styled like a Hale head
Has a 2-1/2 inch length, #2 star tip. Screws onto the shaft of a high end lever. Chromed.
CAUTION: This tip is only for where tuning pins are too close together, or where
a pin is set close to the brace on a grand. It is not able to be used continuously due
to the thin walls of the tool. SH17N $ 31.00
Thin walled tip- (Not shown)
For use where pins are very close together or where a pin is too close to the harp
1-1/2 inches long SH14H $ 30.00

Tip Wrench-- Removes tips easily SH11 $ 17.45


ORDER BY PHONE WITH CREDIT CARD
CALL TOLL FREE: (800) 338-8863
If there is no answer, please leave a message- we do answer our voicemail

OR:
Go to Mail Order Form for printing: