CHOCOLATE IS GOOD FOR YOU!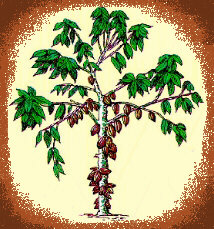 This page will be a real blessing to chocolate lovers. The Swiss eat 12 pounds of it a year, and we in the USA are second, eating 9 pounds a year. We at Balaam's Ass Speaks are proud to tell you that we are doing our part to keep the Hershey Company and the M&M people in the black. By the way, if you are ever in Hershey Pennsylvania, do stop and go for the tour. It really is worth the effort, and in the candy shop the prices are actually very reasonable.
BENEFITS OF CHOCOLATE:
Chemicals called phenols have been found in chocolate. These may stop low-density lipoproteins (bad cholesterol) from forming the plaque that can clog arteries.
Report from University of California at Davis
14 RULES
IN THE WORLD FAMOUS CHOCOLATE DIET PLAN
1. If you've got melted chocolate all over your hands, you're eating it too slowly.
2. Chocolate covered raisins, cherries, orange slices & strawberries all count as fruit, so eat as many as you want.
3. The problem: How to get 2 pounds of chocolate home from the store in a hot car.
The solution: Eat it in the parking lot.
4. Diet tip: Eat a chocolate bar before each meal. It'll take the edge off your appetite and you'll eat less.
5. If calories are an issue, store your chocolate on top of the fridge. Calories are afraid of heights, and they will jump out of the chocolate to protect themselves.
6. If I eat equal amounts of dark chocolate and white chocolate, is that a balanced diet? Don't they actually counteract each other?
7. Money talks. Chocolate sings.
8. Chocolate has many preservatives. Preservatives make you look younger.
9. QUESTION: Why is there no such organization as Chocoholics Anonymous?
ANSWER: Because no one wants to quit.
10. Put "eat chocolate" at the top of your list of things to do today. That way, at least you'll get one thing done.
11. A nice box of chocolates can provide your total daily intake of calories in one place. Isn't that handy?
12. If you can't eat all your chocolate, it will keep in the freezer. But if you can't eat all your chocolate, what's wrong with you?
13. Because everyone else likes chocolate so well, if you don't get your share right away someone else will get more than you.
14. If there isn't enough chocolate to go around, go ahead and eat it, but be sure to wipe your face, wash your hands, and brush your teeth.
LINKS:
THE MECCA OF CHOCOLATE LOVERS. IT IS ACCEPTABLE,
IF YOUR ARE PHYSICALLY NOT ABLE TO MAKE THE HAJJ
TO HERSHEY, PENNSYLVANIA, YOU MAY SUBSTITUTE BY
VISITING ANY CANDY COUNTER AND VIEW THE
CHOCOLATE THERE:
http://www.hersheys.com/

BACK TO THE TITLE PAGE OF PIANO SITE