Piano legs and cabinets suffer greatly from rolling them here and there on the original casters, not to mention to your floor. A piano rolled on carpet can raise a wave in front of the wheel as it moves along, and if it catches on the wave, the carpet will fold, and the wheel can easily rip the carpet. Also, the tune is easily lost at door jams and rough spots.
A grand piano should never be rolled around on its original wheels.
A caster can catch, and the leg will easily rupture, even dropping the piano. Beyond this, a run away piano, or a piano which tips over, can cause injury which can be far more costly in insurance claims than the cost of one of these trucks. Think about it.
Look at the trolleys below. Which one is best for you?
Read the description carefully.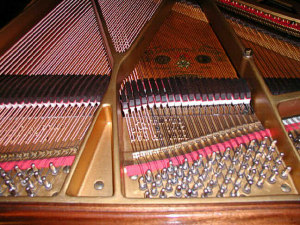 Do you see those nice shiny tuning pins?
Well the smaller the casters or wheels on your piano,
the harsher the bounce when you hit a mic cable or door sill.
If a tuning pin wants to let go, it will do it as you jar the piano.
A piano trolley will ease the thing along, save the tuning,
and save the legs from being ruptured when a wheel catches.
Piano trolleys are not pretty, but neither is a busted piano.