INTRODUCTORY BLATHER
Having passed the age of sixty, I have been told that I now have the right to indulge in reminiscence without apologizing. Thus, those of you who venture into this section of the Journal will have to tolerate my attitude if you please, and I hope that I can reward you in some small way with interesting stories of my past experiences. It sure beats having a "mid-life crisis."
The baboon in the picture looks very much like the ones who stole my mangos as I was growing up. Hopefully, I have acquired a few more civilizing traits than this fellow, but I think he is very much in context on this page. They are almost as troublesome as the IRS.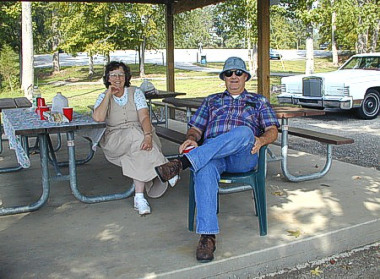 Christ Jesus is due all credit for anything I may contribute to life. I shall not, however; make silly scenes of false humility. My life has been rather colorful at times, not because of my own cleverness, but because my Lord has graciously chosen for me a life trail which is rather fun to look back over.
Elizabeth is my good wife, and my class mate at RVA. She is consulted on these yarns since she was with me in most of them. We now live in eastern Tennessee. It is green, well salted by the Gospel, and hopelessly Laodicean. Churchianity prevails in most places. It is sad. Powerless-- our small rural county has 90 Baptist churches and is known as the nation's number one meth lab County.
We have web business selling piano related things by mail order.
Come by, and we will roast some Harrar coffee and boil the ibrik (Arab coffee pot), and we'll spin a yarn on the front porch. We have wog chai for those who appreciate it. Our tea comes from Ramash Patel in Knoxville-- special import quality, AND a bakshish thrown in. If you need it badly, we have wimbi on hand and can make up a pot for you. And, teff for you Ethiopians-- call ahead so we can get the leet aged properly.
For several years I have thought of gathering my experiences, along with those of my past friends, and writing a fiction of a missionary's kid as historical fiction. Forget it. Life is too busy to figure out the details. So, what follows is partly mine, partly yours, and partly someone else's.
Someone once said, and it might have been me, "Don't look back when things are getting rough-- Look back when it is good now. The past will add peace to the moment at hand."
FORMAT: Please be patient. I shall also fail gloriously to keep things in chronological order. What fun would that be? So, in order for you to figure out when a given yarn took place, I give you a BIO PAGE TO BROWSE
Also, a more detailed BIO PAGE FOR THE JOURNAL
Enjoy.