PIANO MOISTURE CONTROL


TESTING HUMIDITY AND TEMPERATURE
AND MOLD PREVENTION


This page is all about preventing mold and mildew in a piano, AND it is about preventing moisture that can rust piano metal parts and damage the cabinet.

If you already have a mold of mildew problems, GO HERE to find ways to eradicate it.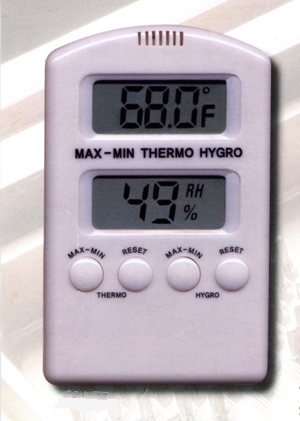 Hygrometer and Temperature Meter
Very accurate, easy to operate, fast response time,
portable battery operation, self-standing or wall
mounting, choice of Celsius or Fahrenheit, large
numerals, but best of all, this meter has a memory
function which reads the highest and lowest
humidity and temperature since you last pushed
the button to check.
Takes one AA battery
Accuracy- + or - 3 to 5%
Weight- 75 grams
Temperature Range- 14 F. to 122 F.
Humidity Range- 25% to 95%
PART NUMBER PRICE
White Case SHHG-DDM $ 49.00 np
Relative Humidity and Temperature Pen
Ideal for piano technicians and directors
of music in institutions and churches where
there are multiple pianos.
Relative Humidity and Temperature
Pen, Relative Humidity 10 to 90 Percentage
Relative Humidity, Temperature Range 14
to 122 Degrees Fahrenheit, Compact,
Digital Hygro Thermometer, Ideal for use with pianos in homes, Pocket Size,
Degrees Celsius/Degree Fahrenheit Switch, Minimum/Maximum
Part Number- GR4ZG11 Price- $ 86.00 np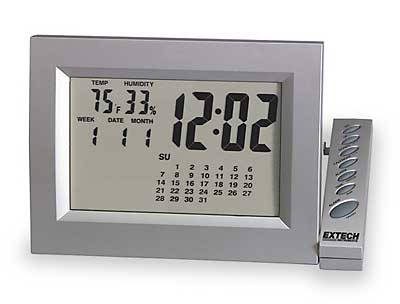 Desk Top Humidity
and Temperature Display
Wall- or desk-mount clocks show percent
of relative humidity, temperature, time, and
date. Degree F. / Degree C. switchable.
12/24-hour alarm clock.
Humidity Range 20-90 Percentage RH,
Temperature Range 14-140 Degrees
Fahrenheit, Large LCD Display, Time,
Date, Calendar
Alarm clock setting features 4-minute snooze
which can be used to time practice,
or set alarm to go off when practice time
is up. Music teachers could use this feature
to time sessions.
Calendar Clock displays monthly calendar
plus month, numeric week, and day in 1.4"
digits. Rotating control panel/desktop stand.
Includes 2 AAA batteries.
Part Number- GR3KB34 Price- $ 62.00 np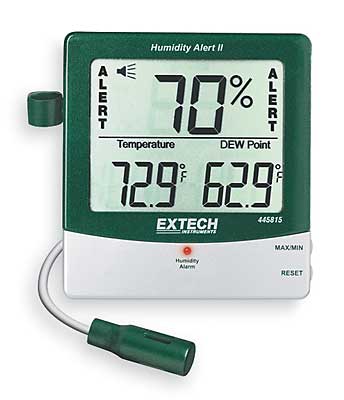 Hydrometer / Temperature Meter with Alarm
Programmable alarm visually and audibly warns when
humidity exceeds a preset Hi or Lo limit. LCD shows
dew point temperature and Min./Max. with reset
function. 0.1 Degree F. resolution. Temperature probe
extends on 18" cable. Temp. accuracy: Plus or
Minus 1.8 Degree F. RH accuracy: Plus or Minus
4%. Includes stand, wall mount brackets, and
batteries.
Relative Humidity Range 10 To 99%, Temp Range
14 To 140 F, Temp Range -10 To 60 C, Humidity
Resolution 1%, Temp Resolution 0.1 F, Temp
Resolution 0.1 C, Dew Point Range 14 To 140 F,
Min/Max Memory, Humidity Probe Range 14 to 140
Deg F, Humidity Probe Range -10 to 60 Deg C,
Cord Length 18 In, Includes Stand, Wall Mount
Bracket, Battery and Instructions
This meter is ideal to use with a Piano Cover, like our
Vinyl Cover, and put the probe under the cover and
the monitor outside where it can tell you exactly what
is happening inside the piano. When someone leaves
the door open on a humid day, or a very dry winter day,
and the room temperature changes suddenly, the inside of the piano may not change a lot.
If the alarm does not go off, you don't need to deal with humidity control.
Part Number- GR5PE71 Price- $ 98.00 np
For Humidity Control, please see our instructions down the page.

This neat little card is the easy way to learn what the humidity is in your piano. The card is like the cards you have seen for years which turn blue or pink according to the humidity.
The percent of relative humidity is on the card, and you will figure this by the spot which is lavender between blue and pink. This card is used in the silica gel trade in another application, so you will ignore the instruction to "change the deccicant."
If you use this card, by placing it in the piano cabinet, you will know if your heat bar is over drying the piano, and you will be able to see if the humidity gets above the level you desire.
Part Number-- Crd-01 Price- $ 2.00 ea np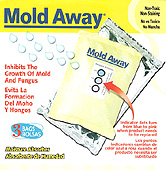 MOLD AWAY
Protect Your upright piano against potentially dangerous mold and fungus with Mold Away™. Simply remove the pack from its pouch and place it in the closet, kitchen, bathroom, basement or garage. The all-natural ingredients (clay and lime) absorb excess moisture, keeping humidity below 30 percent in confined areas. Indicator dots turn pink to let you know when it's time to dispose of the pack. The materials stay in solid form so there's no danger of leakage.
This product will be of use ONLY in upright pianos. Ideal also for any damp situation in the home. Keep one in your gun safe!
Part Number-- MA-02 Price- $ 25.00 for a three pack np
HEAT BARS AND HUMIDITY CONTROL
ALTERNATIVE TO PIANO MOUNTED DEVICES:
Never use a heat bar alone on a piano. It is too easy to forget it and dry the piano out too far in the winter when humidity is low.

Buy a room humidifier and dehumidifier at WalMart or Sears. Be sure they are big enough to run for a few days without having to be filled frequently. Position the appliances in the room so that they are not too far from the piano, but not close enough for the humidifier to blow unevaporated water vapor onto the piano. Humidity is adsorbed into a room faster than heat because air acts as a sponge to water moisture. Try to keep the humidity in the room between 40 and 55%.

In the Southwest you may want to consider summer cooling with a "swamp cooler" rather than air conditioning. The added moisture is desirable during very dry times, and it is more healthy for you than air conditioning. You will still need a dehumidifier for the rainy times, such as the monsoon months in Arizona and along the Pacific coast and the Gulf. In the Dixie and Hawaii you will need a dehumidifier urgently, especially along the Atlantic and Gulf coasts. These areas can badly rust strings and other metal parts inside the piano. In the North Woods, the main consideration is to add humidity in the winter when the home is very dry indoors. If you live in Kansas, just sprinkle corn meal around the house every day and it will absorb the humidity. Don't ever say we never innovate at this site :-)
HUMIDISTAT
A Humidistat senses the humidity in the air and turns your appliances on or off, according to the need and your settings and choices. It interrupts your appliances and the wall plug. Humidistats are used in many applications and in many industries. Be sure the humidistat has two AC outlets to plug in both a humidifier and a dehumidifier at the same time. This will allow you to control the humidity all year long. I have had customers use this method of control and were very pleased with the results.

If you wish to add a humidistat to prevent over or under humidifying, I suggest the following:
A VERY EXPENSIVE CONTROL, BUT THIS ONE WOULD CONTROL BOTH
THE HEAT BAR AND THE ROOM HUMIDIFIER-- Suggested for institutions:
http://www.discountgarden.com/page3.html

AGAIN, LOOKS LIKE A GOOD SOURCE, AND WOULD CONTROL BOTH THE
HEAT BAR AND ROOM HUMIDIFIER, BUT YOU WILL HAVE TO BANG ON THE DOOR:
http://www.calgreenthumb.com/gtpg17.htm

THIS MAY BE THE BEST DEAL. This page contains both humidity meters and
Humidistats, and they look like they would fit your need:
http://hydro-gardens.com/mequipt4.htm
EXHAUSTIVE WORD INDEX OF THE WHOLE SITE:


ORDER BY PHONE WITH CREDIT CARD
CALL TOLL FREE: (800) 338-8863
If there is no answer, please leave a message- we do answer our voicemail

OR:
Go to Mail Order Form for printing:


Please Send E-Mail with your Questions:



NP