STORE HOURS
9 TO 6 CDT
GMT minus 5 hours
Monday thru Friday
Do not call on
Sat. Sun. please

MOVING, HANDLING,
AND SAFETY SUPPLIES
ORDERING INFORMATION:
MINIMUM ORDER:
Minimum Order $20
SHIPPING POLICY:
Priority Mail shipping for most items. UPS by request.
You MUST browse the Catalog area, and try to learn what you want. We no longer search our catalog for you.
Have this information ready:
1. Description of parts
2. Part Numbers
3. Prices
4. Dimensions where needed
BEFORE you call us please.
Make sure you are in the catalog area for your kind of piano--
Such as Grand Pianos,
Full Uprights, Spinets, etc.
If you are confused, call us for assistance.
If we do not answer the phone, we are probably here-- Just leave a message- we will return your call (it may not be the same day).
:-)
MOVING EQUIPMENT AND HARDWARE
These items are a special result of my experience moving many times in Africa and the USA. I mixed those experiences with my knowledge of moving pianos, and I believe I have come up with a selection of products which you usually don't find on piano related Web sites or in music stores. It is often necessary to go find something to solve a problem-- something that was not at first intended for piano related use. That is the case here to a large degree. I hope we are a help to you. I must warn you that you give the final verdict. If you do not care to take full responsibility for the use of these products, you should not buy them. I cannot promise you that nothing can go wrong in the use of these products. If you are comfortable taking charge of your environment though, I believe these products will actually make moving your piano safer to you, your house, and the piano.
SHIPPING:
All of the products on this page are DROP SHIPPED from our supplier by UPS.
Here is how you can cut the price on shipping greatly--
Give us a destination at a business with a loading dock. Our supplier can ship via LTL.
EXHAUSTIVE WORD INDEX OF THE WHOLE SITE:
FURNITURE PADS
S-201 Steve's Special Pad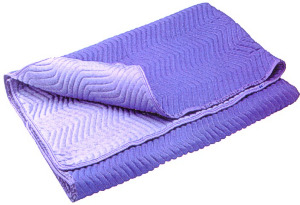 This is our toughest pad.
1. True quality of the trade, ideal for use on pianos and all moving needs.
2. Closely quilted one inch zigzag stitch pattern,
nylon thread, lock, stitching seams, no lumping.
3. New durable pad cloth.
4. Standard pad cloth color of light and medium blue.
5. Pad filler of 100% pure resilient cotton batting filler having 34 oz. per linear yard.
6. Cut size 72" x 80".
7. Minimum weight of on pad- 6 pounds



PRICE:
$ 180 per Dozen (Drop Shipped from our supplier)


S-101 Carolina Supreme Pad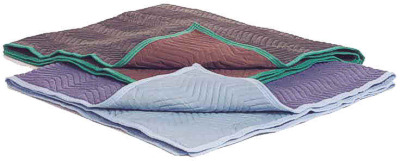 All four corners are squared for easy folding.
The exclusive sewing has no exposed edges.
The binding is folded back and lock stitched to prevent fraying.
1. The best of our line, with square corners,
stressing the ultimate in protection.
2. Using only new durable pad cloth of heavy weight sheeting.

3. Closely quilted one inch lock stitch zigzag quilting
pattern, using nylon thread, giving an even pad, no lumping or bunching.
4. Heavy pad filler layer of 100% pure resilient cotton batting filler having 42 oz.
of filler per linear yard, guaranteed uniform thickness, no shoddy filler used.
5. Pad cloth colors - The blue pad above is the only choice at this time.
6. Cut size of 72" x 80".
7. Minimum weight of 6.8 pounds each
8. Pad binding has an exclusive double stitching placed a quarter inch apart to double the
binding life by added strength against everyday use.
9. Standard binding 2.8 oz. polyester in constant colors of blue,
green, or red with choice of 2.5" or 3" widths.

These pads are used for sound proofing during improvised studio recording.


PRICE:
$ 190 per Dozen (Drop Shipped from our supplier)
S-401 All Weather KC Utility Pad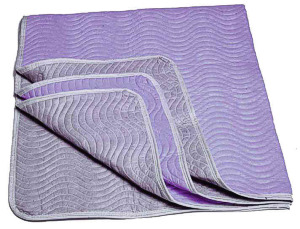 1. Stain, Soil and Water resistant will not mildew when wet.
2. Does not need dry cleaning.
Wash with a garden hose and dry on a clothesline.
3. Pad cloth and filler constructed of 100% poly
and exclusively supplied by Kimberly Clark.
4. One inch lazy S Quilting pattern using a double lock
quilting procedure.
5. Cut size 72" x 80".
6. Weight of 3.3 pounds each
All the protection without the weight.


PRICE:
$ 12 each for one to six
$ 121 per Dozen (Drop Shipped from our supplier)
PROTECTIVE MEASURES
Stretch Wrap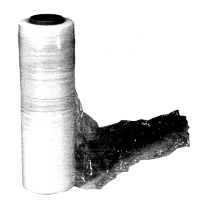 .8 mil. thick,
18" wide,
1500' linear feet
9-1/2 lbs per roll shipped parcel post- sold by carton of 4 rolls only.
Wrap the upright piano in furniture pads, secure it with rubber bands (below),
and finish off by walking round and round the piano wrapping this stretch wrap
around the piano to tighten the pads.
This will prevent the pads from moving, and cartons next to the piano will not
be able to move the pad as the truck bounces down the Pennsylvania Turnpike
or the Santa Ana Freeway.
Part Number S-STRETCHFILM
PRICE: $ 130 per carton of four (Drop Shipped from our supplier)


Moving Rubber Bands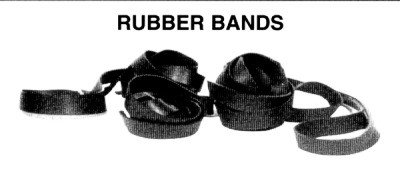 Rapidly secure furniture pads tight to the piano.
Then finish off with Stretch Wrap as explained above.
The problem with furniture pads is that a carton or sharp
edged item next to the piano can catch the pad and work
it as the truck shakes.
This can make a rubbed spot in the piano finish.
These will come in very handy for years after you move.

PRICE:
S-RBS -- Black -- 54 inches long -- $ 20.00 per Dozen
S-RBM -- Black -- 61 inches long -- $ 21.00 per Dozen
S-RBL -- Black -- 72 inches long -- $ 22.00 per Dozen
Sold only in Dozens

Customer feed back: One fellow reports he covers his patio furniture when leaving home,
but the wind blows the covers off, so he wraps the covered furniture with our rubber bands.

Organ and Piano Covers-- Custom Made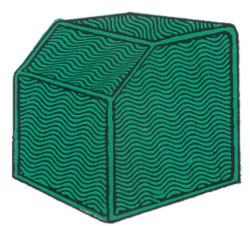 Form Fitting
Sock type construction with pad binding on all edges.
This is not a decor item. It is ideal for two purposes:
1. For moving your piano
2. For concert halls and schools to store the piano
and discourage brats from getting into the piano.
PRICE: Send outside dimensions of your piano
as in the illustrations below.
We will send you a quote on price.



Organ on the Right
Piano on the Left


Door Jamb Protector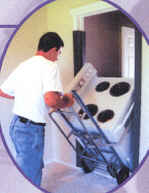 These door jamb protectors are ideal for keeping the upright piano
from doing damage to the doorway as you go through. If you are moving
your household goods yourself, these protectors can stay up throughout
the whole process as other large items go through the doors.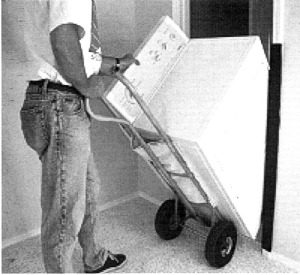 PRICE:

2213 Standard doorway- For 4 inch walls
$ 145 per carton of ten
(Drop Shipped from our supplier)
2218 Oversized doorway- For 6 inch walls
$ 160 per carton of ten
(Drop Shipped from our supplier)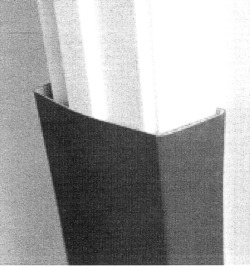 SKATES !
This is a new invention and a very hot item at my supplier's store.
The skate have a hard foam rubber backing which grips the corners or legs of the load.
The face of the skate is very slippery poly plastic which slides on the carpet of floor surface.
Beside moving day, these skates could be left under a piece of home equipment which needs
to be moved back and forth across a room, perhaps by an elderly person.
While the skates would not work with a piano with casters attached, the skates could be used
under a skid board to move across carpet.
Sold in sets of four.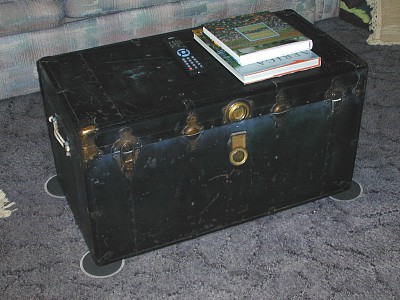 Price: $ 42.00 per set of four
PIANO MOVING INVENTIONS

Nylon Walk Away Sling

This is our design. Take the left front leg off of a grand
piano, lay it over on its long side so two Nylon Slings are
positioned to evenly distribute the load. Four strong men can
then put their hands through the loops, stand up, and walk away with the piano. If you leave two legs and
the lyre on the piano, you limit where you can go with the piano. Take the legs and lyre off, and you can go
through almost any door.

If you use the Nylon Slings without our padded sleeves, you must wrap the piano with moving quilts and secure
the quilts with mover's straps or rubber bands (see our rubber bands above).

With the legs and lyre removed, each of four men will carry about 135 lbs for a 5' 3" grand piano.
These Nylon Slings will not probably be safe to use on any grand over about 7 feet due to the excess weight.
However, if four athletic men are involved, who knows.........? But, Caveat Emptor on the huge grands.

Try to match two men on a side who are the same height.

The Nylon Sling is made of two ply nylon webbing and is load rated at 3200 lbs. We can give a price quote
on Nylon Slings up to 10 feet in length. It is possible that three slings, one about 4 feet long and two 2 foot
slings, could be used to carry a piano away without turning it on its side. The two short straps would be wrapped
around a leg each in a cinch, and the padded sleeves would be a MUST.

DO NOT TRY TO USE THESE STRAPS ON STAIRS. YOU COULD LOSE THE PIANO.

PUT YOUR HAND THROUGH THE LOOP. THIS MINIMIZES THE RISK OF DROPPING THE PIANO.

IF YOU COMBINE THESE SLINGS WITH A PIANO SKID OR FOUR WHEELED DOLLIE, WHICH
WOULD WORK, YOU MUST ATTACH THEM PERMANENTLY FOR SAFETY AND CONTROL.

Why use these Nylon Slings?

1. They cost a lot less than a piano skid.
2. The carrying people do not have to bend all the way to the floor, as with a
piano skid, when they lift. Less chance of back and hernia issues.
3. The piano does not have to be lifted far off the floor-- safer if you ever drop one.
4. The loops, if the hand is put through them, will greatly minimize dropping the piano.
5. The loops are a lot kinder on the hand than holding a half inch rope on a skid.
6. Movers can tuck a couple of these in their pocket for use when they are needed
instead of having to "run back to the truck."
7. Piano skids have virtually no secondary usefulness. The Nylon Sling can be used
to move any heavy item that fits them. Two men could use two slings, one in each
hand, to move some items. Be sure the load cannot move or slip.

One Pair of Nylon Slings-- Part Number -- ER-91200065-310 -- $ 38.50

One Pair Padded Strap Cover Sleeves-- Part Number -- "Sleeves" -- $ 12.00
These sleeves make it possible to protect the piano without wrapping
with moving quilts. Your choice of quilted Mackintosh or Vinyl.
Our choice of color. Vinyl is the most non-slip.

Rubber Corner Protectors
This flexible rubber pad fits on your strap to protect the strap as well as your piano
These pads will also help prevent the sling from slipping forward or backward.

Part Number-- SM1001 $ 7.10 each
"E" Straps

This strap has track type series "E" / "A" hooks on both ends.
Two of these straps are needed with the above grand piano skid.
2" Webbing with Spring End Fitting, Code 01, Webbing 4900,
Cam Buckle, Assembly Breaking Strength 2,500 lbs., Working Load Limit 835 lbs.
PRICES:
Part No. SH821 -- 12' Springlock Strap (yellow) -- $27.00
Part No. SH822 -- 16' Springlock Strap (gray) ----- $30.00
Part No. SH823 -- 20' Springlock Strap (blue) ----- $ 34.00

Two straps minimum are needed to secure a grand piano on a skid.
CHECK OUT OUR OTHER PIANO MOVING RESOURCES:


ORDER BY PHONE WITH CREDIT CARD


CALL: (800) 338-8863

OR:
Go to Mail Order Form for printing:
Online help available



NP