STORE HOURS
9 TO 6 CDT
GMT minus 5 hours
Monday thru Friday
Do not call on
Sat. Sun. please



PEDAL HARDWARE PAGE

ORDERING INFORMATION:
MINIMUM ORDER:
Minimum Order is Variable
SHIPPING POLICY:
Minimum $12.00
Higher shipping cost
for heavy items
You MUST browse the Catalog area, and try to learn what you want. We no longer search our catalog for you.
Have this information ready:
1. Description of parts
2. Part Numbers
3. Prices
4. Dimensions where needed
BEFORE you call us please.
Make sure you are in the catalog area for your kind of piano--
Such as Grand Pianos,
Full Uprights, Spinets, etc.
If you are confused, do not phone us until you have SENT E-MAIL and asked for help.
If we do not answer the phone, we are probably here-- Just leave a message- we will return your call (it may not be the same day).
:-)
This hardware goes with the pedals you replace.
You should make sure you have the "trap", or pedal works,
in good condition since the pedals get hard use by both
sincere players and itinerate brats who think the piano is a
big truck, and the right pedal is the accelerator.
CLICK HERE-- FOR LARGE GENERAL HARWARE PAGE
EXHAUSTIVE WORD INDEX OF THE WHOLE SITE:
Part Description: Part Number Price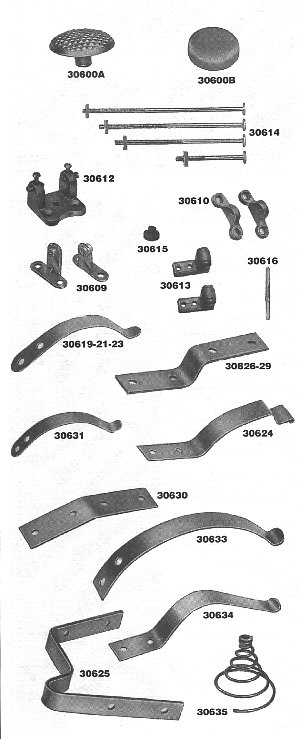 Toe Buttons for some pedals- Set of 3
Brass- Found on Stetson, Hall,
and a number of other pianos-
See 30600A in graphic SH2585 $ 20.50
Pedal hinge pins- Fluted center-
See 30616 in graphic
2¼ inches long by .156 inch diameter-
Fit all pianos- SH2584 $ 1.20 ea.
Pedal Props- See 30614 in graphic
Rod (with nut) to connect pedal
to wood or metal (trap) bar-
Lengths- 2¼", 4", 4½", 5"-
Specify on your order form SH579 $ 1.50 ea.
Pedal Hinge (Brackets)-
5/8" from piano base- 30610A $ 2.50 pr.
7/8" from piano base- 30610B $ 2.50 pr.
Pedal Bracket with pin mounts-
See 30612 in the graphic
Must remove pins in pedals to use
these antiques- Set of three- SH2582 $ 44.00
Pedal Bracket- stamped steel with nylon insert-
See 30609 in graphic SH2587 $ 3.50 pr.
Bracket with plastic bearing-
Steel with nylon bushing - See 30613 SH2589 $ 6.00 pr

Nylon Pedal Bracket
Solid nylon-- SH2590 $ 3.25 pr
Felt Pedal Prop Bushing-
See 30615 in graphic
Fits at the bottom and top end of the pedal props to kill noise- SH340 1/2 Disc.

Pedal (trap) lever spring-
See 3019-23 in graphic- Returns wooden lever to rest position-
Same as above- Light tension- SH583T $ 2.50
Medium tension SH583M $ 2.50
Same as above- Heavy tension- SH583H $ 2.50


Bottom Board Catch- See 30624 in graphic SH585A $ 1.50
Desk and Key Cover rest- 3 1/4" See 30631 in graphic SH581 $ 2.50
Desk and Key Cover rest- 5" See 30633 in graphic SH582 $ 3.25
Aeolian Grand Action Spring- See 30634 in graphic SH580 $ 5.30
Simple Trap Wood Lever Hinge- See 30630 in graphic SH587 $ 3.95
Pelican Hinge for Wood Trap Levers- See 30625 in graphic SH593 $ 2.60
Norris Trap Lever Springs:
Be sure your problem is not just mounting screws loose.
7/8" See 30626 in graphic SH584A $ 7.20
1 3/8" See 30627 in graphic SH584B $ 7.20
1 7/8" See 30628 in graphic SH584C $ 7.20
3 1/2" See 30629 in graphic SH584D $ 7.20

Carpet and floor saver- Place under the pedals to prevent carpet damage- SH5801 $ 23.25 $ --->
Pedal Covers- Prevents shoes from scuffing new pedals- SH578 $ 4.00
Conical Coil Pedal Rod Spring- See 30635 in graphic SH586 $ 1.15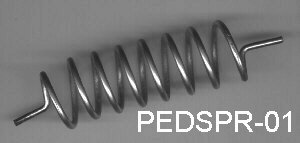 Pedal Rod Round End Mounting Spring--
Only supply in world--
Pictured at left--
PEDSPR01 $ 5.00
Grand Pedals and Lyres, Pedal Rods, Pedal Extenders, and more
Upright pedals and Pedal Extenders
Desk Hardware Scroll down the page
Grand Piano, Pedals, Lyres, and Legs and Lyre Hardware





ORDER BY PHONE WITH CREDIT CARD
Our (800) Number is
OR:
Go to Mail Order Form for printing:
Online help available