STORE HOURS
9 TO 6 CDT
GMT minus 5 hours
Monday thru Friday
(800) 338-8863
1 (906) 864-1437

PIANO ACTION PARTS
ORDERING INFORMATION:
MINIMUM ORDER:
Minimum Order $20
SHIPPING POLICY:
Priority Mail shipping for most items. UPS by request.
You MUST browse the Catalog area, and try to learn what you want. We no longer search our catalog for you.
Have this information ready:
1. Description of parts
2. Part Numbers
3. Prices
4. Dimensions where needed
BEFORE you call us please.
Make sure you are in the catalog area for your kind of piano--
Such as Grand Pianos,
Full Uprights, Spinets, etc.
If you are confused, call us for assistance.
If we do not answer the phone, we are probably here-- Just leave a message- we will return your call (it may not be the same day).
:-)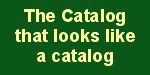 This includes all of the moving parts from your finger to the hammers, and we add pedals works and Player piano action parts via links down this page.
If in doubt, please go to the diagram pages and double check to see if you are ordering the right part. It is impossible to give a "Back" button to return to so many pages, so please use your browser's "Back" button.
Also, I give you a link to the page which tells how to make the repair or installation of the new part.
"Nothing soothes me more, after a long and maddening course of pianoforte recitals, than to sit and have my teeth drilled."
George Bernard Shaw, Irish playwright and music critic.

YOU CAN NOW ORDER BY PHONE
EXHAUSTIVE WORD INDEX OF THE WHOLE SITE:
PARTS WHICH ARE NOT LISTED IN THIS CATALOG:
We have contacted a custom piano part maker who has many years in the trade.
He is making any wooden piano action parts from your sample parts or from his
patterns on hand. We will have to call and get a quote for your part based on how
difficult it is to make and the quantity you need. One part is a minimum order, so
old freak action parts no longer need send an old piano to the city dump.
Look at the parts we offer, and if your part is missing, SEND MAIL and we will
get a quote for you.
---
OTHER PIANO ACTION PARTS NOT LISTED BELOW
CENTER PINS AND TOOLS
This covers the pins used in all flanges and hinged points in all actions.

FELT PARTS FOR GRANDS AND UPRIGHTS

BUY THE TOOLS TO MAKE THE REPAIRS

LUBRICANTS AND LIQUID TREATMENTS

PLAYER PIANOS AND REED / PUMP ORGAN SUPPLIES
GO TO THE PLAYER PIANO PARTS PAGE:

Also, we suggest you purchase Mr. Reblitz' book on Player Piano Repair on the Book Page.
---
GENERAL USE PIANO ACTION AND RESTORATION PARTS
These are parts which may fit in any piano. These are VERY limited in scope.
You will probably NOT see what you need here.
Go on to Grand Piano Action Parts or Upright Piano Action Parts,
depending on your piano, and see if the parts are there.
Part Description: Part Number Price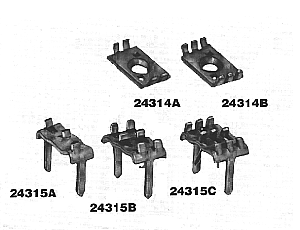 Agraffe repair for split bridges and ruptured bridge pin wood area-
The Graphic gives you two styles of repair. Also, be sure you get
the right repair clip for one, two, or three wires!!!!!
Sold by the each-
All numbers in Graphic at left $ 3.00 each
Numbers 24314A-B are mounted by drilling
a hole and setting a screw.
Numbers 24315A-C mount by drilling two holes
for the tabs and dropping the agraffe into the holes.
All numbers in Graphic- Dozen- $ 24.00
Grand Agraffes and Shimming Washers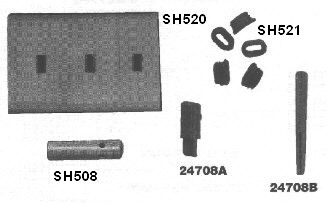 Key Felt Bushing Cauls (not pictured)
This is the favorite in production shops- Durable and accurate
HDPE resists glue. Available in four sizes:
.147" One Dozen SP147 $ 25.00
.162" One Dozen SP162 $ 25.00
.138" One Dozen SP138 $ 25.00
.125" One Dozen SP125 $ 25.00
Key Lever Front Rail Oval Pins- Used on all uprights and grands.
1 7/16 inch by .146 inch- Nickel plated- Per set of 100 SH352 $ 59.00
Key Lever Balance Rail Pins- Used on all uprights and grands.
2-1/4 inches by .146 inch- Nickel plated- Per set of 100 SH351A $ 65.00
2-5/8 inches by .146 inch- Nickel plated- Per set of 100 SH351B $ 77.00
2-1/4 inches by .160 inch- Nickel plated- Per set of 100 SH351D $ 97.00
2-5/8 inches by .160 inch- Nickel plated- Per set of 100 SH351E $ 130.00
One Assortment of paper shims (punchings) for leveling keys of one piano-
We no longer sell these shims alone. They are only available for those buying Front Rail
and Center Rail Felt Bushings. Both are essential to correctly restore both key drop
and leveling of the keys.
Front Rail ShimPrtFrnt $ 5.75
Center Rail ShimPrtCntr $ 5.75
One Assortment of paper shims (punchings) for leveling keys of one piano-

An assortment of 1000 of 14 sizes of paper shims to level Front Rail punchings SH338A $ 165.00
An assortment of 1000 of 10 sizes of paper shims to level Center Rail punchings SH333A $ 82.00
Learn to level your Piano Keys from our online Repair Instruction Area.
Brass Capstan Screws- Grand piano style squared off top- open sided holes for pointed tool-
Mounted at the far end of the key levers against the sticker. Use to remove lost motion.

Grand or Upright-- 1-3/8 inch long Dozen SH558B $ 27.50
Solid Brass Capstan Screws- Square shoulder for nut type wrench adjuster-
1-1/2 inch long- Per 100 SH559B $ 18.50

13/16 inch long- Per 100 SH559D $ 18.50
Capstans-- Wood for some Oriental modern pianos and many old uprights--
Without wires, but with holes ready to receive wires-
Be sure to lubricate the tops with graphite. It is not smart to replace only a few.
Set of 90 SH508 $ 132.00
Key Button Stock-- Not lacquered- Bushing holes centered in board- for .146" rail pin
Uprights-- 2-1/4 inch wide-- Old Part Number 24706A SH520A $ 5.50 each
Same as above but strip of 9 SH520A $ 48.50
Key Button Stock-- Not lacquered- Bushing holes offset to front in board
Uprights-- 2-3/8 inch wide-- Imported basswood- for .146" rail pinr SH520C $ 5.80 each
Same as above but strip of 9- SH520C $ 48.50

Silk Cord-- Used to retain hook end of hammer butt and wippen springs in all grands,
old uprights, late model Yamaha, Kawai uprights and Japanese pianos. SH932 $ 4.10 / yard
Damper flange cord-- Used to mount the damper spring in uprights to prevent clicking.
Look at a good one to see how this cord mounts. SH512-1/2 $ 4.85 / yard


Hammer butt and flange reinforcers-
Use when any flange is cracked- Fits all common flanges.
Also, will keep loose center pins from traveling.
Give it a slight inward pinch and a drop of glue before mounting.
Set of 45- SH2502 $ 9.95
Tuning pin metal shim sleeve- Loose tuning pin is removed. Sleeve is inserted into
tuning pin hole, and tuning pin is inserted back into hole to hope pitch.
100 sleeves- SH346E $ 46.75 or $ 6/dozen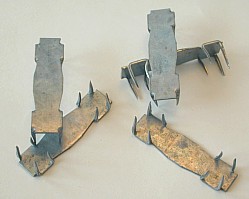 Key Lever Repair Scotch Clip
Glue the broken key back together with Elmer's Carpenter's Glue.
After it is dry, open the jaws of a bench vice, and hold the key
lever with the clip points against the side of the lever and on either
side of the break. Have a second person slowly close the vice
jaws as you steady the key lever and clip. Stop when the
clip is well embedded. A second clip may be embedded in the
other side of the key lever, but be sure to offset it so that the
points do not meet in the wood. SHkeyclip $ 2.00 ea
SHkeyclip $ 6.00 dozen
Illustration showing the Scotch Clip applied to wood.
The black line represents a break in a key lever. After gluing,
the clip is applied in a bench vise, one clip on each side of
the key lever. The vise presses the clips in without hammering.
Wood glue should be used at the same time for added strength.
The clips are VERY dangerous for children to play with.

Regulating Screw replacement-
When the screw ring or tap breaks off
On Steinway metal rail, drill hole and use sheet metal screw.
Exceptional life saver when jack
regulating button busts-
Dozen only- SH1539 $ 24.45
Regulating Wooden Buttons with felt punchings- 3/8 inch diameter SH549 $ 49.25 per 100
Regulating Screws- 1 1/8 inch long.
Has the ring type top needing tool No. 16124 with handle 15152 to adjust. SH540 $ 13.45 per 100

Regulating Felt Punchings- Now sold in sets of 100 only
Replace worn or missing jack button round felt punchings-
Also found on buttons in grand wippens and some damper actions.
Also found in player pianos
Remember to allow for wear of old buttons in estimating thickness of new buttons.
Medium Green Cloth- For uprights- 3/8" dia. by .130 inches thick SH330A $ 11.50
Thick Red Felt- 3/8" dia. by .250 inches thick- For grands- SH330D $ 9.75
Medium Brown Cloth - 5/16"dia. by .130" thick (grands) SH330J $ 11.75
Medium Brown Cloth - 7/16" dia. by .130" thick (grands) SH330K $ 18.50
For large quantities of 1000- All above sizes- Send E-Mail
Replacement Key Lever--
We now have a craftsman who can make a new key lever of kiln dried wood.
We must have the key to the left and right of the broken key for him to work with
as a pattern. A digital photo of the keys showing the area of the broken key will
also help him. We will have to get a quote-- SEND MAIL
Read my instruction for adjusting a jack
And, how to repair a jack which has come loose.
GET THE LEAD IN


Key Leads- Used to weight key levers. Please call and talk to Keith before ordering key leads. They may or
may not be the appropriate step for your piano.

These weights are round and are inserted in lateral holes in the key levers. To determine
where you finally want them, glue a couple octaves on top of the key levers with rubber
cement and determine what key resistance you like. Then, once the ideal position is
determined, drill the key lever in the center of the key laterally with a hole the size of the
small end of the lead. Lay the key lever on a flat surface and tap the key weight into the
hole. Use some drift of some sort to peen the small end to expand the lead and trap it
in the hole, or glue it in.
If you have extra leads left over, they make great fishing weights :-)
One lb. 5/8 inch diameter leads .64 oz ea. (approx 25) SH353-0 $ 16.25
One lb. 1/2 inch diameter leads .49 oz ea. (approx 31) SH353-1 $ 16.25
One lb. 7/16 inch diameter leads .40 oz ea. (approx 40) SH353-2 $ 16.25
One lb. 3/8 inch diameter leads .29 oz ea. (approx 55) SH353-3 $ 16.25



Key weights-
"Jiffy" type leads with two screws to attach each lead-
These leads can be attached on top of the key lever or under it.
Some students have an upright with a very light touch, while they
have to perform on a grand with a heavy touch. These can be added
to the back area of the key lever to give a heavy touch. Later, if you
wish to sell the piano, they can be removed.
It is not smart to only add weights to certain keys.
The overall key touch will become uneven and very annoying.
By the way, these leads make great fishing weights where you want
to add weight way back up the line from the bait and leader after
you are all rigged up.
Set of 100- SH353-4 $ 75.00

---
WE WILL DO THE REPAIR FOR YOU BY MAIL:

---
BRIDGE REPAIR PARTS
Part Description: Part Number Price
Bridge pins- Pointed at one end and round on the other- copper plated steel
.076" dia SH551-6 $ 18.00 per hundred
.086" dia SH551-7 $ 18.00 per hundred
.096" dia SH551-8 $ 18.00 per hundred
.109" dia SH551-9 $ 22.00 per hundred
.135" dia SH551-10 $ 22.00 per hundred
Bridge pins - Same as above only nickel plated SH551-6N, 551-7N 551-8N $ 22.00 per hundred
SH551-9N $ 22.00 per hundred

Send E-Mail for Bridge Rebuilding by our craftsman
---
HUMIDITY INDICATOR CARDS

This neat little card is the easy way to learn what the humidity is in your piano. The card is like the cards you have seen for years which turn blue or pink according to the humidity.
The percent of relative humidity is on the card, and you will figure this by the spot which is lavender between blue and pink. This card is used in the silica gel trade in another application, so you will ignore the instruction to "change the deccicant."
If you use this card, by placing it in the piano cabinet, you will know if your heat bar is over drying the piano, and you will be able to see if the humidity gets above the level you desire.
Order Number-- Crd-01 $ 2.00 ea
---
PEDALS
GO TO THE PEDAL HARDWARE PAGE for Pedal Hardware:
Don't try to re-use the old pedals in a restoration. We can get you a very authentic replacement.
Upright Pedals Upright graphic and prices.
Grand Pedals Grand graphic and prices.


---
CONFUSED?
If you have honestly tried and failed to figure out what you need and cannot understand...
Don't run and hide in the barn bunky...
CALL: (800) 338-8863
If Steve is not available, or is out tuning pianos, SEND E-MAIL.
We answer all our customers' E-Mail.


ORDER BY PHONE WITH CREDIT CARD
CALL TOLL FREE: (800) 338-8863
If there is no answer, please leave a message- we do answer our voicemail

OR:
Go to Mail Order Form for printing:
Online help available