STORE HOURS
9 TO 6 CDT
GMT minus 5 hours
Monday thru Friday
Do not call on
Sat. Sun. please

PLAYER PIANO
AND PUMP ORGAN SUPPLIES

ORDERING INFORMATION:
MINIMUM ORDER:
Minimum Order $20
SHIPPING POLICY:
Priority Mail shipping for most items. UPS by request.
You MUST browse the Catalog area, and try to learn what you want. We no longer search our catalog for you.
Have this information ready:
1. Description of parts
2. Part Numbers
3. Prices
4. Dimensions where needed
BEFORE you call us please.
Make sure you are in the catalog area for your kind of piano--
Such as Grand Pianos,
Full Uprights, Spinets, etc.
If you are confused, call us for assistance.
If we do not answer the phone, we are probably here-- Just leave a message- we will return your call (it may not be the same day).
:-)
A player piano is a work of art. It also gives hours and hours of
music to us flatlanders who cannot play at all. It also has a real acoustic
sound, which is not yet perfected in electronics. Do beware though of
thinking you have a long term collector in a player. They may get
you a nice profit if you sell them right after restoration, but let them
sit, and they deteriorate again and destroy your investment.
We tell you the truth here.
CAUTION: Though Keith has 40 years experience tuning and
restoring pianos, he has not had a great deal of experience with players.
He will try to help you with the knowledge he has, but you would be well
advised to purchase the best book worldwide on player piano restoration:
Player Piano Servicing and Rebuilding By Arthur Reblitz
See a the book for sale at the bottom of this page.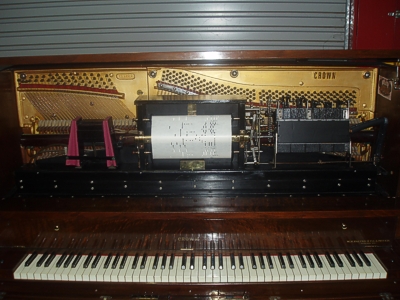 Crown Autoplayer

Restored by our customer

EXHAUSTIVE WORD INDEX OF THE WHOLE SITE:
Turn off the music here
More player MIDIs at pianola.co.nz

TECHNICAL HELP:

John Tuttle has the best resource on the web in player piano technical information. He also may have parts you need which we do not carry.

PLAYER PIANO PARTS:
GENERAL PLAYER PIANO PARTS-- Scroll down this page

GLUE AND ADHESIVE
FOR PLAYER PIANO AND REED ORGAN WORK


PUMP (REED) ORGAN SUPPLIES
Go here if you are actually looking for pump organ parts

DRY LUBE, TEFLON POWDER, GRAPHITE, AND OTHER PIANO
GLUES AND LUBRICANTS
This page has many glue and lubricant choices which apply to player piano needs.
---

PNEUMATIC TUBING AND PIPE FITTINGS
Part Description: Part Number Price



Black neoprene tubing for the tracking bar 3/64ths wall SH606B $ 1.00 ft.**
100 foot roll 3/64ths wall SH606B $ 65.00
1/32nd wall SH606A $ 1.00 ft.**
. 100 foot roll 1/32nd wall SH606A $ 82.00
Inside diameter on all of the above is 9/64 inch.
** By the foot only if we have broken rolls.
Most player pianos produced before WW II require No. SH606A tubing with 1/32 inch walls.
Most player produced AFTER WW II require tubing No. SH606B tuning with 3/64 wall.
Tubing for Expression Buttons- Same materials as above tubing
3/16 inch inside diameter-- 3/64 inch wall thickness-- 50 feet box SH605A $ 49.00
1/4 inch inside diameter-- 1/16 inch wall thickness-- 20 feel box SH605B $ 42.95
Tubing for Controls- Same materials as above tubing
5/16 inch inside diameter-- 1/16 inch wall thickness-- 20 feet box SH605C $ 40.00
3/8 inch inside diameter-- 5/64 inch wall thickness-- 13 feet box SH605D $ 36.50
7/32 inch inside diameter--3/64 inch wall thickness--50 feet box SH605E $ 53.00
1/2 inch inside diameter-- 1/8 inch wall thickness-- Twill covered SH620B $ 31.50 / ft.
5/8 inch inside diameter-- 1/8 inch wall thickness-- Twill covered SH620C $ 31.50/ ft.
3/4 inch inside diameter-- 1/8 inch wall thickness-- Twill covered SH620D $ 33.25 / ft.
1 inch inside diameter-- 5/32 inch wall thickness-- Twill covered SH620E $ <39 class="50">$39.50/ ft39> / ft.39.50/ ft
1-1/8 inch inside diameter-- 5/32 inch wall thickness-- Twill covered SH620F $ 40.50 / ft.
1-1/4 inch inside diameter-- 5/32 inch wall thickness-- Twill covered SH620G $ 43.00/ ft.
1-1/2 inch inside diameter-- 5/32 inch wall thickness-- Twill covered SH620H $ 45.75. ft.
1-1/16 inch inside diameter-- 5/32 inch wall thickness-- Twill covered SH620J $ 39.75 / ft.
7/8 inch inside diameter-- 1/8 inch wall thickness-- Twill covered SH620K $ 37.95 / ft.
NEW PRODUCT: Flexible tubing, can be used in place of twill covered hose for much less money.
Tubing is flexible paper conductor with foil core, has high mechanical strength and can make sharp turns
without bucking or crimping. May be cemented into holes or used with cast flanges below. Availableby
the foot.
1/2" inside diameter SO1001 $ 9.00/ft
3/4" inside diameter SO1002 $ 9.25/ft
1" inside diameter SO1003 $ 10.25/ft
1 1/4" inside diameter SO1004 $ 10.75/ft
1 1/2" inside diameter SO1005 $ 11.00/ft
2" inside diameter SO1006 $ 12.50/ft

BOOKS ON PLAYER PIANOS AND REED ORGANS
Metal Pipe Fittings- 90 degree Elbows
Small size Brass Tubing Elbows--
For 9/64 inch tubing-
Old Part No. 451338 SH604A $ 3.00 each
For 3/16 inch tubing-
Old Part No. 451339 SH604B $ 3.00 each
Large Brass 90 Degree Elbows-- limited availability
7/8" O.D. SH600K $11.00
Large Brass 90 Degree Elbows-Custom Made (at a price!)
1/2"OD BE-5 $ 24.75
5/8"OD BE-6 $ 28.50
3/4"OD BE-7 $ 30.25
7/8"OD BE-8 $ 32.00
1"OD BE-9 $ 35.75
1 1/8"OD BE-10 $ 39.00
1 1/4"OD BE-11 $ 43.00
1 1/2"OD BE-12 $50.00
Plastic Connections for Tubing--
"Y" Connectors-- Each-- Old Part No. 451341 SH601A $ 3.00

Straight brass tubing connectors-- Dozens only
For 9/64" Inside diameter Tubing SH602A $ 7.750
For 3/16" Inside diameter Tubing SH602B $ 6.00
For 1/4" Inside diameter Tubing SH601C $ 7.50
For 1/2" Inside diameter Tubing SH601F $ 14.00
Straight Flanged Nipples--
1 inch See 451321 above SO403 $ 9.60
1-1/4 inch See 451321 above SO404 $ 9.00
1-1/2 inch See 451321 above SO405 $ 8.75
2 inch See 451321 above SO406 $ 9.25
Flanged Elbows-- No longer available

AMPICO Transmission Frame--
Old Part No.-- 451323 SH680 $ 62.00
caution: This part may need machining to fit your piano.
Tracker Bar Tube Puller and Cleaner- This tool will assist in pulling tubing from
tracker bar. Also useful for cleaning tracker bar nipples after tuning has been removed.
We now carry a model of this tool whick is better made than the one in the graphic.
See Part Number 451328 in the graphic. SH694 $ 16.50
---
VALVE PARTS
Aeolian Player Valve Assembly- Specify left or right-- SH699 $ 21.25
Leather and Synthetic Valve Facings- Sold in sets of 100
We need the size and make of your player works--
We will discuss the right ones by phone- DA-page19
Please have the Inside and Outside Diameter and thickness in .001 inch
Your make of player works would help also.
Sizes: 3/8 throughh 13/16 inch diameter
Prices: From $ 10.00 to $ 60.00, depending on application
Lifter Discs- paper for pouches- Set of 100 only
For three tier-- 3/4 inch diameter DA663 $ 8.35
For two tier-- 5/8 inch diameter DA973 $ 6.20
Valve Diaphragm Dishing Tool-- 7/8 inch- See 451304 above
Vacuum operated for production work.
Vacuum source must be available to use this tool SH696 $ 23.00
Parts for Specialized Brands
We can supply most valve, pouch, and pneumatic leather parts for the following brands.
Some brands cannot be fully supplied
Amphion
Ampico
Autopiano
Baldwin
Gulbransen
Kimball
Janssen
Melville Clark
Schulz
Seeburg
Simplex ( All parts )
Standard
Starr
Story and Clark
Wurlitzer
Orchestron
If your brand is not listed, we still may be able to supply parts.
Look at the graphic below, and be ready to give the name of the part when
you call. We will very likely have to set up the order and call you back.

Almost all items below are sold in sets of 100.
This is a "Standard" valve.
Other brands are configured differently, and the size of the parts will vary, so we
need to know what you need by brand and part name so that we can find it in our
list of parts. Please measure your part before calling. Inside and outside diameters, etc.
Valve Stem-- Part # DA1110
Price: Out of stock at this time

Valve Stem Guide-- Part # DA1109
Price: $95 per 90

Forced Fit Collar-- Part # DA1111
Price: $48 per 90

Sponge Washer-- Part # DA1112
price: $10 per 100

Top Plate-- Part # DA1113
Price: NA

Valve Leather-- Part # DA 1114
Price $ 2.00 each; $ 90.00 per 100

Backing Plate-- # DA1115
Price: $77 per 100

Paper Washers-- Part # DA1236
Price: $ 6.00 per 200
Use more than one to achieve 3/64"
valve travel.

Outside Valve-- Part # DA693
Price: Not available

Outside Valve Guide-- Part # DA1497
Price: Not available
The following parts come in many sizes:
Hard Fiber and Steel disks and washers
Brass collars
Leather Valve Facings
Blotter Paper Gaskets
Pouches
Tubing Connectors
Neoprene and Cloth Covered Tubing
Valve Seats
Manifold Gaskets
Die-Cut Gaskets
Upright Piano Action Parts
Grand Piano Action Parts
---
ACTION PARTS
All action parts from the acoustic piano works are found HERE

One exception: The connection point between the acoustic action
and the player action is the sticker. It is unique because it has an
added button to pick up the force of the player action and cause
the hammers to play. There are also connections for the soft
pedal and a couple of other things.

If you have a broken sticker, we make new ones. See Diagram to
identify the sticker in a piano action. The sticker is part # 12 on that page.
You must send us a good sticker which we will use as a pattern.

One Custom Sticker for Player Piano Part Number- SH510AJPlayer $ 55.00
---
MISC. PARTS
Part Description: Part Number Price
Muffler Felt-- White felt for muffler boxes
2 inches by 54 inches by 1/6 inch thick SH301 $ 5.00


Straight Nipples for Player Tubing-- See up the page
Leather Nuts--


Diameter

3/16 inch
1/4 inch
5/16 inch
3/8 inch
7/16 inch
1/2 inch

Hole Diameter

.0635 inch
.070 inch
.070 inch
.086 inch
.0635 inch
.0635 inch

Part Number

SH603A
SH603B
SH603C
SH603D
SH603E
SH603F

Price

$ 46.75 / 100
$ 46.75 / 100
$ 46.75 / 100
$ 46.75 / 100
$ 46.75 / 100
$ 46.75 / 100
Ladder Chain-- By the yard only--
Four links per inch-- Old Part No. 451390 SH 609-4 $ 9.85 / yard
Five links per inch-- SH 609-5 $ 9.85 / yard
Pedal webbing- 2 inches wide
Connects pedals to pumping bellows.
Used as hinges on bellows also-
Sometimes used to connect pedals to bellows. SH716 $ 2.00 / foot
Player Roll Tabs--
Each Old Part No. 4513915 SH613 $ 1.00
Box of 100 Old Part No. 4513915 SH613 $ 80.00
Paper Tape to repair the end and edges of player piano rolls--
Also mends torn paper in books, letters, maps, pamphlets and documents.
Transparent Pressure-sensitive-- tissue-thin paper tape features a
pressure-sensitive, pH neutral adhesive that will not yellow, flake off
or damage piano rolls. The pH tests at 8.8 unaged, 8.1 aged.
This tape is thin and will not interfere with playing. You will need to avoid
covering tracking holes. You must cut out and work around them.
Not subject to minimum order restraints
One inch wide-- Minimum order is 10 feet
Ten feet GL-001 $ 7.50
Additional feet but less than 100 feet $ .75 per foot
100 feet of 1 inch wide GL-100 $ 35.00
165 feet of 3/4 inch wide Usually in inventory GL-165 $ 42.45
Player bleed or vent cups-- Brass
Dozen Old Part No. 451343 below SH678 $ 14.00
100 SH678 $ 95.00


Spool Pins--
Straight for left side Old Part No. 451344A SH614L $ 6.00 ea.




Invisible Hinges-
Used for fallboards (key covers) and key slips. Used on almost all old player pianos.
Furnished with screws

Width

Part Number

Price

Nickel, 1" long by 3/8" wide
Satin Brass- 1" long by 3/8" wide
Nickel, 1 3/4" long by 3/8" wide
Satin Brass, 1 3/4" long by 3/8" wide
Satin Brass, 1 1/2" long by 1/2" wide

SH5100N
SH5100B
SH5101N
SH5101B
SH5102

$ 14.00
$ 14.00
$ 19.00
$ 19.00
$ 17.00
---
TRACKER BAR, TAKE UP SPOOLS, AND TEMPO HARDWARE
Part Description: Part Number Price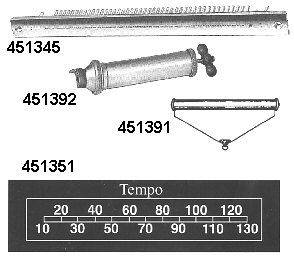 Tracker Bar--
Old Part No. 451345A SH610 $ 265.00
Transposing Tracker Bar--
Old Part No. 451345B SH690 $ 325.00
Tracker Bar Pump-type Cleaner--
Vacuum draws out dirt and lead
oxide. Aluminum with soft rubber
nozzle, and removable dust screen.
Old Part no. 451392 SH626 $ 110.00



Replacement rubber nozzle for tracker bar pump SH626A $ 11.85
Replacement filter for tracker bar pump SH626B $ 9.00
Player Roll Spool Ends-- Black plastic
For Regular size rolls, 2 inches diameter
Left side without slot Old Part No. 451348A SH615L $ 2.00
Right side with slot Old Part No. 451348B SH615R $ 2.00
Take up Spool-- All Purpose-- First most players, especially uprights

We no longer have this take up spool, but call for a referral to the only place we know of where you can get one!
BELLOWS SPRINGS-- Inside and Outward pressure
TEST ROLLS-- All of these are now available
Part Description: Part Number Price

Q.R.S. Test Roll-- Standard 88 key test SH612 $ 31.50
VACUUM PUMPS AND TRANSMISSION
Part Description: Part Number Price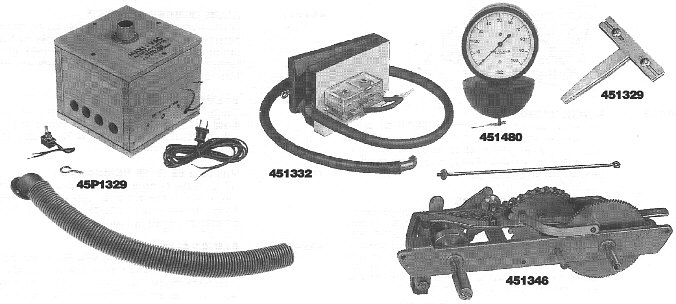 Deluxe Pump with volume and speed controls--

Noise level is minimal. Motor speed is in direct ratio of vacuum needed.
Electronics are used to sense the level of vacuum needed.
A Switching signal reduces motor speed during rewind.
The tightness of the player system will determine the setting of the volume knob.
Can be turned to full volume to produce over 45 inches of vacuum.
Complete installation instructions provided. Has build in check valves
so that the original foot pump system is retained and operative. All pre-wired
controls-- just set box in place and drill one hole in original pump channel.
Control panel mounts on underside of keyboard with off/on switch, volume control
knob and rewind speed adjustment.
Measure 7 1/2 inches by 7 1/2 inches by 10 inches-- Weight approx. 13 lbs.
No return policy on international orders.
Old Part No. 45P1330 DP650 $ 450.00
CAUTION:
The Automatic Re-roll unit and Automatic Shut Off features
are NOT included in the above Deluxe Pump.
Automatic Re-roll Unit-- For full size players only--
Includes valve, actuator pneumatic, hose, elbow, lindeage hardware, & instructions.
Will not fit every player. Call for information. DP916 $260.00
Automatic Shut off Switch
Shuts off the Re-roll Unit when the roll is done rewinding
Solid Maple. Easily installed inside piano case just above the spoolbox shelf DP652 $ 90.00
Precision Vacuum Gauge-- 2 1/2 inch dial face graduated from 0 to 100 inches of
water vacuum. The only accurate method for measuring the amount of vacuum
generated by a piano or reed organ.
Tapered rubber plug fits easily into pump hose.
Old Part No. 451480 SH616 $ 110.00
Player Piano Transmission-- A complete transmission unit that will serve as a
replacement on most standard players if minor modifications are made.
Old Part No. 451346 SH624 $ 188.00
Ampico Transmission Frame only SH680 $ 62.00
---
PLAYER PIANO PEDALS
Part Description: Part Number Price



Set of three square toes. Right pedal 10 1/2 inches long overall.
Solid brass capped toes on cast iron stems.
Center- 7 1/2 inches. Left- 9 inches long
Old Part No. 303085PL SH645 $ 125.00
Pair of two pedals (No center pedal)
Old Part No. 303087PL SH645A $ 105.00
Round toe player pedals-- Polished brass
Right pedal 10 1/2 inches long overall
Left- 9 inches long
Set of Two pedals (No center pedal)
SH643A $ 95.00
PRACTICE MUTE AND RINKY TINK OR MANDOLIN KIT
Practice Mute Replacement felt- 2 inches wide by 54 inches long and tapered
This felt strip is made to replace the felt mute in old uprights that had it, and it
is found in some Asian pianos in modern times. You will have to remove the
old strip and fit the new ones. This will involve making provision for the vertical
metal brackets mounting the action in the piano. Use Elmer's Carpenter's Glue
to attach the new felt strip to the old bar. SH300 $ 14.25 each


Do-It-Youself Rinky Tink or Mandolin Kit-- THIS IS A CONVERSION KIT
You MUST already have a practice mute in your piano to use this kit.
Also, you will have to innovate and make the products work for you. I cannot
write instuctions which will cover anything you will run into. This means you will
need to determine where the strings are in relation to the leather strip AFTER you
install the leather strip. You may do this by attaching carbon paper to the back of
the leather strip facing the leather and run the front of the leather with a hard object.
Remove the carbon paper, and cut between the marks made by the strings on the
leather. You may also rub the strings with chalk and rub the front of the leather.
This will tell you where to cut the leather strip. You must have the confidence to
innovate because I cannot predict all the variables you may encounter. Be sure to
clamp the metal tabs so that they are in a straight line, and position the mute bar so that
the tabs are just barely BELOW the actual point the hammer hits the strings. This will
prevent destruction of the hammers over time.
3 inch by 48 inch leather strip and 100 metal tabs to attach to the strip.

Part Numbers DA68 and DA848 $ 65.00 total
Mandolin tabs only DA848 $ 40.00
---
THE BEST BOOK FOR PLAYER PIANO RESTORATION
Part Description: Part Number Price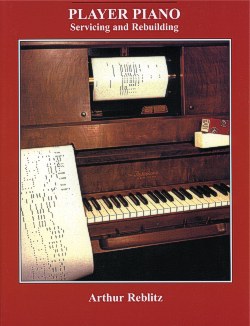 PLAYER PIANO SERVICING AND REBUILDING
By ARTHUR REBLITZ
A superb book that touches on every aspect of its title. 8-1/2" x 1 1",
216 pages, profusely illustrated with fine photographs and diagrams.
The most comprehensive book on the subject ever written. Those with
casual or professional interest in player pianos will find this book
fascinating and indispensable. The non-player aspects of a piano are not
covered in this book. For that, you need:
PIANO SERVICING, TUNING, AND REPAIRING
By ARTHUR A. REBLITZ.
Paperback NBN-2 $ 30.00
Mounted in three ring binder--
Will lay flat for easy use in the workshop NBN-2/Binder $ 52.00
With a $ 300 order, the book is offered at $ 21.00 paperback, and $ 41.00 in the binder.
AND,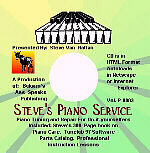 Our CD with Piano Tuning Instructions and tuning software is free with a $ 200 order also.
FIND MORE BOOKS ON PLAYER PIANOS,
Repair, Restoration, History, and Value
---
PUMP (REED) ORGAN SUPPLIES-- Find many Player Piano parts here
VISIT OUR PAGES ON PLAYER PIANO REPAIR AND ADJUSTMENT:
WE OFFER A PLAYER PIANO WEB RING FOR YOU TO SURF
YOU WILL FIND SOME EXCEPTIONAL PEOPLE TO SERVE YOU
See the bottom of the page.

OUR MENU OF PLAYER PIANO INSTRUCTION

68. Varmints, Lubrication of Player Pianos

69. Adjustment of Player Pianos

70. Bellows repair in Player Pianos


ORDER BY PHONE WITH CREDIT CARD
CALL TOLL FREE: (800) 338-8863
If there is no answer, please leave a message- we do answer our voicemail

OR:
Go to Mail Order Form for printing:
Online help available