STORE HOURS
9 TO 6 CDT
GMT minus 5 hours
Monday thru Friday
Do not call on
Sat. Sun. please

67. Maintaining Player Pianos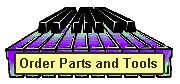 We now offer a full line of player piano repair
and restoration parts at our Online Catalog.

I do not pretend that I can solve all your player piano problems. The following is a short list of problems I thought you could solve yourself. Beyond that, you need to call your tuner. Players are somewhat complicated to work on, so don't go beyond what you can understand by reading these helps and your own common sense.
Here is a list of problems in numbers 68 through 71:




68. Varmints, Lubrication of Player Pianos



69. Adjustment of Player Pianos



70. Bellows repair in Player Pianos



71. Get a stalled Player going again

Here are two more suggestions:

Drastic option:
Another option is to trash all of the player works, and use the piano as a regular piano only. Do this by taking out the "stack" and storing it in the garage. Don't throw it away. It is one of those neat pieces of junk you can keep, "Because some day we might want to restore it."
Be sure you don't trash any of the parts of the regular piano. Check the action diagram at the end of the book to see what not to touch.
Take the big bellows out of the bottom of the piano with its rubber tubing and rods and levers. Take out the two big flat pedals that operate the bellows. BUT, be sure to leave the regular piano pedals and the rods that run from the pedals to the sides of the box and up to the action.
If in doubt, go visit a friend who has a regular piano, and note the items you must NOT remove from yours. If, after you have stripped out the player piano, all you have left are is wires, you are in serious trouble. Start saving for a new piano.

Freak:
If you have an electric vacuum operated player from long ago, and, if the thing stops dead and smells like something is burning, your motor is bad. Open the bottom, and you will see a motor that looks big enough to run the elevator in the iron works.
You need to replace this motor and its vacuum pump with the new version which is vastly smaller. Order the new pump from my Online Catalogue or from your piano tuner.
Once the vacuum pump is in hand, invite your electrician friend over to figure out where to interrupt the original wiring and wire in the new vacuum pump. Buy new big hoses at the auto parts store to run from the vacuum pump to the "stack," or use the one provided in the new pump kit. Pitch the old rubber.
I suggest you ask your electrician friend to add a "goof light" which will tell you when the motor is on so that it is not accidentally left on after someone plays it. The deluxe model of vacuum pump we sell has this light included.
---
LINKS:

VISIT JOHN TUTTLE'S EXCEPTIONAL PAGE ON PLAYER PIANOS:
John and I are in communication with each other, and, while we compete in the trade
to some degree, we respect each other's particular skills. John has much to offer the
do-it-yourselfer. Please bookmark us before you run away though :-)
Buy the book we sell please if you intend to restore a player piano. This is the book:
Player Piano Servicing and Rebuilding:
A Treatise on How Player Pianos Function,
and How to Get Them Back Into Top Playing Condition
by Arthur A. Reblitz
Paperback - 216 pages
Price: $23.16
You will be ordering at Amazon for their regular price,
but they give us a small commission for the sale. Thanks.

WEB RING: