SCHAFF PIANO SUPPLY COMPANY
ROUND TOP STOOLS

Shipping: All benches are drop shipped from our supplier to you direct.
This saves shipping costs and gets your bench to you fast.
EXHAUSTIVE WORD INDEX OF THE WHOLE SITE:

ROUND TOP STOOLS
Part Description: See Part Numbers in graphic above Price
Round top stool- Specify on order form- Ebony, Mahogany, Walnut, or Unfinished-
Satin furniture finish-- Hi Gloss finish not available
Also specify- Unholstered top, or wood finshed- 03S30 in graphic SH4990 series $ 292.00
SH4994- Walnut with wood top
SH4995- Mahogany with wood top
SH4996- Ebony with wood top
SH4997- Walnut with upholstery top
SH4998- Mahogany with upholstery top
SH4999- Ebony with Upholstery top
Same round top stool, but with claw feet- Specify wood type-
Satin furniture finish-- Hi Gloss finish not available
No upholstered offered- 03S32 in graphic SH4980 and SH4960 series $ 342.00
SH4980- Walnut with wood top 4982 & 4985 (Oak) $392.00
SH4981- Mahogany with wood top
SH4982- Golden Oak with wood top
SH4967- Ebony with a wood top
SH4983- Walnutwith upholstery top
SH4984- Mahogany with Upholstery top
SH4985- Golden Oak with upholstery top
SH4968- Ebony with upholstery top
Shipping by UPS will be figured at time of sale
NEW ADDITION!!! ADJUSTABLE PRACTICE/CONCERT CHAIR
Elegant, full-back practice/concert chair; adjusts from 16 1/2" to 21" with 14 stepped adjustments which can be locked in place. Overall height 35 1/2".
Seat measures 15" x 15 1/2", with an inset padded cushion. Specify Ebony Hi Gloss (EH), Ebony Satin (ES), Mahogany Satin (MS), or Walnut Satin (WS). Weight 16 lbs. PK410 $545.00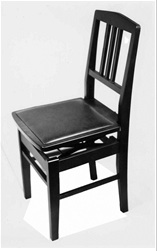 SEE OUR CONVENTIONAL SCHAFF COMPANY BENCHES
SEE OUR FULL LINE OF JANSEN BENCHES



Carpet and floor saver-
Place under the pedals to prevent carpet damage-Beige only SH5801 $ 25.00
---
Duet SCHOOL Bench with 3 braces between legs.
Specify Walnut, Maple, Mahogany, or unfinished-
This is an exceptionally rugged yet stylish bench- SH7022 $ 434.00
SH7022W-- Walunt Finsh with square legs
SH7022M-- Mahogany Finish with square legs
SH7022E-- Ebony finish with square legs
SH7022U-- Unfinished with square legs
Shipping by UPS will be figured at time of sale
---
BENCH HARDWARE
This hardware is used to make repairs and customize piano benches.
---
Be sure to get the correct order number from above for the exact stool you want. For round top stools, be sure to fill in all data so I can tell what to send you.


ORDER BY PHONE WITH CREDIT CARD
CALL TOLL FREE: (800) 338-8863
If there is no answer, please leave a message- we do answer our voicemail

OR:
Go to Mail Order Form for printing:



NP