STORE HOURS
9 TO 6 CDT
GMT minus 5 hours
Monday thru Friday
Do not call on
Sat. Sun. please


Piano Parts Phone Order Instructions
Companion to: Piano Owners's Survival Guide
By Steve Van Nattan- Piano Tuner

For Do-It-Yourselfers

See what time it is at our store
Please call between 9 AM and 6 PM, CST,
Monday through Friday
GMT minus 5 hours
The store is closed on Saturday and Sunday

SEARCH THE WHOLE SITE




ORDER BY PHONE WITH CREDIT CARD
Before Phoning, Consider our Phone Protocols
Toll Free-- (800) 338-8863 (US & Canada)
Taking Orders Worldwide
International Calls:
001-906-864-1437
Piano Parts are Duty Free into Canada
Tariff # 920991
We put this number on the declaration form of the parcel.
Tell us if your country allows piano parts in duty free,
and send any numbers or proper notes we should use on the parcel label.

WHAT'S ON THE CD?
Minimum Policy: Does NOT apply to the CD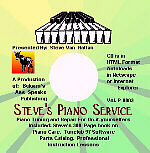 The CD is not subject to our minimum order rule.


1. The whole piano site as you see it on the Web. Browse some more to see what you get. My book is nowhere else, nor is it in print.
2. You get TuneLab 97. This is the complete program from Robert Scott in Michigan. It is ideal for a laptop, but it can be used also in any IBM compatible PC.
3. You get my Music page with MIDI, WAV, and Real Audio features not found on online.
4. On the CD you get my professional piano tuning instructions. These lessons are more complete than other professional courses that I have found. The language is plain. Humor is sprinkled here and there. And, I give away many secrets to successful tuning and repair.
5. COST: $18 plus $ 2.50 shipping within the U.S. [ or FREE with a $200 order ]
For those who came here from the Title Page to read about the CD: BACK

WHY NO "SHOPPING CART" ORDER SYSTEM?
When you call our Toll Free Number
(800) 338-8863, you get to talk to a live person who is up and about and able to take nourishment.
This allows discussion about what you want to order.
It also helps prevent errors and returns.

HERE IS HOW TO ORDER:
1. Browse the Catalog to make sure what parts you need.
2. Send E-Mail to ask any questions.

Questions about the use of parts or how to make repairs
may also be discussed by phone
(800) 338-8863
If you tried and could not find what you wanted in our
online catalog, please email or call us.
3. Write down, on a piece of paper, the following:
Part numbers
Description of the parts
Sizes or color
The total price of your parts
We will figure the shipping for you
We do not have the time to find the above data for you
while you are on the phone with us.
We may send you back to the catalog to find it before we fill out your order.

It may help to print and fill out OUR ORDER BLANK before you call.
Keep the Order Blank for your records.
4. Please have your credit card out and ready,
along with:
Your Credit Card billing address
Shipping address if different
Phone number
E-Mail address
Style of piano and brand name
We DO NOT give your data to anyone!
We shred it after one month.
5. Call: 1 (800) 338-8863 (US & Canada)
Friendly down home folks are
waiting to visit and take your order :-)

To Call From Outside the USA--
Call: 01-906-864-1437
STORE HOURS
9 TO 6 CDT
GMT minus 5 hours
Monday thru Friday
Do not call on
Sat. Sun. please

ORDERING INFORMATION:
MINIMUM ORDER:
Minimum Order is $20
SHIPPING POLICY:
We usually ship Priority Mail.
You MUST browse the Catalog area, and try to learn what you want. We no longer search our catalog for you.
Have this information ready:
1. Description of parts
2. Part Numbers
3. Prices
4. Dimensions where needed
BEFORE you call us please.
Make sure you are in the catalog area for your kind of piano--
Such as Grand Pianos,
Full Uprights, Spinets, etc.
If you are confused, feel free to emal or phone us.
If we do not answer the phone during normal business hours, we are probably here-- Just leave a message- we will return your call (it may not be the same day). :-)
CD Orders: Two Steps
1. Get the price in mind before ordering
Piano Site CD only-- $18
Shipping- $4.00 ($10-$15 overseas)

2. Go to Step 4 and 5 above-- That's it!
[ Don't forget-- If your order is $200 or more, the CD is FREE ]

OUR PART:
We will fill out a duplicate paper order at our end.
We will check prices of individual parts
to make sure your total price is correct.
You will get a copy of the order
when you receive your order.
Any credit cards which are rejected for any reason by our processor
will result in E-Mail or a phone call at our convenience.
Your credit card number, address, E-Mail address, and phone number
are not stored on a hard drive where they can be hacked,
and they are NOT given or sold to anyone-- ever.


A WORD ABOUT DELIVERY:
Piano tuning and parts sales are an old world trade.
So, our suppliers are all faithful plodders.
None us are prepared to panic for you.
Orders are filled in the order received.
If you demand panic attention, please shop elsewhere.
We do send overnight orders by Airborne Express,
but it is expensive.
All other delivery is by US Postal Priority Mail.
We insure and track all orders of higher value.
Some items are drop shipped directly from our suppliers.
Please do not call to check on your order until after two weeks.

LIABILITY AND RETURN POLICY:
Please read this carefully.
LIABILITY and delivery of damaged goods: stevespianoservice.com only warrantees the product to be in perfect condition on delivery. We take no responsibility for the use or installation of the parts you receive. If you do not want to take total responsibility for your own work and errors, you must not buy from us. This applies to all products sold by us.

Returns: Keep all packaging for benches, trolleys, and large items for a period of time after delivery in the event that a product needs to be returned. The packaging of Jansen benches and other large items has often been scientifically designed to prevent damage, and if you use amateur packaging methods and materials for a returned item, you may have part of your payment deducted to cover the damage, PLUS a 20% restocking fee. The condition you THINK it is in, when your return it, will not be the final verdict-- Our supplier will have the last word. Most suppliers are merciful, but they are the final authority as to condition of a returned item as delivered to them. If you are concerned about this, simply insure the item, at your expense, in order to cover yourself. Return shipping will be paid by you.

Damaged on Delivery: If a product is delivered damaged, please contact the carrier and make a claim BEFORE returning the item. If the product was drop shipped via UPS from our supplier and arrived damaged, contact us at once so we can notify the supplier who will arrange for UPS to pick up and return the product. If you wait to notify us of a damaged delivery, and/or discard the carton, you will NOT receive any consideration since UPS will not accept responsibility. UPS cannot be expected to take responsibility for a product not in the carton so that they can examine it to verify that it was their fault. If you discard the packaging of a damaged delivery, you could end up owning a damaged product, and no one is liable to accept it back from you under Federal and banking regulations.

Warranteed Items: Tuning Meters and other warranteed items must be registered with the manufacturer within the period of time they specify, NOT with us. If you fail to follow this plan, you may not be able to return the item if it fails during the warranteed period. Return all warranteed items ONLY to the manufacturer regardless of who shipped it to you.

Do not browse by mail: What we mean is, talk to us, use the phone at (800) 338-8863 so we can make sure you are getting the right thing up front. Some people order items just to look at them. If you do this with us, we reserve the right to charge you the full 20% restocking fee for our trouble, and we refund NO shipping either way. We may reduce the restocking fee if the resale of the item will be quick.

Overseas Orders: Be sure you have ordered the correct product. We do not accept returns from overseas at our expense, and some warranteed items will not be covered by the manufacturer or their agent in the USA. So we cannot promise returns will be possible from countries outside the USA. We will try to do this, but no promises. Credit back to you may not be the same as your original payment if the rate of exchange changed since you made your purchase. We will use your original payment as our point of reference.

Final word: We are very sorry to have to write the above conditions, for they sound harsh and ugly in a way. The problem is, merchants are not all crooks, and a few customers ARE crooks. We have suffered some very bad experiences from people who set out, from square one, to do us harm. For most of you, the above information is perfectly in line with your good ethics. For you who want to mess around with us, caveat emptor.



WOULD YOU PREFER TO ORDER THE OLD FASHIONED WAY BUNKY?
WE HAVE NO PROBLEM WITH THAT AT ALL :-)
GO TO ORDER FORM FOR CONVENTIONAL MAIL ORDERING

Please use common etiquette neighbor--
Ask ordering, repair, and installation questions by phone IF you are OUR customer.
(800) 338-8863 But...
If you bought your parts somewhere else, get your help from those people please.
Our customers tell us they would pay more here, if necessary, in order to get our help.
Kwith has been tuning and repairing pianos for 40 years.