STORE HOURS
9 TO 6 CDT
GMT minus 5 hours
Monday thru Friday
(800) 338-8863
1 (906) 864-1437

If you have read MY BOOK ABOUT PIANO REPAIR AND TUNING you will find all of the
tools and piano parts you need in this Catalog. NO piano supply company will sell you
parts this painlessly and simply. If I didn't make this Piano Parts Catalog available,
you could not, in many cases, get the materials to do the repair.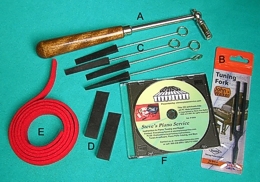 Piano Parts and Tool Catalog
"The piano is a monster that screams when you touch its teeth." Andre Segovia
Menu of Products-- Scroll Down
Companion to: Piano Owners's Survival Guide
By Steve Van Nattan- Piano Tuner
Address: Steve's Piano Service
717 14th Avenue
Menominee, MI 49858
We are a Family Operation--
We serve you every way we can, and you have made us
prosper in this niche we have on the Internet.
THANKS neighbor!
We have no printed catalog.
The catalog is right here and on the CD we offer.

ORDERING INFORMATION:
MINIMUM ORDER:
Minimum Order $20
SHIPPING POLICY:
Priority Mail shipping for most items. UPS by request.
You MUST browse the Catalog area, and try to learn what you want. We no longer search our catalog for you.
Have this information ready:
1. Description of parts
2. Part Numbers
3. Prices
4. Dimensions where needed
BEFORE you call us please.
Make sure you are in the catalog area for your kind of piano--
Such as Grand Pianos,
Full Uprights, Spinets, etc.
If you are confused, call us for assistance.
If we do not answer the phone, we are probably here-- Just leave a message- we will return your call (it may not be the same day).
:-)
Enjoy.



We try to do business like the folks in Briertown, Oklahoma-- Alice Springs, Australia-- Hang Zhou, China-- and lots of other little places where a man's word is his honor

Luke 6:31 And as ye would that men should do to you,
do ye also to them likewise.

Please read about:
Our pricing and service philosophy
EXHAUSTIVE WORD INDEX OF THE WHOLE SITE:

UP FRONT: Once in a long while we have a complaint that our prices are too high. If you buy here please understand that you are rewarding us for doing things no one else on the Web does for their customers :-)
MIDI Medley by Joy Hardin--
Some old time Gospel hymns from the days
of coal stoves, Alladin lamps, and
The Old Fashioned Revival Hour.


ORDER BY PHONE WITH CREDIT CARD

Ordering Customers CALL: (800) 338-8863
This dedicated number is for questions
ONLY if you intend to order.
You can order by mail also.
ORDERING OPTIONS:
USA Ordering Customers
CALL: (800) 338-8863
Dedicated number ONLY if
you intend to order.
Have the following ready:
-- Part Description
-- Part Number
-- Price
Please: Call after visiting the catalog.
If you do not speak English well,
kindly send E-Mail.
We try to make sure you get the
right part for your piano, and in
this way we avoid returns.
Absolutely NO profanity, blasphemy,
sexual innuendo, or racism.
For Technical support
CALL: (906) 864-1437
If you bought your parts elsewhere,
kindly ask that seller for technical
support. I realize it is a comfort to
hear a real voice, but you will
probably get a better answer if you
SEND E-MAIL.
This is because I have more time to
meditate on your situation.

If you do not speak English well,
kindly send E-Mail.






International Customers
CALLS: 01-906-864-1437
Please call between
1400 and 2200 GMT
If you do not speak English well,
kindly send E-Mail.

See what time it is at our store




Canadian Customers
CALL: (800) 338-8863



You can....
Order by Mail
with a printed
Order Form


PayPal and
Western Union
payment
accepted.

SEND MAIL first



Call to make a purchase after visiting the catalog please.
LEARN ABOUT ORDERING BY PHONE



I have not listed every possible piano part out there, but I can get it. If the part you need is not in the catalog, just send E-Mail.
CATALOG CATAGORIES:
The Catalog and Repair Contents are heavily inter-linked.
This will help you install the parts you purchase.

MAIN CATEGORY areas are the safest way to enter
SUB-SECTIONS are linked to sub-pages
ACCESSORIES np
BENCHES, BENCH PADS, AND STOOLS-- Prices Reduced np


SCHAFF PIANO SUPPLY CO. BENCH PADS
SCHAFF PIANO BENCHES

AIR CUSHION FOR PIANO BENCH TO PREVENT SORE FANNY
PIANO MOVING TRUCKS
PRESENTATION TROLLEYS AND SPIDERS *
HARP STOOLS
DECALS
KEY COVER LOCKS, PEDAL EXTENDERS, AWARD STATUES
STATUES
COVERS
DESKS
METRONOMES
KEYCOVER LOCKS
DECORATOR FABRICS TO COVER UPRIGHT PIANO BACK
ACOUSTIC CONTROL np
And decorator fabric for covering the back of uprights
Keep out of trouble with neighbors in apartments and condos.
We are the only piano related site carrying these products.
GENERAL- Piano Parts which apply to all Uprights
SPINETS- Smaller Upright Pianos, some Consoles
UPRIGHTS- Larger Upright Pianos
GRANDS
HAMMERS
BRIDGE REPAIR PARTS
SOUND BOARD PARTS
PEDALS
CENTER PINS-- For moving action parts
TUNING PINS, PIN BLOCKS, BRIDGES, AND PIN TREATMENTS
We now offer pin block duplication !
PLAYERS
WE WILL DO THE REPAIR FOR YOU BY MAIL:
BENCHES -- Artist Benches, Conventional Benches, and Round Top Stools
NEW! Wonders of the Piano By Catherine Bielefeldt-- Amazing new book
Learn the heritage of piano making from the beginning, and many techniques
used in making a piano, top to bottom.
PIANO SERVICING, TUNING, AND REPAIRING-- Arthur Reblitz-- 2nd Ed-- Only $32
TUNING from simple to complex instruction
REGULATION of Grands and Uprights
PUMP AND REED ORGAN REPAIR
PLAYER PIANO REPAIR
THEORY
STEINWAY
HISTORY and Dating of Pianos
EUROPEAN PIANOS

PLEASE SEE THE INSTRUCTION KIT BELOW UNDER "KITS"
RUBBER [ Rubber headed nails and bumpers ]
BRASS [ Props, Knobs, Hinges, and Braces ]
METAL [ Springs, Catches, Pedal Hinges, and Bolts, ]
WOOD [ Props, Knobs, Legs, Lyres, and Desks ]
KEY COVER AND SOUND BOARD NAME DECALS
UPRIGHT LEGS- New item
LOCKS, PEDAL EXTENDERS, Carpet saver, and Statues
GRAND PIANO LEGS, LYRES, AND LYRE RODS and Lyre Hardware-- Hard to find items
GRAND PEDALS, PEDAL RODS, and Pedal Extenders
OLD TIME VICTORIAN LEGS, LYRE, BENCH, AND DESKS for Grand Pianos
CD OF TUNING INSTRUCTION, RESTORATION, AND REPAIR
The CD is not subject to our minimum order rule

1. The whole piano site as you see it on the Web.
Browse some more to see what you get.
My book is nowhere else, nor is it in print.

2. You get Robert Scott's TuneLab piano tuning software.
This is the complete program. It is ideal for a laptop, but
it can be used also in any IBM compatible PC.

3. You get my Music page with MIDI, WAV, and Real Audio features just like it appears
on the Journal.

4. On the CD you get my professional piano tuning instructions.
These lessons are more complete than other professional courses that I have found.
The language is plain. Humor is sprinkled here and there.
And, I give away many secrets to successful tuning and repair.

5. COST: $18 plus $1.50 postage [ FREE with a $200 order ]
CLEANING AND POLISHING SUPPLIES
CLEANING SOLVENTS FOR RESTORATION NEEDS
DESKS for Grand and Upright Piano Desks
FELT PARTS and Leather
HARDWARE-- All the bits and pieces not in other sections
UPRIGHT PIANO HARDWARE-- Hinges and action mounting hardware
for upright pianos are found under other links listed here.
GRAND PIANO HARDWARE
BENCH HARDWARE
CABINET HARDWARE-- Mostly Upright, but some Grand Piano
SMALL CABINET PARTS-- RUBBER, BRASS, WOOD, AND METAL
GRAND AND UPRIGHT PIANO DESKS
GRAND PIANO PEDAL HARDWARE
PIANO AND PIANO BENCH LEGS
PEDAL HARDWARE
UPRIGHT PEDALS
GRAND PIANO PEDALS
FALLBOARD AND SOUND BOARD DECAL PAGE
HARP AND PLATE WELDING
We have a source who knows of high end welding operations nationwide, especially on the East Coast.
If you have a harp that is cracked but no pieces have broken out, and if this is absolutely the LAST RESORT,
we will find a welder who will weld your harp for a fee to us. The welder will have his own fee for his work.
You will be required to sign a "Hold Harmless" statement for us and the welder. There is NO way we can
promise it will not break again. The welders we find are famous for their work with cast iron, and they will
heat the harp if needed, and stress it and cool it scientifically. The harp will have to be delivered to the welder
and picked up by you. No shipping arrangements will be offered.
SEND MAIL

Here is another company doing harp repair. They require the whole piano be at their store, and they install the
repaired harp and restring the piano and tune it. Expensive I am sure, but very good reputation.
Humidity Meters and Indicators
Desiccants to keep Upright Pianos dry
Locks to keep fall board (key cover) from being opened
Pedal extenders
Carpet protectors for under pedals
KEY TOPS-- Naturals and Sharps
Do-it-yourself or mail them to our shop to re-cover.
KEY TOP KIT-- Based on our many years of experience restoring piano keys
KITS-- Complete selection of restoration, tuning, and learning tools need for specific tasks.
PIANO TUNING, REPAIR, AND REGULATION LEARNING AND STUDY KIT
This kit combines books, a cassette, and our CD to give a complete
and professional start in the piano tuning trade. These learning tools were
compiled by men who spent many years tuning and repairing pianos.
TOUCH UP TOOL KIT-- For studios, music areas, and touch up situations.
STANDARD TOOL KIT-- Tuning and Regulation Kit-- For serious situations.
PROFESSIONAL LEVEL TOOL KIT--
This kit is for someone making a major career change or choice
OUR BEST PROFESSIONAL KIT--
Standard tool kit (above), Learning Kit (above), High End Tuning Lever, and Tool Case
Toward a professional income earning situation and to go with piano tuning school
KEY TOP RESTORATION KIT-- Replace naturals and flats with tools included
KEY LEVER RESTORATION KIT-- All felt and leveling needs plus tools
WIRE KIT-- Treble wire for one piano
BASS AND TREBLE WIRE KIT WITH ALL TOOLS-- Coming soon
PIANO MOVER'S KIT - Coming Soon -
This kit will include materials not usually associated with piano moving
LEGS for Grand Pianos-- Also Lyres, Legs, and Braces and Rods
LUBRICANTS, PIN TREATMENTS, GLUE, STAINS,
FINISHING PRODUCTS, AND CLEANING SOLVENTS
Humidity testing card to keep on the piano
Humidity Meters showing high / low extremes
Instruction on using control alternatives to devices applied to the piano
MOUSE TRAPS-- Non-poisonous mouse traps for upright pianos
MOVING EQUIPMENT "TRUCKS" AND SAFETY DEVICES
GRAND SKID BOARDS
BLUELINE STEEL MOVING EQUIPMENT ................................................................................... >
WEBBED BELT AND BUCKLES
BLUE LINE MOVING EQUIPMENT
SELF-LIFTING PIANO MOVING TRUCK
ROLL-OR-CARRY TWO PIECE TRUCKS
PLATFORM DOLLIES
SKATES-- New Item for sliding objects across the floor
QUILTED PADS, ROLL WRAP, STRAPS, AND SAFETY SUPPLIES
MOVING INSTRUCTIONS FOR PIANOS AND GENERA
NOISE CONTROL--
For apartment dwelling and contominiums
PEDALS--
GRAND PIANO PEDALS
UPRIGHT PIANO PEDALS
GRAND LYRE RODS AND BRACES
PEDAL MOUNTING HARDWARE
INSTRUCTIONAL CD By Steve Van Nattan
BOOKS ON PIANO TUNING AND REPAIR
PIANO SERVICING, TUNING, AND REBUILDING By Arthur Reblitz PTG
PIANO TUNING BOOK AND CASSETTE FOR BEGINNERS By Dennis E. Kurk PTG
ONLINE RESOURCES
CLICK HERE TO SEE OUR PRODUCTS
PIN BLOCKS, TUNING PINS, AND BRIDGES
BELLOWS MATERIAL
VALVES AND VALVE MATERIAL
SPECIAL TOOLSRESTORATION BOOKS
TUBING
PEDALS
FELT AND GASKET MATERIAL
SPECIAL PARTS AND MECHANICAL DEVICES
ANIMAL HIDE GLUE
TEST ROLLS
MUSIC ROLLS
PRACTICE MUTE AND RINKY TINK OR MANDOLIN KIT
This kit can be used to either quiet an Upright Piano or make it sound like
an old time honky tonk piano
SMOKE, MOLD, MILDEW, AND VARMINT REMOVAL
We offer chemical cleaners and ozone generators to eradicate smoke odor,
mildew, and mold.
We are the only piano related site carrying these products.
NON-TOXIC- Mouse Traps for Upright Pianos or for anywhere in the home.
SOUND ABSORBING BARRIERS AND MUFFLERS
And decorator fabric for covering the back of uprights
Keep out of trouble with neighbors in apartments and condos.
We are the only piano related site carrying these products.
TOOLS-- Tuning and Repair- Very complete selection
PIANO TUNING TOOLS -- Three Kits Offered

SCHAFF TUNING LEVERS- The Best in the World

ADJUSTMENT, ACTION REGULATING, AND REPAIR TOOLS

ACTION REPAIR AND ADJUSTMENT TOOLS

CENTER PIN REPAIR AND FITTING TOOLS AND ORDER CENTER PINS

HAMMER REPAIR, RAPLACEMENT, AND VOICING TOOLS

RESTRINGING AND WIRE HANDLING TOOLS

TUNING PINS AND REPAIR TOOLS AND TUNING PIN TREATMENTS

LUBRICANTS, PIN TREATMENTS, GLUE, STAINS, AND CLEANING FLUIDS
BASS [ Universal and Exact Duplication ]
PLAIN TREBLE RÖSLAU, Mapes International, and American made Wire

Confused: CLICK BELOW
To study the diagram of the
Grand, Spinet, Full Upright, or Grand Damper Action
SHIPPING:
USA Shipping is by US Post Office, Priority Mail.
We pack well in order to get the product to you in good condition.

Minimum Shipping-- $ 12.00
CHECK PRIORITY US POSTAL RATES

International Shipping is by US Post Office, Air Mail.
For high value items, we may ask international customers
to find an agent in the USA to forward the product.

Piano Parts are Duty Free into Canada
Tariff # 9209.91.9090
For all parts made in the USA, we ask Canadian officials to honor NAFTA rules.
We put this number on the declaration form of the parcel.

Let the Buyer Beware:
When you purchase parts, tools, or the CD from us, or when you apply a technique we describe in the Table of Contents, YOU are 100% liable for the results. We only stand behind anything except the perfection of the product when it arrives at your home. After that, you are 100% on your own. If this worries you, you should call a piano technician in your area, and ask him to do the work. This disclaimer also applies to advice we may give over the phone, or in e-mail, in answer to your questions as you consider buying a product, making a repair, or tuning a piano.

Having said the above, you need to understand that we are possibly the ONLY ones in the world who go as far as we do to help you. Please have the grace to understand that YOU and God are the final authority in your fate and the fate of your piano.

Isn't it awful that we have to make such disclaimers as the above. The world is plagued by diddle heads who cannot take charge of their own lives. So, I apologize for having to ask God fearing and responsible people to read the above disclaimer.

Finally, we reserve the right to refuse service to anyone for any reason. Also, posted prices may be changed due to price increases or errors on our part.
MAIL ORDER FORM
To send a mail order you MUST print out this order form, and fill it in, even for one item.
International orders will be accepted, but we must have US dollars.
A postal order or bank cheque is the best way to send international funds.
You may send international orders with their VISA or MasterCard number on the order form.
You may want to send the last four numbers of your credit card number by E-Mail for security.
We do not use the "shopping cart"

STORE HOURS
9 TO 6 CDT
GMT minus 5 hours
Monday thru Friday
Do not call on
Sat. Sun. please
Go to Mail Order Form for printing:
OR:


ORDER BY PHONE WITH CREDIT CARD
Our Toll Free Number: 1 (800) 338-8863
Pay by PayPal
Email address to use to send payment:
keith@stevespianoservice.com
We WANT to talk about your order and avoid errors.
We like to meet our customers.

STANDARD UGLY NOTICE
Price Policy--
Read carefully please-- We put a number of parts on more than one page in the catalog because you (and we) are not sure which category they best fit. This makes the catalog more friendly. BUT, when we have to raise prices, we may forget all the places a given part shows up. In this case you will be expected to pay the HIGHER price if we ask you to. Reasonable folks will appreciate this problem, and those few that push us for the lower price will simply be asked to buy elsewhere. While we are dedicated to give value and service worthy of your payment, this is not a philanthropy-- It is how we pay for our boiled dinner :-) I.E. It is our choice please. Also, typos are NOT final.

The price you see will be the price you pay with very rare exceptions.

I am sorry to have to write the above, but we had one fellow try to force us to take a loss due to a typo, and we just will not take that kind of abuse. The marketplace is a two way friendship, right? :-)
TERMS OF SERVICE
READ CAREFULLY- Caveat Emptor
All mail orders must be pre-paid- No credit accounts. Personal bank checks will have to clear before shipping.
Money Orders or Cashier's Checks receive immediate response. Never send cash please.

No discounts are offered. Quantity rates may be offered by negotiation. Religious entities which seek discounts
should consider when Jesus Christ or the Apostle Paul asked for a discount for God-- never.

Turn around runs from 3 days to 6 weeks, depending on the product. Please ask when you order.

Credit Card orders will be filled quicker than mail orders (often the same day).

Returns for refund must include EVERY part sent in original condition.
Partial packets returned must be negotiated by our decision which is final-- Send E-Mail.
Credit Card orders will be refunded to the credit card account, which is required by law.
No returns on CD ROMs unless they are defectivly produced, in which case they will be replaced.
Old CDs are worthless since we change the "burn" copy every time we send a CD.

No refunds for decals, key top work, bench tops, vacuum motors, pin treatment, lubricants,
or damaged parts, UNLESS we agree to accept them back, with a partial refund, after a PO mail or E-Mail exchange.
If you product was drop shipped from our supplier, DO NOT return it so our supplier until you call us at:
(800) 338-8863

A 20% restocking fee may be deducted by me on all credits for returned parts.

Online help available

When sending a question by E-Mail,
kindly refer to the Table of Contents title
and the Web page URL on the subject in question.

Steve's Piano Service
2545 Roosevelt Rd, #107/#225
Marinette, WI 54143
LAST WORD:
Did you ever find a do-it-yourself book where you could contribute to the next edition?

If you have any anecdotes which result from using this book-- anything from, "I wrecked my piano and had to take it to the dump," to, "You helped me save my piano from destruction and saved me from a $5000 repair bill,"
SEND YOUR STORY. I want material for the page, Update and Forum.

If you OR your tuner have made some startling repair or improvisation, SEND it to me. I will give full credit to you and / or your tuner if I use the material. Be sure, in your E-Mail, to let me know that I am free to use your story, and that includes your tuner's signature and phone number.

Hey, how about a photo of you and your happy piano that you fixed? We have a scanner, and we can include photos of our friends on the Update and Forum page.
STORE HOURS
9 TO 6 CDT
GMT minus 5 hours
Monday thru Friday
Do not call on
Sat. Sun. please

ORDER BY PHONE WITH CREDIT CARD
CALL TOLL FREE: (800) 338-8863
If there is no answer, please leave a message- we do answer our voicemail

OR:
Go to Mail Order Form for printing:
Pay by PayPal
Email address to use to send payment:
keith@stevespianoservice.com


For Technical support CALL: 906) 864-1437
If you bought your parts elsewhere, kindly ask that seller for technical support.
PIANO CARE AND REPAIR- Table of Contents, Repair, restore, and tune your piano. Order piano parts and tools from our Catalogue / Catalog. Some piano tuners send customers to us.
Save hundreds of dollars. The only book of its kind anywhere.