TOTAL PIANO TUNING INSTRUCTION KIT
SIX OUTSTANDING TRAINING TOOLS:

I believe we have here the best training package in the trade.
Piano tuners never stop learning, but how you start may make
all the difference whether you master the skills or flounder.
We want you to succeed, whether you are just tuning your own
personal piano, or you want to tune in the Lincoln Center.

Steve Van Nattan-- 23 years in the trade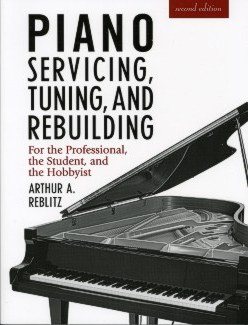 1. SH1678--
PIANO SERVICING, TUNING, AND REPAIRING
By ARTHUR A. REBLITZ
Second (Latest) Edition
The first edition of this world famous book has sold over 45,000 copies and has become the classic manual for piano technicians and amateurs internationally. Originally published in 1976, Piano Servicing has now been updated and expanded, incorporating the experience of another decade and a half of exacting service and restoration by the author. Bibliography and index included, 8 1/2" x 11", and hundreds of illustrations. Close to 300 pages of the
best information available for the professional tuner / technician. College textbook quality, but at trade prices.

CLICK HERE to purchase this item alone.

2. PLUS SH1640--

PLAYER PIANO SERVICING AND REBUILDING
By ARTHUR REBLITZ (Paperback)
A superb book that touches on every aspect of its title.
8-1/2" x 1 1", 216 pages, profusely illustrated with fine
photographs and diagrams. The most comprehensive
book on the subject ever written. Those with casual or
professional interest in player pianos will find this book
fascinating and indispensable. The non-player aspects
of a piano are not covered in this book. For that, you
need book 1678 above.

CLICK HERE to buy this item alone.
3. PLUS
Steve Van Nattan's CD of Professional Level
Tunning Instruction, which is ONLY found on
the CD. The CD ncluces all offerings online
and in print.

4. NEW BOOK
THE WONDERS OF THE PIANO
By CATHERINE C. BIELEFELDT
This is the best book I have seen on the piano as an instrument, how it is manufactured, and the history of the piano. Catherine Beilefeldt is deeply involved in a piano restoration company south of Chicago, and the Piano Technician's Guild maintains very close contact with her. This book is used by Guild members as a text book in training curricula. Catherine held three positions with Steinway in her earlier days, and Steinway made a great resource contribution to this book.
5. PLUS

THE KURK COMBO
PIANO TUNING BOOK AND CD
FOR BEGINNERS --
By Dennis E. Kurk PTG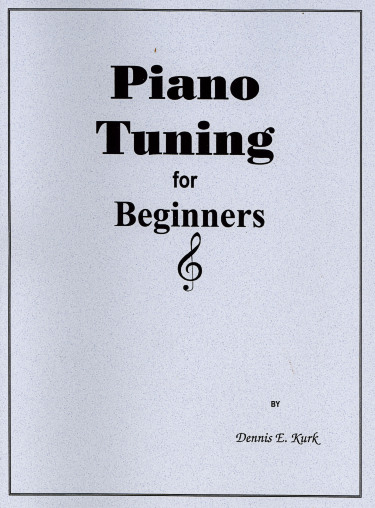 Dennis Kurk has many years of experience tuning pianos and restoring them.
He is a member of the Piano Technician's Guild of America also. His book,
Piano Tuning for Beginners, is 18 pages long, 8-1/2 by 11 inches. There are
several photographs.
Topics covered are:

Why Pianos Go Out of Tune
Preparing to Tune
Tuning a Unison
Tuning an Octave
Tuning the Notes Within an Octave
Designating Intervals Within the Octave
Setting the Temperament
Varieties of Tuning Methods
Problems of Piano Pitch
False Beats
Fine Tuning
Tuning Tips
The Unseen Artist
THE CD OF PIANO TEMPERAMENT SOUND
We are not offering the book without the CD. This is because the CD is so essential to succeed
in learning to tune. Books on tuning lack one very important thing, and that is sound. This
CD by Dennis Kurk is copyrighted and is done by him to add the missing dimension, beats and
sounds as they actually occur during a tuning. The tape is keyed verbally to the book very well,
and the sound quality is exceptional. This combo teaching tool will also add greatly to the
tuning lessons on my CD.
CLICK HERE to buy this item alone.
While they last-- Free when you order--
PIANO TUNER'S POCKET COMPANION
By OLIVER C. FAUST
A complete history and description of grand and upright piano actions, together with
a list of common faults and how to correct them. The second section of the book
explains the theory of tuning with notes on harmony, acoustics and temperament,
and there is a brief discussion of voicing.
Though this is a very old dated book, it has timeless information, and since it is
3-1/2" by 5", it can be used on the job site. 36 page
PRICE OF THE COMBO: Part Number "Instruction Book Offer" $ 153.00
LIMITATIONS ON THIS OFFER:
This offer cannot be used to reduce the price of either of the tuning
tool kits except as noted on the Tool Kit page. If your order is already
over $ 200, we cannot offer you this combo less the CD at a reduced
price.