ALL STEEL
PIANO MOVING EQUIPMENT

We are delighted to find a product which promises to reduce work and increase safety in the moving of pianos. These products are drop shipped from the manufacturer, and modifications are possible for an added cost.
The steel construction and overbuilt qualities of these products will serve you well. They will also be around for many years, hanging in the garage, to move all sorts of heavy objects.
If you came here looking for permanently attachable Trolleys
for all pianos and organs and Grand Spiders,
CLICK HERE to see our selection.


EXHAUSTIVE WORD INDEX OF THE WHOLE SITE:

Shipping Policy :
We get your ZIP code, and we find the actual
shipping cost for United Parcel Ground, and that is all we charge.
Quantity:
If you are buying more than one item on this page,
or a cover or bench with something here,
we will talk about a discount.

PIANO SKIDS, OR STAIR BOARDS
These piano skids are a hybrid medium tool between the plain skid boards which have been around
for years and the heavy and massive lifting wheeled grand trucks. Features on these skids are:
-- A 12 inch lip to make sure of a secure hold at the lower end.
-- A handle on the lower lip for control going down stairs.
-- Wheels, which are not found on other skid boards, to roll the piano instead of carry it.
-- Coming soon-- A high impact plastic cover for the skid underside for easy stair use.
-- The wheels make corners much easier, and they hit the floor from the last step on stairs
instead of the end of the skid jamming into the carpet.
-- Caution: Web Straps must be used in an "X" pattern for control.

5 ft Skidboards - 32 Pounds - Part Number MEMSKID5 - Price: $ 297.00
6 ft Skidboards - 35 Pounds - Part Number MEMSKID6 - Price: $ 305.00
7 ft Skidboards - 70 Pounds - Part Number MEMSKID7 - Price: $ 335.00
9 ft Skidboards for concert grands - 66 Pounds -
Part Number MEMSKID9 - Price: $ 368.00

EXPANDNING GRAND PIANO ROLLING SKID

-- Four rolling swivel casters which all lock
-- Expands to take 5 ft to 9 ft grand pianos
-- Very heavy construction
-- Looks very professional to customer
-- 66 Pounds
Part Number - MEMEXPAND
Price: $ 435.00
CAUTION: Web Straps must be used in an "X" pattern for control.

DIGITAL PIANO DOLLY
What a hot rod! Load the digital piano on this dolly, and the pedals are not hanging there alone.
The pedals are taken into consideration in particular by the maker. Also, again, the wheels are
inset so that the overhang at both ends allows for the tilt and turn method of negotiating corners.
It is even possible that some music groups with adjustable stools will want to leave the digital
piano on the dolly permanently. In such a case, ask about the locking wheel option.
(The Grand Stand is not included with the dolly.)
22 Pounds

Part Number MEMDIGIT
Price: $ 195.00

GRAND SERVICING STAND
This pedestal measures two inches higher than a grand piano leg. Lift the grand piano up,
and set the Grand Stand under the piano near the leg to be removed. When removing a leg
on a grand piano this eliminates having friends hold the piano as you remove the leg.
Much safer. Also very useful where legs are in need of repair, and for replacing casters.
CAUTION: Do not use more than one Grand Stand at a time.
Weighs 5 pounds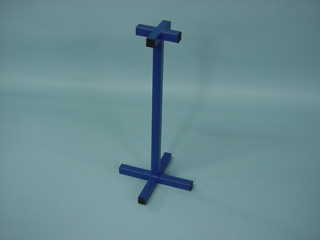 Part Number - MEMGS
Price - $ 72.00 each


NEW!
SEE MORE CHOICES OF MOVING EQUIPMENT
MOVING, HANDLING, AND SAFETY EQUIPMENT

Large skids on wheels and Double Ended Moving Trucks

ORDER BY PHONE WITH CREDIT CARD
CALL: (800) 338-8863

OR:
Go to Mail Order Form for printing:
Online help available