STORE HOURS
9 TO 6 CDT
GMT minus 5 hours
Monday thru Friday
Do not call on
Sat. Sun. please

PLAYER PIANO
DIE CUT RUBBER - CORK GASKETS
ORDERING INFORMATION:
MINIMUM ORDER:
Minimum Order $20
SHIPPING POLICY:
Priority Mail shipping for most items. UPS by request.
You MUST browse the Catalog area, and try to learn what you want. We no longer search our catalog for you.
Have this information ready:
1. Description of parts
2. Part Numbers
3. Prices
4. Dimensions where needed
BEFORE you call us please.
Make sure you are in the catalog area for your kind of piano--
Such as Grand Pianos,
Full Uprights, Spinets, etc.
If you are confused, call us for assistance.
If we do not answer the phone, we are probably here-- Just leave a message- we will return your call (it may not be the same day).
:-)



These gaskets are die cut. The edges of the holes are sharp and matched
perfectly to the application for which they are made. After die cutting them,
our supplier tumbles them to knock off any small bits of cork so that trash
from manufacturing cannot be later sucked into the reeds or valve areas.
You will want to visit our Player Piano page for other parts and specialty
items to help in your player piano restoration project.
SEARCH THE WHOLE SITE












DIE CUT GASKETS READY TO USE
Save yourself a lot of trouble. Cutting these gaskets yourself will easily result in uneven work,
and you may later find that trash has fallen off of your uneven cuts into the valve or reed area.
This can cause very serious trouble and is very hard to clean out.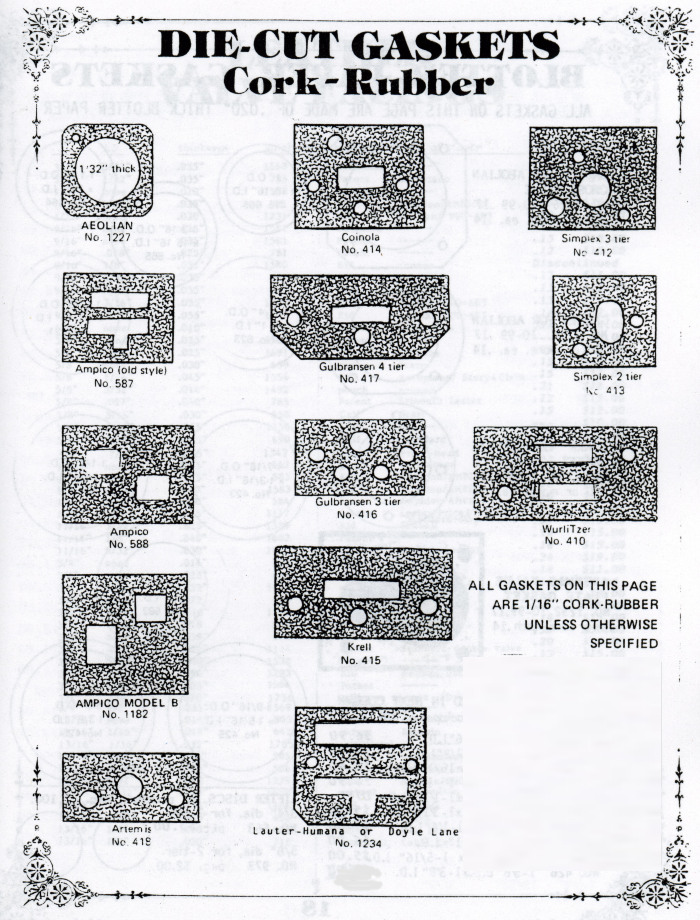 PRICES: NOTE: Some of these gaskets are unavailable at this time. Please call to check before ordering.
Type of Piano or Action

Part Number

Price Each

Price per 100

Wurlitzer

DA410

$ 1.50

$ 65.00

Simplex 3 Tier

DA412

$ 1.50

$ 65.00

Simplex 2 Tier

DA413

$ 1.50

$ 65.00

Coinola

DA414

$ 1.50

$ 65.00

Krell

DA415

$ 1.50

$ 65.00

Gulbransen 3 Tier

DA416

$ 1.50

$ 65.00

Gulgransen 4 Tier

DA417

$ 1.50

$ 65.00

Artemis

DA418

$ 1.50

$ 65.00

Ampico (Old Style)

DA587

$ 1.50

$ 65.00

Ampico

DA588

$ 1.50

$ 65.00

Ampico Model B

DA1182

$ 1.50

$ 64.00

Aeolian

DA1227

$ 1.50

$ 38.00

Lauter/Humana or
Doyle Lane

DA1234

$ 1.50

$ 58.00
VISIT OUR PAGES OF PLAYER PIANO PARTS:
PLAYER PIANO PARTS-- Main Page

WE OFFER A PLAYER PIANO WEB RING FOR YOU TO SURF
YOU WILL FIND SOME EXCEPTIONAL PEOPLE TO SERVE YOU
See the bottom of the page.

FIND BOOKS ON PLAYER PIANOS,
Repair, Restoration, History, and Value

PUMP (REED) ORGAN SUPPLIES--
Find many Player Piano parts here
OUR MENU OF PLAYER PIANO INSTRUCTION
68. Varmints, Lubrication of Player Pianos

69. Adjustment of Player Pianos

70. Bellows repair in Player Pianos


ORDER BY PHONE WITH CREDIT CARD
CALL TOLL FREE: (800) 338-8863
If there is no answer, please leave a message- we do answer our voicemail

OR:
Go to Mail Order Form for printing:
Online help available