STORE HOURS
9 TO 6 CDT
GMT minus 5 hours
Monday thru Friday
Do not call on
Sat. Sun. please

PIANO ACTION PARTS
FOR FULL SIZED UPRIGHTS
Check to see if you have a Full Sized Upright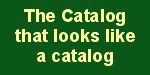 ORDERING INFORMATION:
MINIMUM ORDER:
Minimum Order $20
SHIPPING POLICY:
Priority Mail shipping for most items. UPS by request.
You MUST browse the Catalog area, and try to learn what you want. We no longer search our catalog for you.
Have this information ready:
1. Description of parts
2. Part Numbers
3. Prices
4. Dimensions where needed
BEFORE you call us please.
Make sure you are in the catalog area for your kind of piano--
Such as Grand Pianos,
Full Uprights, Spinets, etc.
If you are confused, call us for assistance.
If we do not answer the phone, we are probably here-- Just leave a message- we will return your call (it may not be the same day).
:-)
This includes all of the moving parts from your finger to the
hammers.
If in doubt, please go to the diagram pages and double check to
see if you are ordering the right part. It is impossible to give a "Back"
button to return to so many pages, so please use your browser's
"Back" button
Also, I often give you a link to the page which tells how to make the
repair or installation of the new part.
EXHAUSTIVE WORD INDEX OF THE WHOLE SITE:
BRIDLE STRAPS FOR ALL UPRIGHTS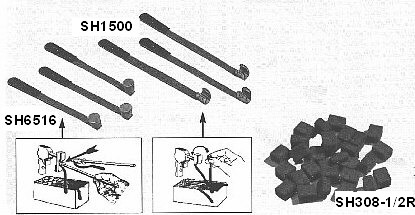 If your upright piano has the hole below the catcher on the hammer butt stump,
you need the cork ended straps. If you have no extension below the catcher,
and no hole that is about 1/4 inch diameter, you need the metal clip on strap.
The original strap was anchored in the hammer butt in the hole where the catcher
shank was attached to the hammer butt. Simply cut the excess off that is left of
the old strap. You are not going to try to insert the new strap into the hammer
butt hope-- cannot be done.


Bridle Straps- (Metal clip-on type- 90) SH1500 $ 32.50
Bridle Straps- (Cork end for hole receiving type- 90) SH6516 $ 27.45
Inserter for cork ended bridle straps- We no longer provide the simple tool
Make one by removing the top off of a carpet tack and embed the blunt end in one
end of a 1/4 inch wood dowel. Push the point into the back end of the cork and
follow the instructions at:
Read my instructions for installing Bridle Straps

Hammer Butt Felt Squares-
Mount on the lower area of the hammer butt to cushion the top
of the jack. This solves the clicking in an action. Set of 100-
Medium-- Red-- .164 inches thick-- SH308-1/2R $ 7.50
Regulating Screws- Spade head- 3/4" long x .093
Old Part number in graphic- 245305B SH544 $ 80.00 for 100 or $12/dozen


General Parts
Down right essential to restore and repair the upright piano.
Part Description: Part Number Price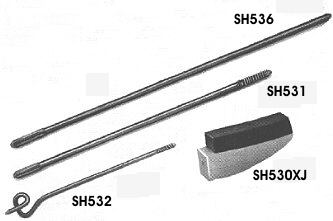 Back Checks with felt shoe-
Without wires-
Dozen SH530XJ $ 21.00
Full set of 90- SH530XJ $147.50
Back Check wires- 3-5/8 inches length - 100 SH531 $ 21.00
Damper Wires- 3-1/2 inches length - 100 SH536 $ 20.00
Bridle wires- - 100 SH532 $ 19.00
Learn how to repair and adjust Backchecks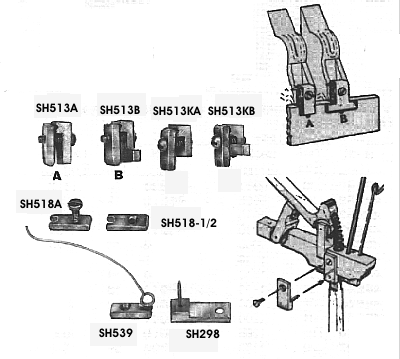 Butt plate to rail repair clips:

This is a new item for an alternative repair of a broken brass rail tongue.  Historically, our brass repair clips have been used to replace a tongue that is broken at the groove or screw hole.  Our new clip does not require a screw and butt plate. For installation, simply remove the hammer butt assembly; install the repair clip to the existing butt by using the #20 center pin; file the brass rail material down to / or past the screw hole; mix epoxy and apply to the repair clip and insert on to the brass rail. 
Included in our new kit is (12) repair clips, (12) 347-20 center pins, and (2) Hardman convenience packets of fast setting epoxy.

Singleclip SH513C $ 2.50
Kit SH513K $ 22.50

Clip for old Kimballs
using the same "A" and "B"
SH513KA $ 4.85 this is the old brass repair clip; while supplies last
SH513KB Use SH513K above




Hammer Butts-- Butt, stump, and felt parts with hole to receive hammer shank-- See Diagram
Wooden Flange Type-- Each-- Flange included SH507J $ 7.95
Wooden Flange Type-- Set of 90-- Flange included SH507J $ 515.75
SH507 is the most common butt / flange arrangement found in uprights
Brass Rail type Butt (purchase brass clips elsewhere on this page) Each SH509J $ 7.45
Brass Rail type Butt (purchase brass clips elsewhere on this page) Set of 90 SH509J $ 515.75
Billings hammer butt with Billings metal flange and hammer flange attached SH509X $ 17.50
Limited quantity in stock-- no cut for quantity order
Billings Metal Flange-- Add to SH509 for Billings butt arrangement-- Each SH512 $ 4.50
Billings Metal Flange-- Add to SH509 for Billings butt arrangement-- Dozen SH512 $ 25.25
Billings Metal Flange-- Add to SH509 for Billings butt arrangement-- Set of 90 SH512 $ 115.00
Flange Repair- Acts of Desperation- Scroll down to see the tiny hinge for improvising flange repairs
Yamaha type hammer butt--
With metal butt plate-
WITH FLANGE- Made by Tokiwa SH3800J $ 7.45 each
Kawai type hammer butt- SH3804J $ 7.95 each
Upright butt catchers (catch the back check mounted on stub from hammer butt)
Dozen only Old part Number-- 24434 See graphic below SH2507J $ 10.10
Hammer butt brass plate replaces broken one- With screws- SH518A $ 14.85 per Doz.
Hammer butt brass plate repair for old Kimball- No screws- SH518-1/2 $ 14.85 per Doz.
Brass Flange Rail Duplication Send sample of old rail. SH595 $ 195.00 per section
Damper Flange repair for Kimball with springs attached- SH539 $ not available at present.
Penistan Wippen repair part- This is a genious invention for saving a wippen
with one side broken- SH298 $ 1.95 ea.
I have used these with very satisfactory results.
This only works with wippens which receive a sticker centered in a cavity
in the under side of the wippen where one skirt of the wippen is destroyed.
Screw provided. You must mount the clip with the sticker in place, then
shorten the pin with diagonal pliers or nippers.
Free advice: Smile-- you will get it right by and by :-)



Hammer return spring replacement-
Mounted on a wooden rail behind the hammer
The kit includes (12) repair clips, (1) 1/16" extra length drill bit and screws. The clip quickly installs in any upright action
without removing the spring rail by using the included drill bit. The extended drill bit allows you to use a small hand held drill
or Dremmel tool to access the rail. After drilling the hole, a screw may be inserted through the repair clip and fastened using
 our Kimball screwdriver blade (product SH 4106) SH1519K $ 26.50
Hammer butt springs (100 springs) See in top of graphic below.
Mounted on a wooden rail behind the hammer
(Like original factory part, but hard work- 1 7/8" Long tail- Medium tension) SH519A $ 13.50
(Like original factory part, but hard work- 2" Long tail- Heavy tension) SH519B $ 13.50
(Like original factory part, but hard work- Spinet type) SH3777 $ 16.75
Hammer Butt Return Springs-- Flange mounted (no illustration)
These cute rascals are mounted to the hammer butt hinge point and tuck
up to catch a piece of string, usually silk, which then helps the hammer
more quickly back into position. Found on Kimballs and other pianos
They may fit some Asian pianos, but no promises. Set of 100 SH3736 $17.00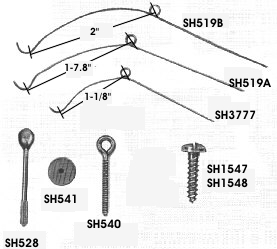 Straight Spoons-
Used at the back end of the wippen to
activate the damper levers. SH528 $ 18.00 per 100
Regulating Buttons- Wood
This button is commonly used as a stop
for the jack.
Some other uses too, as in players etc.
You must buy SH330A felt punchings also
and glue them on. SH541 $ 8.00 per 100
Regulating Felt Punchings- Felt round piece on the bottom of the regulating buttons. (100) See Felt Parts Page
Regulating Screws- 1 1/8 inch long.
Has the ring type top needing REGULATING TOOL to adjust. SH540 $ 12.50 per 100
Flange Screws- Replaces rusty or broken screws.
Zinc plated. (Per 100)
Size- 8 x 3/4" SH1547 $ 8.35
Size- 9 x 7/8" SH1548 $ 8.35
Regulating Screw replacement-
When the screw ring or tap breaks off
On Steinway metal rail, drill hole and use sheet metal screw.
Exceptional life saver when jack
regulating button busts-
Dozen only- SH1539 $ 24.45
Read my instruction for adjusting a jack
And, how to repair a jack which has come loose.

Flanges- All purpose- Fits nearly all full sized upright
pianos for hammers, wippens, and other applications
NOT for dampers. Used in grands also.

Aeolian ONLY
Limited supply SH511B $ 6.00 each

Standard Flange
Dozen- SH511CJ $ 25.00
Set of 90- SH511CJ $ 170.00
Asian Hammer Butt Flange
Yamaha, Samick, and Young Chang butts. Made in Japan
Has the hammer butt return spring mounted ON the butt with string loop
Dozen minimum SH3809J $ 24.00
Set of 88 SH3809J $ 169.00
Kawai Hammer Butt Flange

Same flange as the Asian flange, but for Kwasi only
Dozen minimum SH3804FJ $ 30.00
Set of 90 SH3804FJ $ 210.00
Damper Lever with flange
and spring assemblies-
The wood part of the lever
is 4-1/2 inches long.
(If unsure, send old one) SH537W $ 6.90

Full set of 70 for upright SH537J $ 415.00
(See Felt Parts for heads
and felts)


Tongues and flanges- Connect to bottom of sticker- SH522 $ 7.20 ea.
Damper flange with spring attached like original part- SH514J $ 4.50
Full set of 70 damper flanges SH514J $ 210.00
Billings flange-- Metal "Y" type clip--
Billings flange-- Dozen (must be in a larger order) SH512 $ 35.00
Billings flange-- Full Set -- SH512 $ 225.00
Double flange for full sized upright-- hold hammer butt AND damper
NOTE: Damper return spring is included on the double flange.
Dozen- SH514-1/2J $ 65.00
Set of 90- SH514-1/2J $ 297.50
Damper repair springs- For Uprights
Tucks under damper flange screw-
Set of 100 SH1538A $ 66.50
Jack springs- Set of 100-
1 inch for full sized uprights and some consoles only SH527A $ 12.35
Read instruction on jack spring replacement.

Jack Spring Reamer for removing glue when replacing jack springs--
This tool greatly speeds up the removing of old glue from the jack mount.
springs are being replaced- SH127 $ 24.45



Sticker Kit- [ Diagram I, #12 ]
Rod from rear of key lever up to wippen- Includes tongue and bushed flange.-
Use a good sticker as a template, cut the dowel, and assemble with Elmer's
Carpenter's Glue.
Kit for stickers from 4' to 6-1/2" SH510AJ $ 10.00 ea.
Kit for stickers from 6-1/2" to 9" SH510BJ $ 10.00 ea.

We make stickers fit your piano-
For pianos with stickers shorter than 4 inches or longer than 9 inches
Send us a sample of a good sticker, and we will match it $ 26.00 ea.
We make stickers for player pianos also. Send a good one to copy. $ 36.00 ea.
Address: Steve's Piano Service
2545 Roosevelt Rd; #107/#225
Marinette, WI 54143
Print order form and add $ 6.00 shipping cost.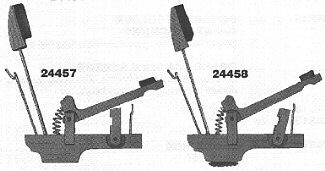 Wippen for upright- sticker type-
All wippens include all parts
as in [ Diagram I, # 14, 19,
16, 15, 21 and flanges and
bridle trap wire attached ]
24457 in photo SH523SJ $ 10.75


Wippen for upright- dowel or capstan type activation from below- 24458 in the photo SH523DJ $ 10.75
Both SH523 and SH523-1/2 above-- Contain 45 spoons to the right and 45 to the left-- A set of 90. $850.00
This will mean notes without dampers in the treble will have spoons, but this causes not problem.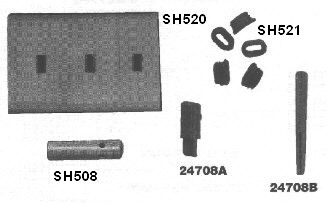 Key Felt Bushing Cauls Used to hold new bushing
felt in place (not pictured) This is the favorite in production shops-
Durable and accurate. HDPE resists glue. Available in four sizes:
.147" dozen SP147 $25.00
.162" dozen SP162 $25.00
.138" dozen SP138 $25.00
.125" dozen SP125 $25.00

Wood Dowel Capstan-
Brass Capstans
Key Button Stock-
Key Button Stock-
STEINWAY UPRIGHT PARTS
If you have a Steinway, you MUST buy the Steinway flanges since they ARE different.
Steinway Hammer Butt-- Flange DOUBLE for Hammer and Damper-
Specify spring diameter- .029, .031, or .033 SH6409 $ 8.00 ea.
Steinway Hammer Butt-- Flange for Hammer only 1 1/16th inch long- SH6410 $ 8.00 ea.
Steinway Hammer Butt-- 74 Double Flange, 14 Single Flange-- Set of 88 SH6408 $ 1120.00
Steinway Hammer Butt Flange Set COMPLETE
74 Double flanges, 14 Single flanges SH6411 $ 440.00
Steinway Wippen Flange 1 1/8th inch long- SH6405 $ 2.50 ea.
Full Set of 88 SH6405 $ 175.00
Steinway Hammer Butt with DOUBLE Flange attached
Specify spring diameter- .029, .031, or .033 SH6406 $ 12.85ea
Steinway Hammer Butt with Single Flange SH6407 $ 12.85 ea.
Steinway damper Lever with brass plate SH6404 $ 13.25 ea
Full Set of 74 SH6404 $ 970.00
Steinway Wippen- Model K-- Small Heel SH6400 $ 14.25 ea.
Full Set of 88 SH6400 $ 1175.00
Steinway Wippen- Model K-- Large Heel SH6401 $ 14.25 ea.
Full Set of 88 SH6401 $ 1175.00
Steinway Wippen- Model V-- SH6402 $ 14.25 ea.
Full Set of 88 SH6402 $ 1175.00
Steinway Wippen- Model F-- SH6403 $ 14.25 ea.
Full Set of 88 SH6403 $ 1175.00
FULL SIZE UPRIGHT: JACKS
This jack for full uprights and some consoles is about 3 inches high.
Measure ONLY the jack, not including the jack flange.
If yours is 2 inches high, go to the spinet section up the page for your jack.
Jacks for Full Sized Uprights with flanges
Dozen- SH526-1/2J $ 43.00
Set of 90- SH526-1/2J $ 275.00
Jack Flanges Order by name $ 2.50 each


Jack Springs-- See up the page


UPRIGHT HAMMER SHANK REPAIR
Part Description: Part Number Price
Learn how to repair a broken hammer. Second location
Hammer head extractor-- Absolutely essential for replacing hammers-
Full Size Uprights- You must order this tool to take the old hammers off. SH130A $ 42.00
Hammer head extractor-- Absolutely essential for replacing hammers-
Spinets / Consoles- You must order this tool to take the old hammers off. SH130AS $ 41.00
Clamp- Used with Hammer head extractor
This clamp is used where a shank is broken. It is attached so that the
hammer can be pulled with the Extractor. SH130B $ 30.00
Hammer shanks (upright only)- Hard Maple- Sold by the dozen or in sets of 100
Please measure the diameter of your piano's shanks to be sure you order correctly.
7/32" x 5 1/4" (usually only found on full sized uprights-- Some excetions) SH504 $ 24.00 per 100; $5 per dozen
3/16" x 4 1/4" (usually only found on spinets and many consoles) SH3716 $ 24.00 per 100; $5 per dozen
Hammer shank repair sleeves-
Slit Nickel plated- 2 inch long- One size fits all- Dozen- SH3506 $ 5.00 per doz.
Same as above- 100- SH3506 $ 23.00 per 100
Hammer shank repair sleeves-
Not slit- Brass tube- 7/32"- Dozen- I only use this kind- Full Upright size SH3505 $ 9.35 per doz.
100 of either size SH3505 $ 49.00 per 100
Not slit- Brass tube- 3/16"- Dozen- (Limited supply on hand) Inquire $ 8.55
Instructions for using brass sleeves
Hammer shank Cutting Tool- Nips the shank with a clean cut-- Plier type tool- SH237 $ 10.75
Hammer shank reducer-- Use to shave hammer shank if it is too large. Does smooth job- SH75 $ 24.75
Universal handle needed- SH26 SH26 $ 38.00
Read about voicing hammers in the Repair Section
Hammer felt hardener- Hammers are often too soft when new. ORDER HERE



Drills for hammers and shanks- See Regulating and Repair Tools

Read my instructions on panic hammer repair, and hammer shank repair.
---
KEITH WILL DO THE REPAIR FOR YOU BY MAIL:

---
BRIDGE REPAIR PARTS-- All Uprights
Part Description: Part Number Price
Bridge pins- Pointed at one end and round on the other- copper plated steel
#6 .076 dia 24313A in graphic SH551-6 $ 17.00 per 100
#7 .086 dia 24313B in graphic SH551-7 $ 17.00 per 100
#8 .096 dia 24313C in graphic SH551-8 $ 17.00 per 100
#9 .109 dia 24313D in graphic SH551-9 $ 18.00 per 100
Plate Pins- Lower end of the string anchor- 5/8 ths inch by .157 dia. 224312 ian graphic SH54 $ 12.50 per 100
Tuning Pin Wooden Bushings-- SEE TUNING PIN PAGE
Send E-Mail for Bridge Rebuilding by our craftsman
---
GRAND PIANO ACTION PARTS

GENERAL ACTION PARTS
FELT PARTS FOR GRANDS AND UPRIGHTS
CENTER PINS AND TOOLS
This covers the pins used in all flanges and hinged points in all actions.

PEDALS
GO TO THE PEDAL HARDWARE PAGE for Pedal Hardware:

Don't try to re-use the old pedals in a restoration. We can get you a very authentic replacement.

Upright Pedals Upright graphic and prices.

Grand Pedals Grand graphic and prices.

CLICK HERE TO GO TO: TUNING PINS, BRIDGES, AND PIN BLOCKS
LUBRICANTS AND LIQUID TREATMENTS- CLICK HERE
PLAYER PIANOS AND REED / PUMP ORGAN SUPPLIES
GO TO THE PLAYER PIANO PARTS PAGE:
Also, we suggest you purchase Mr. Riblitz' book on Player Piano Repair on the Book Page.
BUY THE TOOLS TO MAKE THE REPAIRS


ORDER BY PHONE WITH CREDIT CARD
Call Toll Free at: 1 (800) 338-8863
OR:
Go to Mail Order Form for printing:
Online help available